I've been dragging my feet putting this post up, because I'm not exactly sure why I didn't feel more emotion at my visit to the Central High School Gymnasium Saturday, the last public viewing before it's torn down sometime during this month and March.
Here, by the way is a panorama shot from the top of the south bleachers looking to the north. Click on it to make it larger.
Maybe I didn't connect because all of the spirit signs, the Tiger logos, the baseball brag board and the Alma Mater had all been removed from the walls. My knees didn't like the bleachers that we were made to run up and down in P.E.
It was the noise that was missing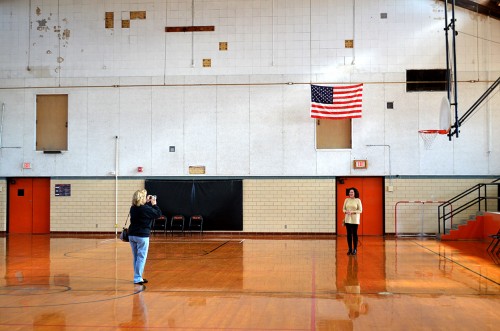 It was too quiet. There were no basketballs bouncing off the shiny floor. No coaches blowing their whistles and bellowing at lackadaisical students like me. There was no hollering nor the SPLAT! of one of those red rubber dodgeballs leaving an equally red mark on some slow-to-move freshman.
No fond memories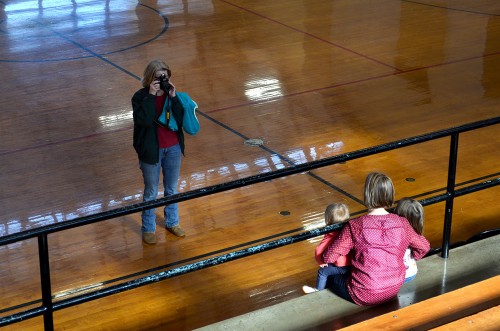 I can't think of any fond memories I had about that room. I hated physical education class with a purple passion. I had neither the skills nor the desire to play sports.
I attended tens of dances and proms, but, with few exceptions, my job was to wait until this queen or that queen was crowned, then head home to process my film for The Missourian, The Tiger or The Girardot.
First high school girlfriend Shari found out I wasn't fibbing when I told her I didn't know how to dance, and last high school girlfriend Wife Lila will confirm that I never got any better.
I thought the showers were bigger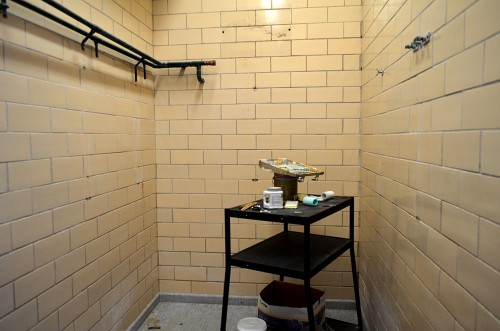 When I journeyed to the locker room and showers, I was astounded at how small the shower room was. It's hard to believe that you could cram a dozen or more guys in there at one time, even considering that I was half the size I am today.
I stand by a description I wrote in 2013: "We guys were herded into gang showers where earsplitting hoots and hollers echoed off the tile walls like a bad prison movie. At least once during this session (which I tried to complete as quickly as possible), there would be something that sounded like a space shuttle lifting off, followed by a sulfurous cloud of methane gas that rolled off the tiles in a green cloud, prompting another Neanderthal to try to best the earlier contribution."
If the dodgeballs went "SPLAT!" the snapping of wet towels sounded like a wild bunch of cowboys trying to get the herd moving by cracking their bullwhips.
Bleacher and floor signup sheet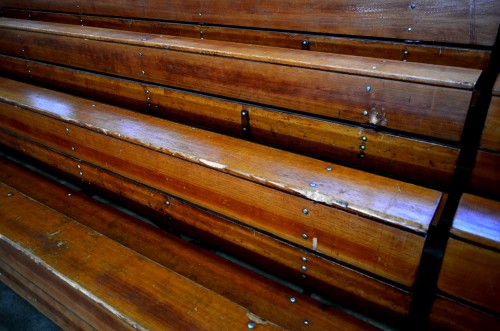 There was a signup sheet near the entrance where people could leave their names if they were interested in getting pieces of the bleachers or floor when the building is being torn down. I talked with Coach Terry Kitchen Monday to get details, but he said the administration hadn't made a decision yet on what will happen with the salvage. He asked me to check back later this week to see what was going to happen. When I hear, I'll post an update.
I have to admit I wouldn't mind having a chunk of bleacher.
A moment with Terry Crass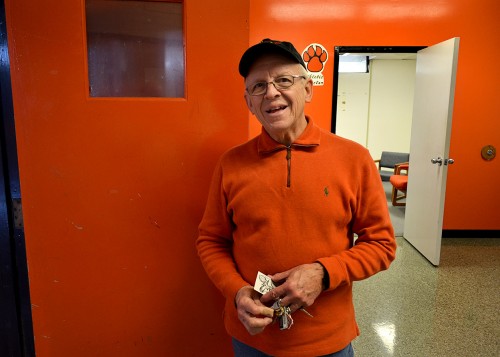 On my way out, I stopped to chat with a man wearing an orange shirt. It turned out to be Terry Crass, probably one of the nicest guys who ever walked the halls of Central High School. As team manager of just about every sport except Chess, he kept players patched up, and he's doing much the same work today at the Veterans Home.
After a few minutes of chit-chat, Terry said, "On the afternoon JFK got killed, I was in Mr. Ford's algebra class. The weather was bad. It was a lousy-looking day. Mr. Wilferth came on the PA and said the president had been shot. We didn't know anything.
"The bell rings and I hit out to the study hall. Nobody was saying anything. Everybody was crying. There was a big black and white TV in there. That's when Walter Cronkite looked up at the clock over his shoulder and said, "From Dallas, Texas, the FLASH, apparently official, President Kennedy died at 1 p.m. Central Standard Time, 2 o'clock Eastern Standard Time, some 38 minutes ago." [I inserted the actual quote, but Terry pretty much nailed it from memory.]
I had a flashback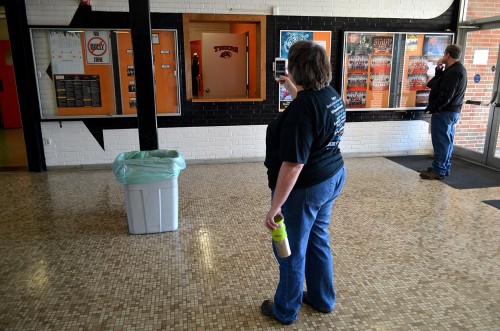 I flashed back to another TV on that day. One that was sitting in the gym with shocked students staring at it. "All you could hear was breathing," I told The Missourian when I rushed my photo to the paper to make my first EXTRA edition.
Suddenly, I must have swallowed a marble because I couldn't say anything, and there was a lot of dust in the air that caused my eyes to water.
I guess I DID leave a little piece of myself in that old gym.
Last Day photo gallery
Here are some random photos of folks saying goodbye to the old building. Click on any picture to make it larger, then use your arrow keys to move around.