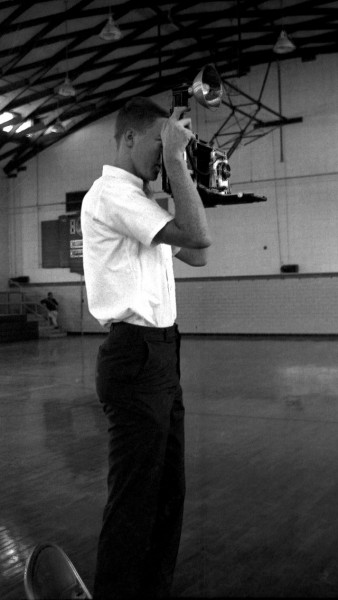 Jim Stone's one of the few folks from the Class of 65 I've kept in touch with. Well, if you define him visiting Florida twice in 40 years and us stopping in to see him in Boston about 20 years ago as "keeping in touch."
Well, we DO talk. About every ten years or so. Our conversations in the 70s were usually late-night calls, "So, Jim, we have this bet. If you are in a falling elevator, can you save yourself if you jump up at the last second?"
At the time, I think he was inside mountains in Italy and deep inside salt mines searching for subatomic particles that I don't think he's found yet. (I told him that they're probably hiding out with that sock that always goes missing in the washing machine, but he didn't take me seriously.)
Anyway, I got this message from him last week:
I am enjoying your daily blog. I sense that you may be running short on material so I would like to send you some items that you may be able to use. What's your mailing address?
The State Department is certainly different than my usual routine. I'm off to Asia tomorrow, just before you know who leaves later in the week. I'll catch up with you at the reunion.
I will send you some negatives of many of our classmates. If you still have a means to print them, they could be good handouts at the reunion.
James Stone
Professor of Physics, Boston University
Jefferson Science Fellow, U.S. Department of State
The box wasn't marked Radioactive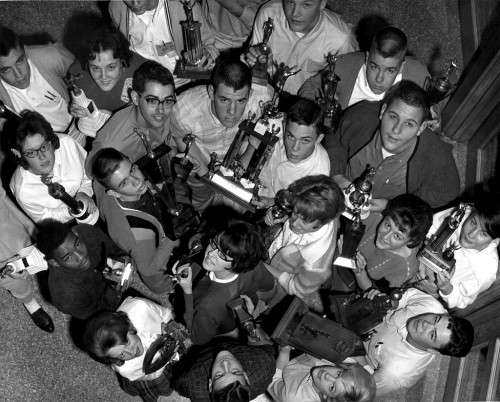 True to his word, a box arrived in the mail a few days later. It contained a plain manila envelope with back copies of The Tiger and an 8×10 photographic paper box with some prints and negatives in it.
I haven't scanned the negatives yet, but here are the prints. Most of them were from the yearbook. You'll have to ask him why he held on to these, but not others.
I remember shooting the photo above, but editors being editors, decided to crop it into more of a vertical. Here's my chance to make it up to the folks who were on the edges and cropped out of the original picture.
1963 Betty Folsom Home Room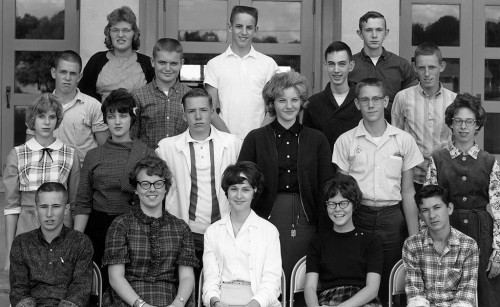 I lifted these IDs straight from The Girardot, so don't blame me if they're wrong.
BOTTOM ROW: Joe McDaniel, Cheryl McClard, Marcia Maupin, Alice Lynn, Ronnie Mayberry.
SECOND ROW: Karen McKay, Marsha Marshall, David McLain, Charlene McNeil, Larry McElroy, Martha Mahy.
THIRD ROW: Dick Lueders, John Magill, Ronald Marshall, Larry McLaird.
FOURTH ROW: Sandra McLain, Carl Meyer, Kenneth McNeely.
1963 Girardot Pep Rally photo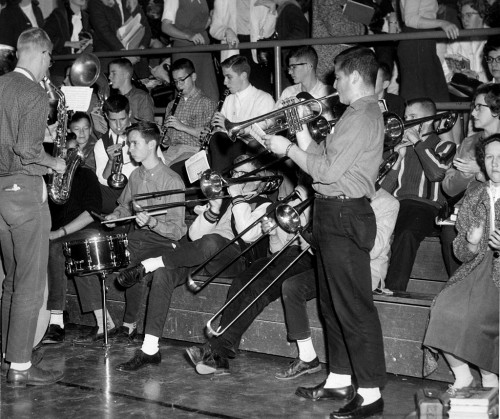 The guy blowing the horn in front right is Albert Underwood.
1963 Helen Smith's home room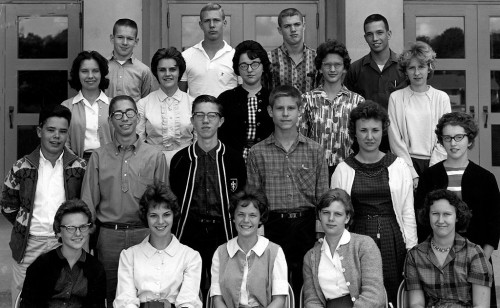 BOTTOM ROW: Alberta O'Brien, Carol Mott, Cherie Pind, Gwendolyn Petty, Barbara
Oberbeck.
SECOND ROW: Randy Morse, Mike Miller, Mike Pind, Bob Norman, Carolyn Perr, Emma Penzel.
THIRD ROW: Jeanne Perry, Jo Ann Mills, Connie Nelson, Carolyn Penzel, Sandra Nance
FOURTH ROW: Alan Miller, Jerry O'Connell, Mike Murray, James Owens.
1963 Howard Bock's home room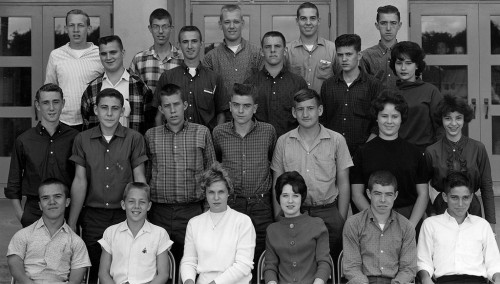 BOTTOM ROW: James Feldmeier, Ernie Foy, Peggy Estes, Anola Gill, Wayne Gohliher, John Finch.

SECOND ROW: Dennis Farrow, Louie Ervin, Michael Floyd, Kenneth Gore, Frederick Fox, Janice Fisher, Sharon Frazier.

THIRD ROW: Richard Fulton, Gary Gateley, Michael Gray, Norman Golden, Janice Gilbert.
FOURTH ROW: Donald Ford, James Fulbright, Dwayne Followell, Hal Goddard, Jerry Fowler.
1964 Quill and Scroll

BOTTOM ROW: B. Pinkerton, J. Davis, K. McE1reath, T. Spitzmiller, B. Hopkins, N. Nussbaum, V. Miller, P. Estes, J. House, P. Johnson, S. Smith, S. Neary, C. Klarsfeld, J. Snell.
SECOND ROW: S. Stiver, D. Kimmich, M. Seabaugh, B. Blue, J. Reynolds, A. Sudholt, L. Dahringer, V. Berry, L. Brennan, N. Jenkins, J. Brunton, D. Siemers, K. Steinhoff.
TOP ROW: S. Folsom, M. Seabaugh, R. Meinz, K. Fischer, J. Mueller, D. Stubbs, A. Spradling, P. Foster, S. Crowe, J. Stone, L. Moore, S. Wr1ght, W. Stafford, R. Marshall.

1964 varsity football players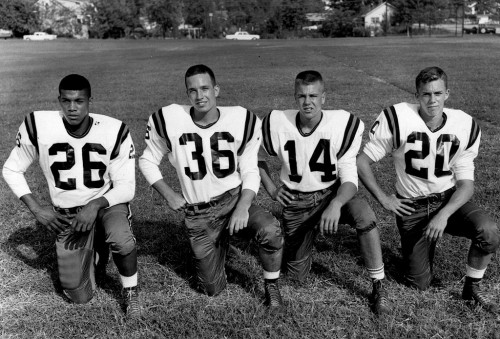 Left to right: Charlie Duncan, Jim Owens, Randy Stahly, Lee Roll
Carol Klarsfeld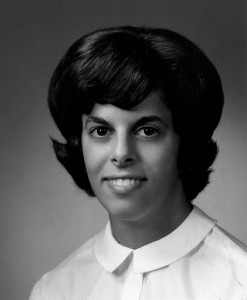 Carol Klarsfeld was Jim's on-again, off-again girlfriend most of the time we were in high school.
Carol was a tiny little thing who was always up for an adventure. There was a tale that she put more miles on her mother's car than she was supposed to. Having a logical mind, she thought, "The speedometer counts up when the car is going forward, so it should count backward if the car is going in reverse."
The prospect of driving many miles in reverse didn't seem practical, so she jacked up the rear of the car, put it in gear and gunned it. Her logical skills far surpassed her mechanical skills unfortunately. In the story I heard, the jack slipped and the car took off at high speed in reverse.
I found out at the last reunion that Carol had joined the ever-increasing number of our class to die. I miss her.
Debaters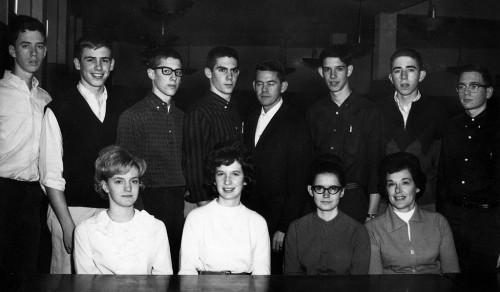 I'm not sure what this photo was taken for, but it appears to have been the Debate Club. I recognize everyone except the woman seated at the right. I'd like to deny the ID of the guy with his shirt buttoned all the way up to his chin on the right, but I'm gonna have to say that's me.
Seated: Shari Stiver, Sally Wright, Vicky Roth, Unidentified.
Standing: Pat Sommers, Mike Seabaugh, Mike Daniels, Bill Wilson, Advisor Calvin Chapman (his eyes are closed so he could say he saw no evil with this group), Rick Meinz, Steve Folsom and Ken Steinhoff.
1964 Football Queen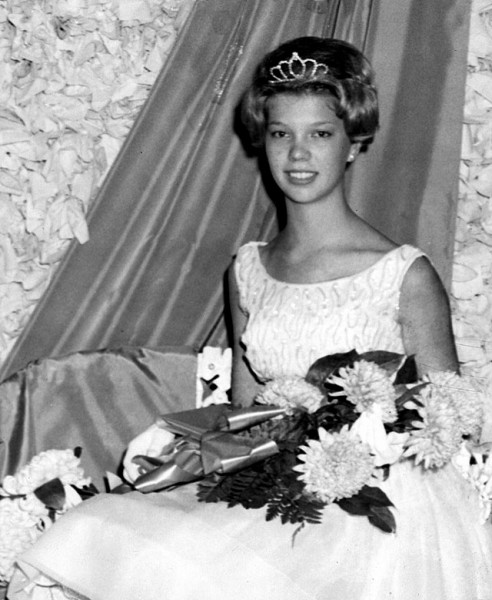 1964 Football Queen Donna Sides
Cheerleader Norma Wagoner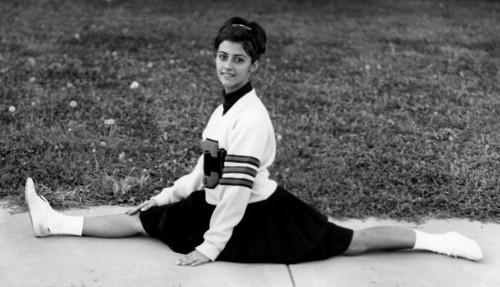 Jim was wrong about one thing, I'm a long way from running out of material, but I still appreciate his contribution. I'm looking forward to scanning the negatives he has of Barry Goldwater's campaign stop in Cairo in 1964. I've been holding off running the ones I shot, so the combination will make a nice package.