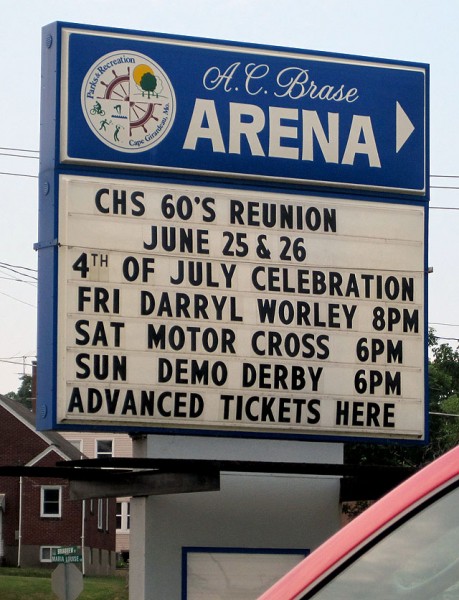 The Central High School 60's Decade Reunion is over. These pictures are from Friday's events. I'll have photos from Saturday's tour of the high school on Monday. I may post more pictures from other Saturday activities on Tuesday. Then we're done for at least another five years.
It was better than expected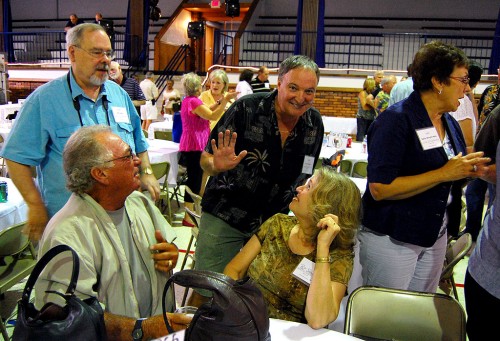 Friday night was spent wandering around trying to read name tags to see if you recognized anyone. Frequent contributors Bill East (blue shirt) and Terry Hopkins (bleep-eating grin) are here.
I have to admit that I wasn't sure I was looking forward to the reunion. I haven't kept in touch with my old classmates, and I hadn't enjoyed the two reunions I had attended.
People at the 20th were still trying to impress each other. (OK, I was guilty of that, too.) The 2005 reunion had music that was played so loudly that it was almost impossible to talk, and everyone was packed so tightly together that it was hard to mingle.
What you need for a great reunion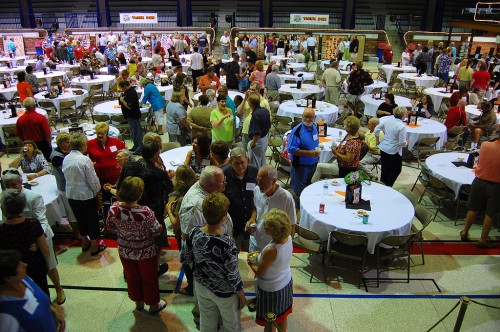 The organizers this year told the DJ to keep the volume at a reasonable level.
The tables were far enough apart that you could maneuver around them.
There were interesting displays around the outside of the room.
The event wasn't bogged down with a program and lots of announcements.
Because of the setup of the room, it was possible to have more, longer conversations with classmates than ever before. I had the feeling that we're all hitting the age where we're interesting in connecting with each other and our pasts more than in previous years.
Here's what I look like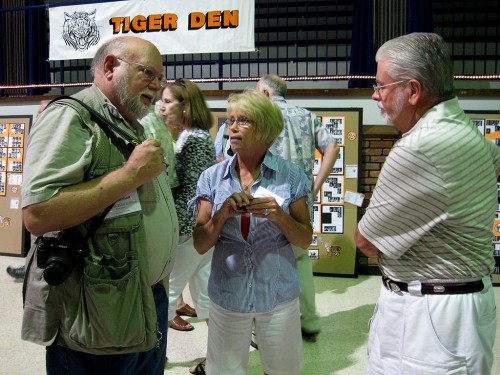 My wife took this and insisted that I put in at least one shot of me if I was going to show how gray everyone else had turned. That's Sherry Huff Swanson in the middle and Joe Snell on the right.
Sherry just about induced a heart attack when she pulled me over to the side and said we should go outside to her convertible where she'd take her top down. Holy Cow! I missed the 10th reunion where skinny dipping was alleged, but the 2010 reunion sounded like it might be memorable.
Turned out my hearing is slipping. We went out to her convertible, but it was the CAR that had the top down. And, all she had in mind was being photographed IN the car. Alone.
My favorite reunion photo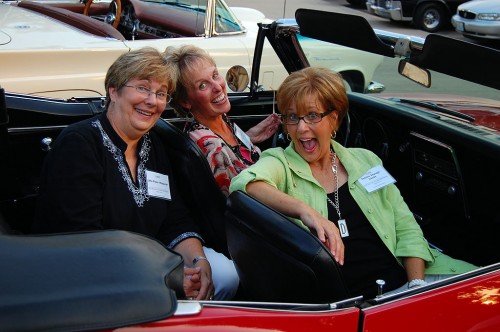 I ran this as a placeholder yesterday, but it's my favorite reunion photo so far. It captures the spirit of our decade. We may have some miles on the odometer, but we can still rev it up when we need to.
Photo Gallery
Click on any image to make it larger, then click on the right or left side of the photo to move through the gallery.