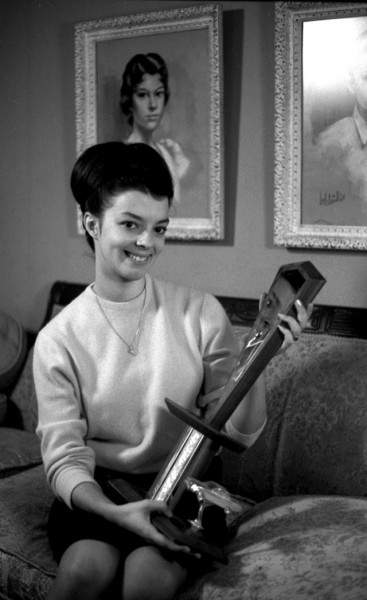 I don't know if I shot this photo of Anne Buchanan or not. I have the negative, which would make me think I did. On the other hand, the exposure and lighting are better than what I was generally capable at that stage in my career. Still, even a blind hog can find an acorn from time to time. Maybe I got lucky.
I'm not exactly sure why the photo was taken. If I had to bet, I'd bet that it had to do with that big trophy she's holding. What's odd is that it has a car on it. I didn't know Anne well enough to know if she was a car racer, collector of special cars or what the trophy was for.
That's the Anne I remember. Every hair in place, a friendly smile and a look that says "I know I'm going to photograph well, even if the photographer IS a klutz with a plastic pocket protector."
Anne as a cheerleader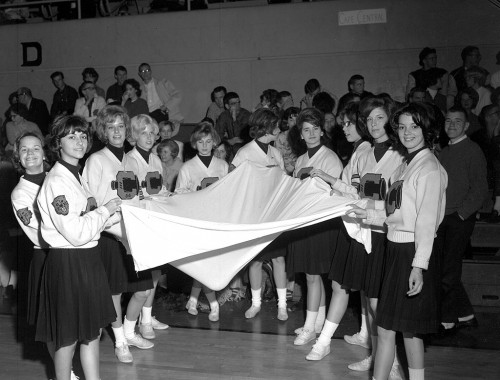 She and the other cheerleaders are collecting for the March of Dimes in 1963. Anne is on the right.
The 1965 Girardot Senior Directory listed her activities: Secretary of the Tigerettes; Silver Spear '62 1-Act Play; French Club; Girardot Business Staff; President of Homeroom; Cheerleader; Psychology Forum; National Honor Society; Football Queen Candidate; Senior Queen Candidate; Library Assistant; Red Dagger, Talent Show.
The Class of 1965 grows smaller
When I had lunch with Terry Hopkins and Pat Sommers the other day, we played the usual game of "I wonder what ever happened to…" They shocked me by reeling off a number of our classmates who won't be showing up for the next reunion. Sadly, Anne's name was on the list. I hope they were mistaken. It's hard to think of someone as vibrant as Anne Buchanan not being around forever just like she was captured in the lead photo.
Ronald Dost and I went to school from kindergarten through Central High School Shortly after we graduated, his was the first obituary I wrote of a contemporary. Gary Schemel was the first of our classmates to die in Vietnam. When I went to the Class of 1961's 50th Reunion, they had a moving video of the 40+ members gone from their class.
The sand, it appears, is running out.