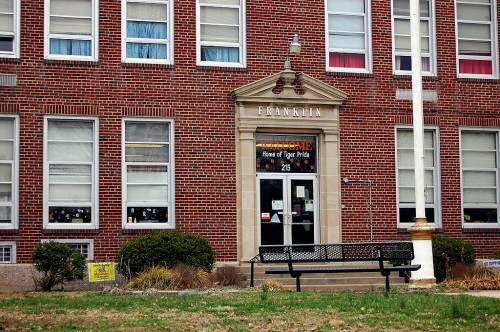 Franklin School opened its doors in 1927, but it did it without a name on the front of the school. It was the only school in the district with no outward identification.
It wasn't until 1971 that the 8-inch-high white plastic letters were placed above the door. Money for the sign was raised by the Student Council, which sold school supplies and held a used book sale.
Franklin came about because of western expansion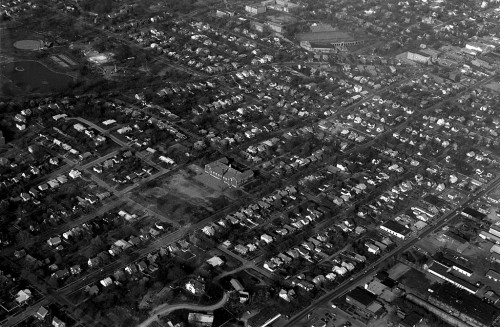 The Cape County school web site has an interesting history of Franklin School that I'm going to borrow from.
Due to rapid growth in the west part of town, the Cape Girardeau Board of Education looked into expanding the school district in 1925. On November 2, 1925, six acres were purchased at a price of $14,000.00 to build Franklin School. A bond issue for $300,000.00 for the purchase and erection of the school was passed. For a contracted price of $179,611.00, work on Franklin School began.
Bond issue would replace Franklin School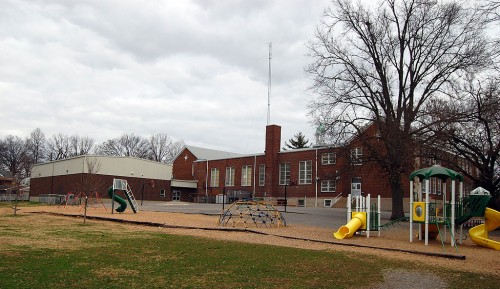 Voters will go to the polls April 6 to decide, among other things, whether or not to replace Franklin. A Southeast Missourian story quoted Neil Glass, director of administrative services, as saying, "It was by far in the best interest of our students to go with a new school," he said.
… Franklin is the oldest of the district's five elementary schools. As he looked at seismic upgrades and other renovations, Glass said the scope of the project grew.
"Before we knew it, we were at $11.8 million," he said. Cost estimates for a new two-story building are $10.02 million. Glass said it would be built behind the current building and would include the school's gym.
First Ben Franklin was 14″ high
From the history site: On January 13, 1928, Franklin School received a 14" bust statuette of Benjamin Franklin from the Franklin History Club of Central High School.
The current Ben Franklin statue was carved by A. W. Birk. He did an original carving in 1999; this one replaced it in 2006.
Teacher's pay in 1960: $3,800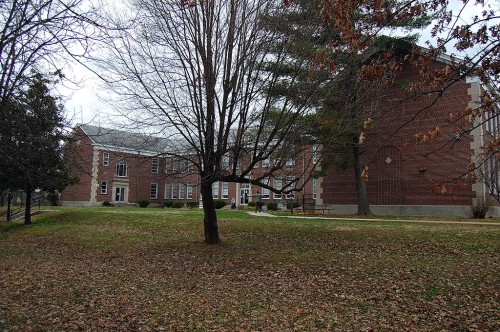 From the history site: In 1960 teachers' salaries were increased. A teacher with a B.S. degree will start at $3800.00 and in 9 years will receive $4850.00.  A teacher with a M.A. has a starting salary of $4200.00.  The school board also denied extra duty pay for those teachers who are doing duties.  In another direction, voters rejected another proposed bond issue for a new junior high school a second time in less than 2 months.  This was the first time in 26 years a bond issue had been rejected.  John R. Miller is the principal of Franklin School beginning in 1961.  He is only the third principal in charge since Franklin opened its doors.  He is in charge of 20 teachers and 520 students.
Open classroom concept not popular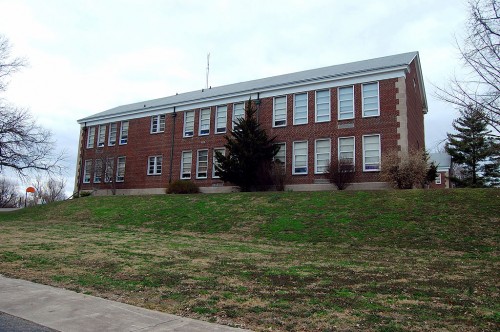 On December 5, 1972 a special election was held to pass a $995,000.00 bond issue.  The money was to be used to renovate Franklin School, complete the remodeling of Washington and Lorimier Schools and construct a new addition to the vocational technical school.  The issue passed with a large majority.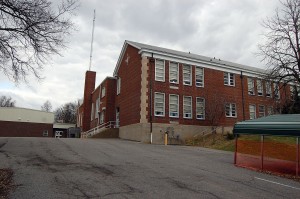 The passing of the bond issue did not solve all the problems. When school started in September of 1973, Franklin School could not open its doors.  Due to a strike by the Carpenters Union Local 1770, progress on Franklin renovations came to a halt for some time.  School began for Franklin students in two separate places.  One hundred twenty-four 5th and 6th grade students and two groups of kindergarten children were forced to attend classes at Grace United Methodist Church while grades 1-4 were attending Hawthorne School.  In October, the group at Grace United Methodist Church returned to Franklin.  The rest came back on November 9th.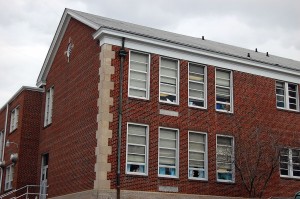 The renovations were extensive.  The open classroom teaching method was the basis for new room configurations.  Classrooms became one large room for each grade except the 3rd and 4th grades which were combined in one room.  Walls were removed so teachers could team teach and combine classes.  There were 5 private classrooms kept so teachers could use them if privacy was desired.  The folding doors were not installed at this time.  Franklin also had new plumbing installed along with new heating and air conditioning.  The stage and the old shower room were removed.  New aluminum windows and front door were installed and the office was completely redecorated.  Classrooms were given new carpet and indirect lighting after the ceilings were lowered.  Franklin looks brand new.
With the new renovations, came other problems and concerns.  Parents and students did not care for the open classrooms.  They felt students could not concentrate on their studies nor pay attention in class when several teachers are teaching different lessons.  After folding doors were installed, the protests died down.
Introduction to Biology Classes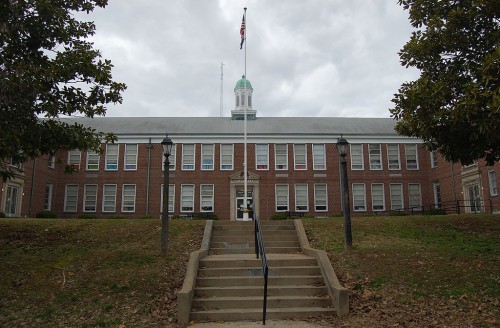 I'm told there was some elementary, after-hours biology studies conducted on the front steps of Franklin School, but they ended before the final exam was given. In fact, I believe the course ended somewhere between the introduction of studies and the first exam, though not because of lack of student interest and participation.