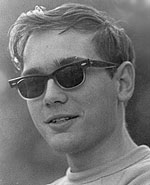 Ken Steinhoff , Cape Girardeau Central High Class of 1965, was a photographer for both the school yearbook and school newspaper. This web site will be a mix of classic photos from that era as well as photos from current day Cape Girardeau.
If you would like to receive email updates when new pictures are added, please sign up for email notifications. You may also get updates from the RSS Feed.
Please comment on the articles when you see I have left out a bit of history, forgotten a name or when your memory of a circumstance conflicts with mine. (My mother says her stories have improved now that more and more of the folks who could contradict her have died off.) Your contribution(*) helps to make this a wonderful archive and may end up in book form.
(* We'll do our best to credit those who provide information but your submission grants us a royalty-free unrestricted use license in any medium for all perpetuity.)
Copyright 2022 – All Rights Reserved