When the reunion organizers proposed a tour of the "new" Central High School, there was a clamor for a tour of the "old" Central High School, because that's where we built our memories. The Class of 66 scheduled a breakfast in the cafeteria at 9 Saturday morning. They and the other classes got to prowl the school later.
Table-dancing skills prove useful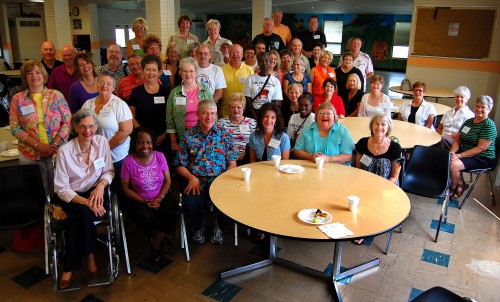 Vicky Seabaugh asked me to shoot a photo of the Class of 66 after breakfast.
Some of the students are partially hidden because they didn't heed my admonition, "If you can't see ME, my camera can't see YOU." Some of the folks with apparent prior table dancing experience used their skills to become more visible. (No hips were broken in the making of this photograph.)
That's my locker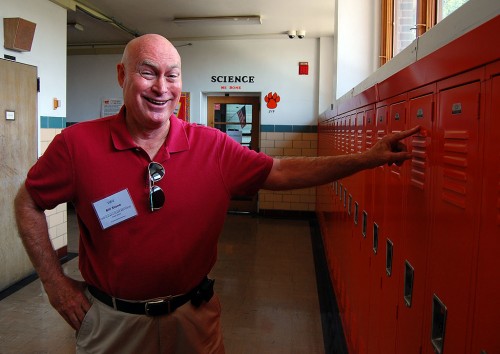 Bill Stone said he was lucky enough to share a locker with a small-time local hoodlum. "Nobody messed with MY locker," he said. Our old tan lockers have been replaced by spiffy orange ones.
Auditorium seats have been recovered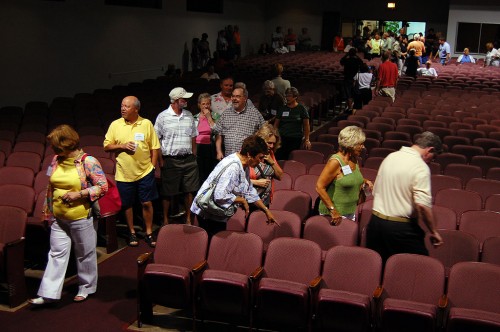 I don't know if these folks are looking for their initials or what. The auditorium looked as serviceable as ever.
Terry Hopkins shows his prowess
I kept telling Terry Hopkins that I needed him to do one more rep to make sure I got a good picture, but he finally wised up.
We got to walk across the gym floor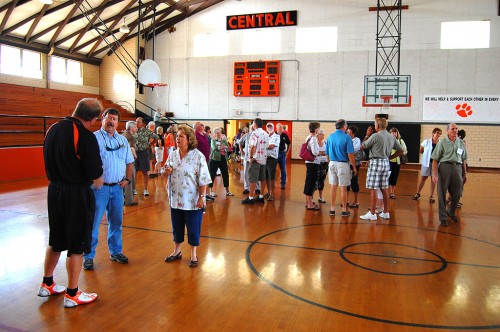 Walking across the gym floor was taboo when we were in school. You just didn't do it. Not more than once, at least.
Standards must have been relaxed, because Terry Kitchen led us right on to it. (Go here to here Terry's account of the Ghosts of the Trophy Case.) He's the fellow in the orange and white shoes at left.
The ADA brings elevators to CHS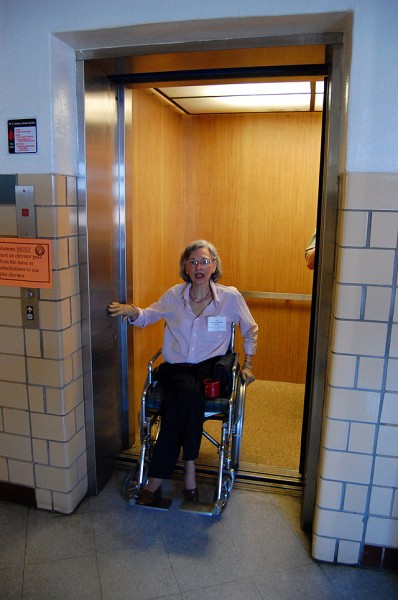 Janet Zickfield had to depend on other students to carry her up and down the many stairs at Central High School when we were there. Today's students can use an elevator.
Photo Gallery of CHS tour
Here's a photo gallery of our tour. Click on any photo to make it larger, then click on the left of right side of the photo to move through the gallery. We're not done yet. More photos are coming.