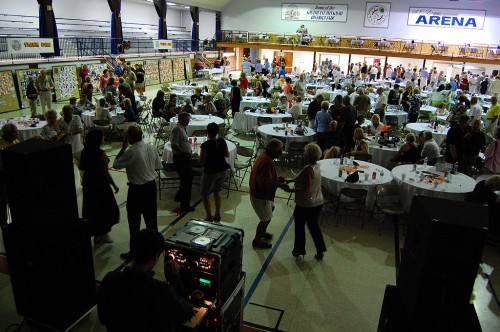 This isn't my favorite photo of the weekend, far from it. It's a mediocre image from a technical standpoint, but it's the one that caused a wave of deja vu to wash over me.
It was the end of the evening. The crowd was starting to drift away. A few couples got up to dance. I climbed up on the stage for a higher angle and stood there holding my camera and waiting for a photo to happen.
Suddenly I was transported back forty-plus years. It dawned on me that my life had come full circle. I was the same kid I was in high school who was AT the event, but not part of the event.
He's got his photographer's face on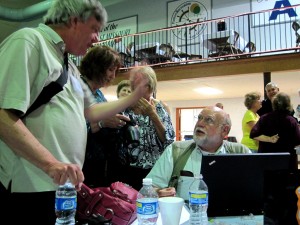 Shortly after my youngest son, Adam, married Carly, we went to my niece's wedding. I'm not big on socializing, so I grabbed a camera and started walking around shooting candids. Carly turned to Adam and said something like, "Wow, I've never seen your dad with his photographer's face on."
I'm not sure exactly what he told her, but I assume he assured her that it wasn't something that ran in the family.
How to be invisible
I worked a long time at being able to disengage when I'm shooting. One of my favorite photo stories was of an old barber in West Palm Beach who stayed open just because he was lonely. On a good day, he might get two customers, all as old or older than him.
After shooting pictures of him holding up a parking meter in front of his store and greeting one customer, I pulled back and started shooting detail shots around the shop. Eventually, he became so unaware of me that I shot him fully stretched out asleep in his barber's chair. I figure that was the ultimate test of invisibility: to get someone who was starved for company to tune me out.
Enough self-analysis. You guys want to see photos from the reunion on Saturday night and a lunch for the Class of 65 (which was crashed by folks from other classes).
She still has the same freckles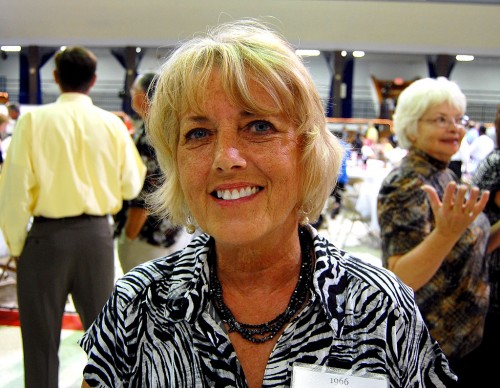 Nancy Froemsdorf came up to me looking almost exactly like she did at Trinity Lutheran School in the first grade. I don't think she's added or subtracted a freckle. OK, she's better looking than she was in first grade, who am I kidding?
Where was Pam?
Pam Taveggia promised all the way back in October that she was coming to the reunion so she, Jim Stone, and I could hook up with Ernie Chiles so she could "hug the stuffin'" out of him. First, Stone emails me on Thursday saying he couldn't make it because he had to save the world or some other lame excuse, then Pam bails.
Sherry with her top down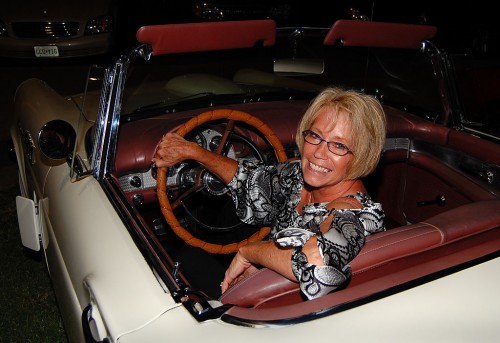 I've already recounted how Sherry Huff Swanson led me to believe that this year's reunion was going to be memorable when we got out to her car. I have to concede that she didn't tell me any falsehoods, but the encounter, to steal Paul Simon's words, didn't "meet my sweet imagination."
Here is Miz Sherry ensconced in Louise.
Terry Hopkins cleans up real good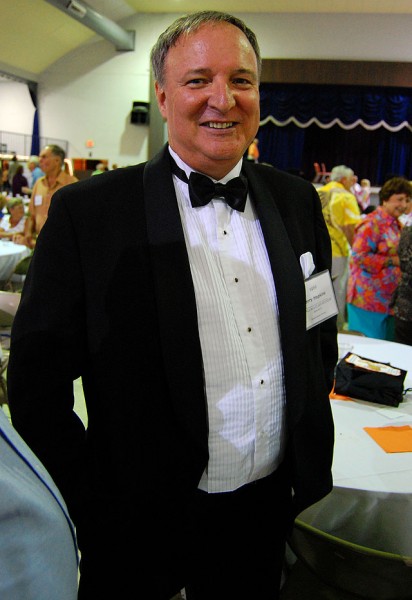 Since I've poked fun at Terry Hopkins this week, I guess I should even things out by showing him resplendent in his tux. "I only have two kinds of clothes," he said. "Shorts and a tux." Who'd have thunk it?
Previous reunion stories
Photo Gallery from reunion and lunch
Click on any photo to make it larger, then click on the left or right side of the image to step through the gallery.
We're headed back to Florida Wednesday, so it'll going to be sort of slow here for a few days.
There are a couple of more stories I'm going to do about folks I talked with at the reunion. I had lunch with a fellow I wish I had gotten to know better when I was growing up.
Some things in the works
Some of you have asked about getting copies of the photos. When the dust settles, I'm going to upload all of the photos to a site where you can download higher resolution copies of everything I've posted from the reunion.
I may also create a CHS Reunion fan page on Facebook where you can tag the photos with names. Give me a couple of weeks to pull all that together.
Thanks for all the kind words over the weekend. You all are as much a part of this blog as I am. Without readers, I'm just some poor fool standing on a tree stump shouting out at the forest. I love to hear your echoes.