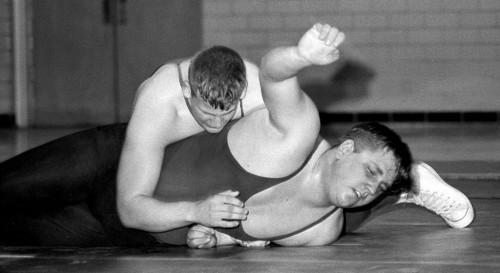 I'm still trying to organize the stacks of negatives. For the most part, I'm setting all the sports pictures aside for now because there are so many of them. The next task will be to try to figure out which ones are from Central High School games and which aren't. There should be some kind of law passed that uniforms have to have school names or emblems on them.
Who IS this woman?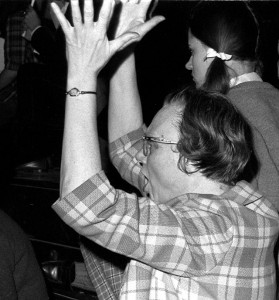 I was just about to pitch this roll of wrestling pictures onto the 'Later' stack, when my eye was drawn to a fan in the bleachers in this sleeve marked January25, 1967.
Could that really be Helen Ketterer, who worked in the principal's office?
I don't think I ever saw Miss Ketterer smile or change expression in the office. She was always to-the-point and strictly business.
Of course, if you had to deal with as many high school students as she did, you'd probably be a little jaded, too.
It just goes to show that sometimes you don't know folks as well as you thought you did. For example, I never knew Wife Lila was a bloodthirsty, raving maniac until I took her to her first live hockey match at Ohio University. I suddenly looked at her in a whole new light.
Helen Ketterer died in 1979
I did a search of The Southeast Missourian's database, but it only goes back to 2002. Nothing relevant popped up. I sent a message to Missourian librarian Sharon Sanders asking if she had any info. She didn't find anything going forward from 1991, but did see that Helen Ketterer was listed in the Social Security Death Index as having died in 1979.
This morning, Sharon sent me a copy of the March 25, 1979 obit: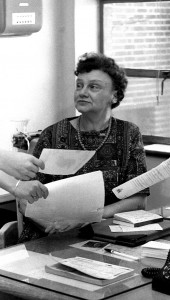 Miss Helen Ketterer, 812 N. Missouri, died Thursday at her home. She was 68 years old.
Miss Ketterer was born on June 13, 1910, in Cape Girardeau and was a life-long resident. She was preceeded in death by her parents, Mr. and Mrs. Paul Ketterer.
She graduated from Central High School and was employed for approximately 40 years as a secretary at Cape Central High School, retiring about five years ago.
Miss Ketterer was a member of St. Vincent de Paul Parish and was an active member of both the St. Francis Medical Center Auxiliary and the Southeast Missouri Hospital Auxiliary.
Graveside services will be conducted at 10 Monday morning with the Rev. Bernard P. Degan officiating. Walther Funeral Home is in charge of arrangements. There will be no visitation.
A gallery from the wrestling match
Here's a collection of photos from the match. As always, click on any image to make it larger, then click on the left or right side of the picture to step through them.
Let me know if you recognize the wrestlers, and I'll post an update.