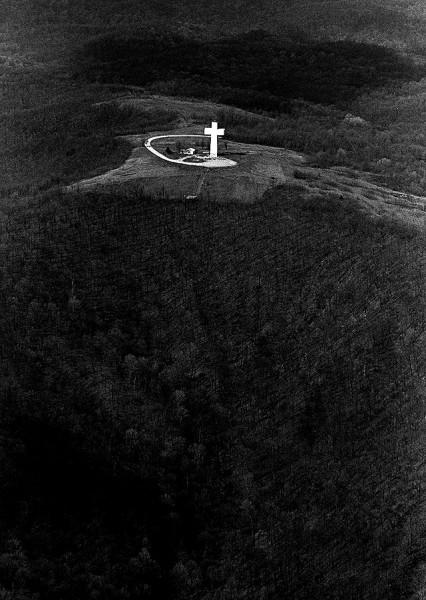 Seeing all of the religious pictures on Facebook this week go me to thinking of how many photos of crosses I have taken in the area over the years. Here are just a few, with links to the original stories. You may click on any photo to make it larger.  This is an aerial of the Bald Knob Cross taken not long after it was built.
Egypt Mills Trinity Lutheran Church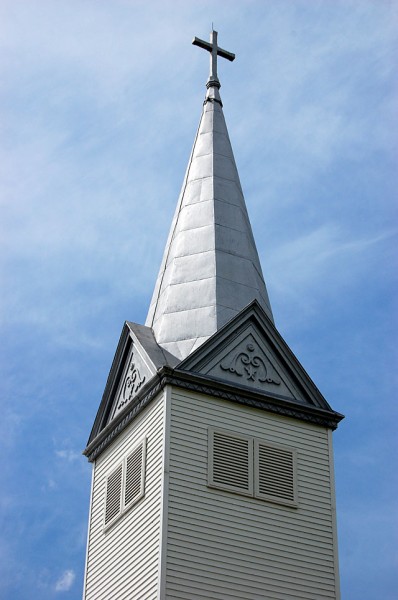 Egypt Mills Trinity Lutheran Church steeple.
Joseph Putz Grave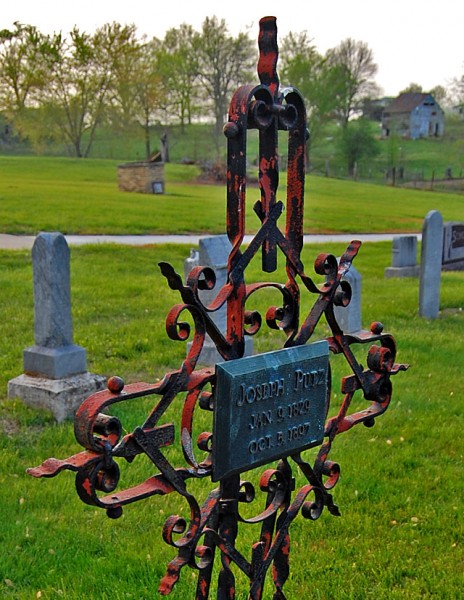 Joseph Putz's metal grave marker in the St. John's Lutheran Church cemetery in Pocahontas.
High Hill Church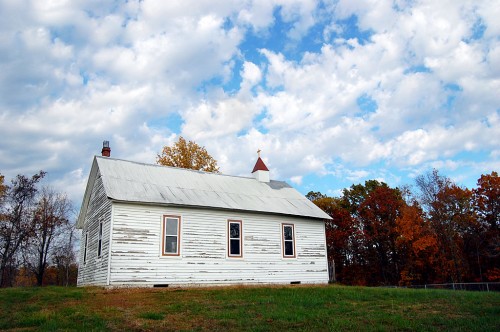 This simple church sits high on a ridge north of Neely's Landing.
"Judas got a raw deal"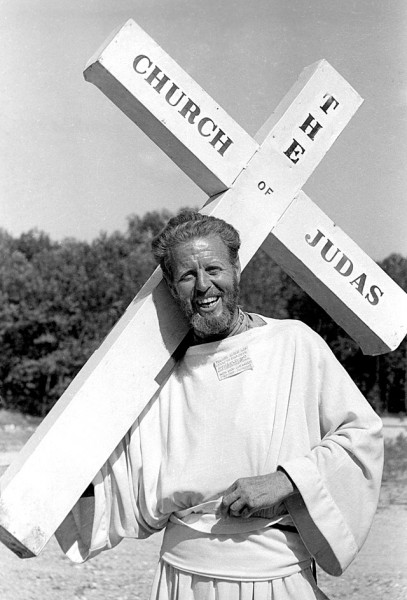 Kenneth Saunders walked more than 4,000 miles to deliver the message that "Judas got a raw deal."
Trinity Lutheran Church at dusk
I was walking back to my car after shooting another photo when I spotted Trinity Lutheran Church at dusk.
Cape LaCroix Creek marker
This concrete cross has a plaque: "In 1699, Fathers Montigny, Davion and St. Cosme, French missionaries, erected a cross where this stream entered the Mississippi and prayed that this might be the beginning of Christianity among the Indians. The stream has ever since been known as Cape La Croix Creek." The cross, which had been at the intersection of Kingshighway and Kingsway from 1947 to 2009, when it was moved so a commercial building could be built on the site. Ironically, the marker has never been located close to where the Mississippi River and Cape LaCroix Creek intersect.
Dutchtown cemetery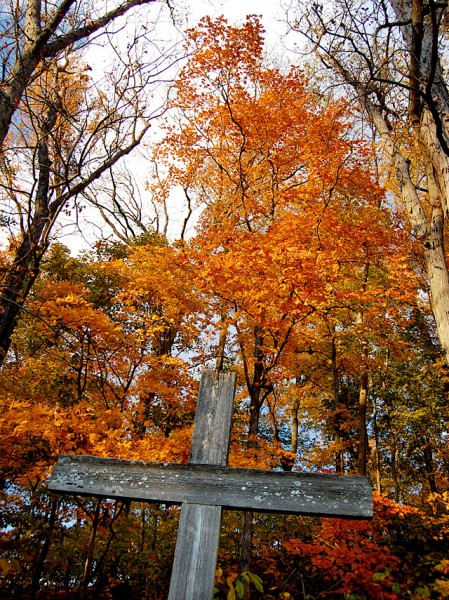 This cross is in a tiny cemetery located on a high ridge overlooking the ever-diminishing Dutchtown.
Nelsonville cross on a hill
I spotted this cross in Nelsonville, Ohio, on my recent trip back to Ohio University.
Modern-art cross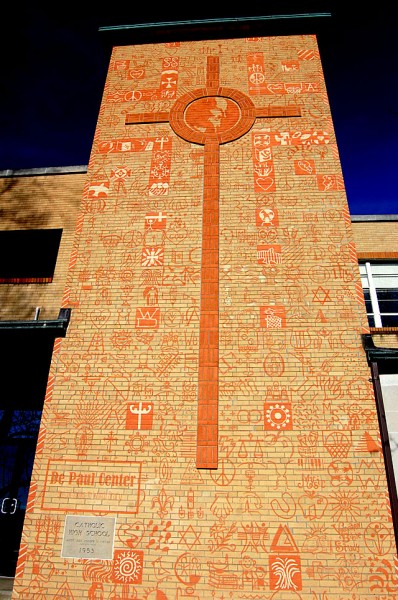 At first glance, I thought the front of the old Notre Dame High School had been covered with graffiti.
Tower of Memories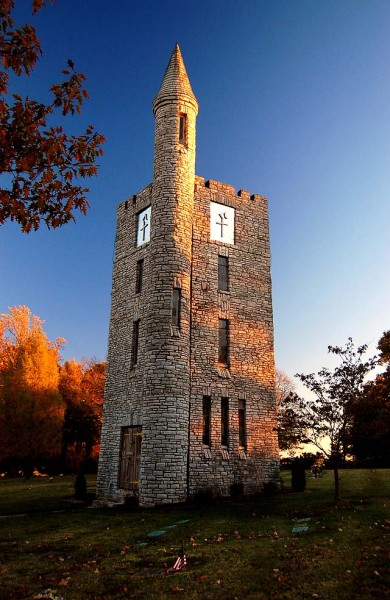 Newspaper accounts said the 57-foot tall, 16′ x 16′ Tower of Memories at the Cape County Memorial Park Cemetery would have three stories: the bottom floor would contain an office and the second and third floors would house the Celesta-Vox, touted as "The Voice from the Heavens."
St. Vincent's at sunset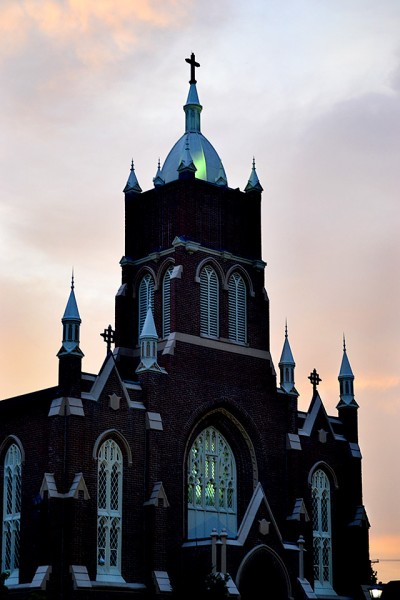 I was hoping to shoot the full moon and fireworks when St. Vincent de Paul Catholic Church caught my eye.
St. Eisleben Lutheran Church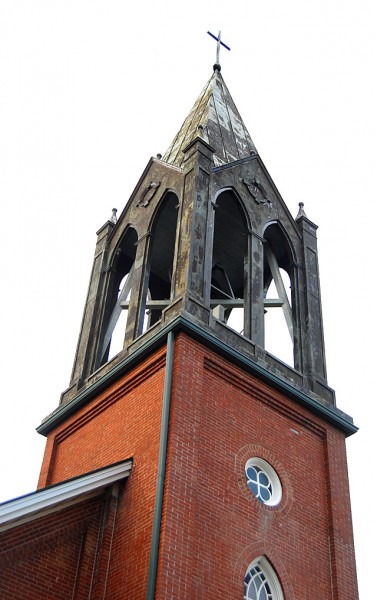 The St. Eisleben Lutheran Church in Scott City has one of the most unusual steeples I've seen.
Altenburg Trinity Lutheran Church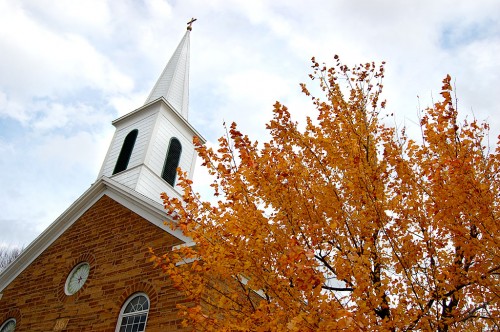 An "inland hurricane" took the steeple off the Trinity Lutheran Church in Altenburg, but you could never tell it today when you look at the 1867 structure..