I parked the car on Main Street near the Red House to walk across to photograph the Synagogue and St. Vincent's Church. As I was crossing the median, I almost bumped into a stone monument with a corroded plaque attached to it.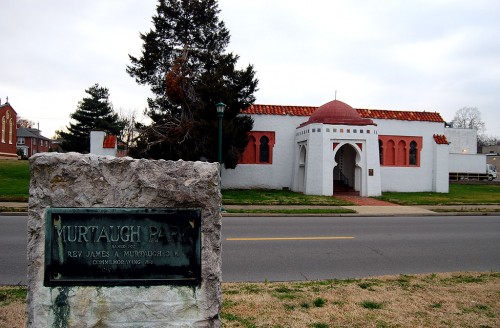 MURTAUGH PARK
Named for Rev. James A. Murtaugh C.M.
Commemorating His
Civic Efforts
Time goes by after public buildings, streets, parks and bridges are named after someone special and our memories fade or the name becomes just a name, not a memorial. I often say that you live only so long as someone remembers you.
Who was James A. Murtaugh?
And, why did he deserve a skinny sliver of a park? A Google search turns up pretty empty. He was assistant pastor of St. Vincent's Church (which is visible in this photo) and President of St. Vincent's College.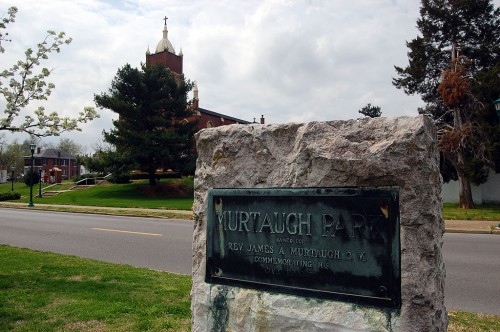 He was known for being active in civic affairs and doing much to reduce friction between the city's Catholic and Protestants. An Oct. 2, 1934, Missourian article said, "By his activity, he removed all imaginary lines between Catholics and Protestants and developed a united community."
He was an early proponent of paving streets and roads. Paving Main Street had the side advantage, I read somewhere, that parishioners could now use the front door of the church without tracking mud inside.
Rev. Murtaugh died in 1916. The Knights of Columbus dedicated the memorial marker Oct. 14, 1928.
Synagogue, Catholic church and Red House
Murtaugh Park is in a perfect historical triangle between the Catholic Church, the Jewish Synagogue and the restoration of Lorimier's Red House.
In 1958, The Missourian editorialized against a plan to remove the park to create more parking along Main St. The tiny park also memorialized Police Chief N.J. (Jeff) Hutson, who was shot and killed in the line of duty Oct. 7, 1922. The Lion's Club planted a hawthorn tree in his honor on Arbor Day in 1923.
No big Hawthorne trees
I don't see any large hawthorn trees north of the Murtaugh monument.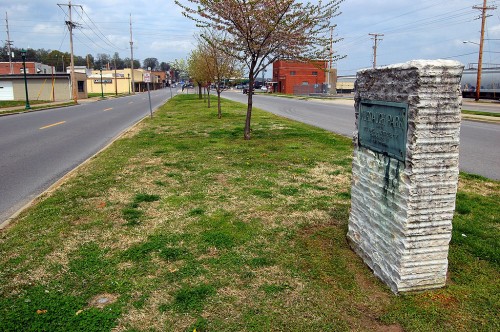 It must have gone the way of a the large, spreading hawthorne tree, "one of the finest specimen of its kind to be found anywhere," that was planted by the Wednesday Club on April 11, 1923, to honor Miss Amy Husband Kimmel, who founded the club in 1902.
A Southeast Missourian story July 7, 1956, headlined Amy Kimmel Hawthorn, Long Pride of the Community, Is Ruined.
The story goes on to say, "During construction of the new flood control sewer, the east half of the tree was cut or torn away as if some giant knife blade had descended on it, leaving only the west section intact…. For many years it has been one of the show trees of the community. Now, butchered and distorted out of shape, it's ultimate future is in doubt. At the time of the ceremony, an appropriately inscribed stone was buried beneath the tree. What has become of it?"
Kimmel marker found, relocated
A Missourian follow-up on Oct. 16, 1956, said the stone marker had been found and was going to be moved to a parkway east of the divide between Academic Hall and Kent Library. The Main St. parkway where the tree and marker had been located was paved over after the Kimmel Hawthorn was destroyed.