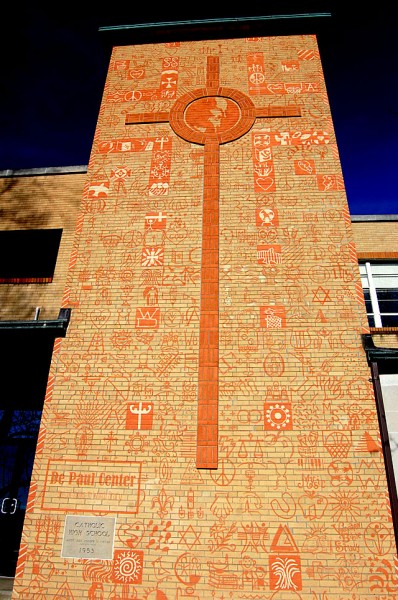 Brother Mark, Mother and I were taking a short cut through New Lorimier Cemetery so we could see if the flowers were still on Dad's grave. They were. Instead of cutting through Fairmount Cemetery and coming out near the library, I whipped a left to get a mug shot of the old Notre Dame High School. I knew I had some photos of some school plays and other activities, so it would be good to bag something new to go along with them.
As it turned out, the light was really nice on the building this afternoon. What surprised me when I was half-way to the entrance was all the graffiti on the front of the building. And, it looked old. Surely this wouldn't have been allowed to stay there when I was in school.
On closed examination, though, it was a mural or artwork. The drawing styles were different, but the line thickness and spacing indicated they had been done by the same artist. I did a quick Google and Missourian archive search, but didn't come up with anything that would tell when it was done or who the artist was.
Madonna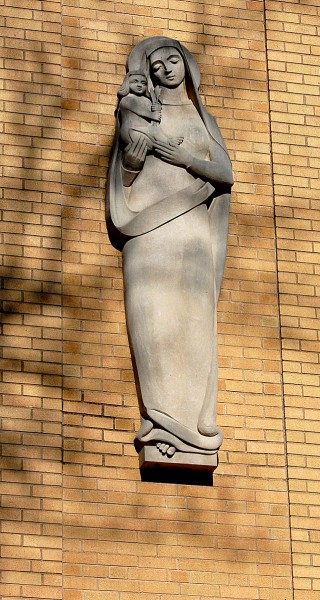 I was also quite taken by the simple Madonna on the southeast wall.
The Notre Dame High School web site has a good summary of the history of the school.
Notre Dame was also a target in the notorious toilet paper wars of the 60s, but this particular stunt went sadly wrong.
Notre Dame High School photo gallery
Click on any photo to make it larger, then click on the left or right side to move through the gallery.