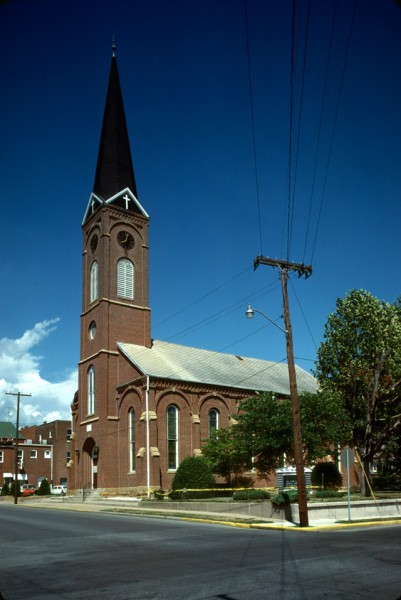 Just before it was torn down, Brother Mark and I crawled all over the Trinity Lutheran Church documenting it. I posted photos of the bell earlier. Today we're focusing on the view FROM the bell tower. Those louvered windows had a fairly big space to look through, even if the mesh screening was a bit distracting with some lens choices. Click on the photos to make them larger.
View to the northeast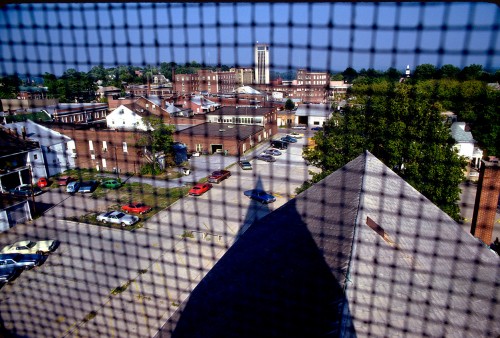 The building towering over everything else is the KFVS-TV building. To its left you can see the H & H Building and the Marquette Hotel. The bright white object rising above the trees at the top right is the Common Pleas Courthouse. You can barely make out the Walther's sign on the left side of the frame. It has become the Discovery Playhouse. Across the street was a the building that would later sport a bright blue mural with the words, "Train a child in the way he should go and when he is old he will not turn from it." That building was torn down last winter.
View to the north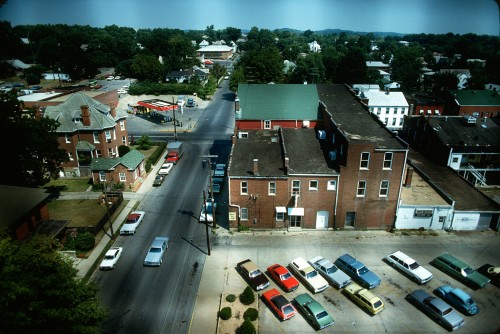 Switching to a slightly longer lens let me throw the screening out of focus (mostly), but it didn't cover as much area. The white building to the right was Brinkopf-Howell Funeral home, now Annie Laurie's Antiques. Shivelbine's Music would be the building on the southeast corner of Broadway and Frederick. Star Service Station was on the northwest corner. I'd sure like some of that 36-cent gas today.
View to the west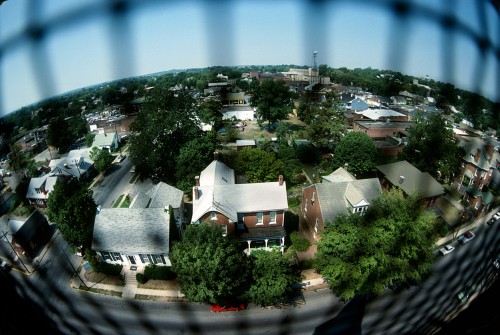 The tall structure at the top right is the telephone company's microwave tower. In the days before fiber optic cable, much of the country's long distance traffic was handled by radio signals beamed from tower to tower. Southeast Missouri State University's Academic Hall's dome barely clears the treetops near the top right.
View to the south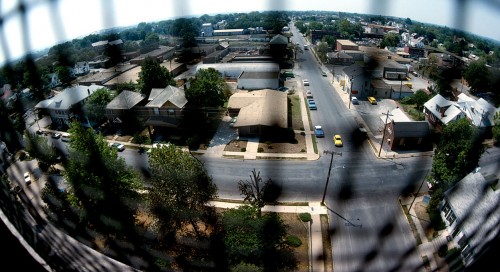 This is looking south from the intersection of Themis and Frederick. The small brick building on the southwest corner was known as "The Mouse House." Cape-Kil is directly south of it.
 Trinity Lutheran Church neighborhood in 2011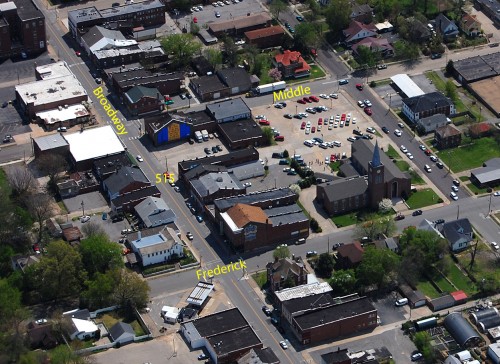 Here is an aerial photo I shot of the neighborhood April 17, 2011.