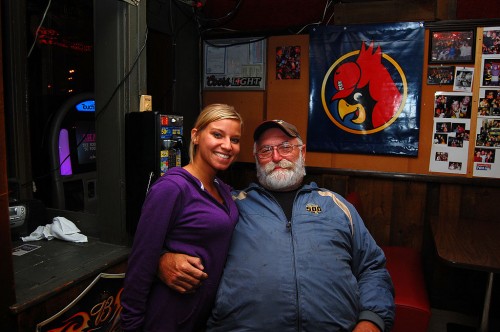 The building at 1127 Broadway has housed drug stores, grills, soda fountains and some other businesses that have fallen through the cracks of history. For most of our generation, though, it's been the Pladium and, more recently, D'Ladiums.
The one constant has been Jerry Beaver, who manages the place from his throne – a 1940s or 1950s barber chair- bought to celebrate Jerry's reaching Social Security age.
Bar and poolroom started as drug store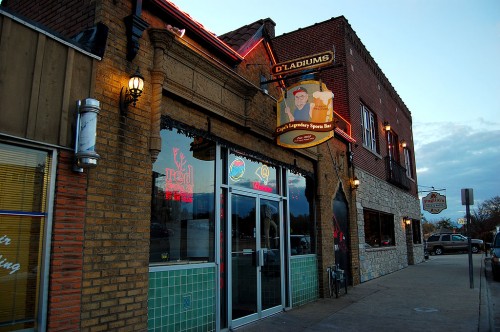 The building was originally built by the Dormeyer family in 1929 for use as a drug store. It opened in 1930. The dark door at the right of the building used to lead to the basement, which was called The Cellar and used as a soda fountain. In later years, it became The Dungeon and The Marine Room, Jerry said.
Jerry "Big Dog" Priest opened Pladium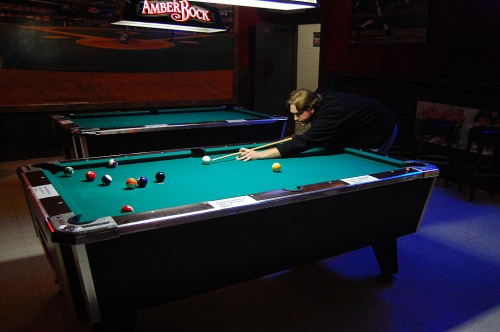 Jerry " Big Dog" Priest, a noted pool player, opened the Pladium in the late 50s. Jerry (the Beaver one) worked there for about 30 years, then he went to work for the new owners. He still wears his trademark shorts, no matter what the weather is like. Serious pool is still a big draw.
House of escapades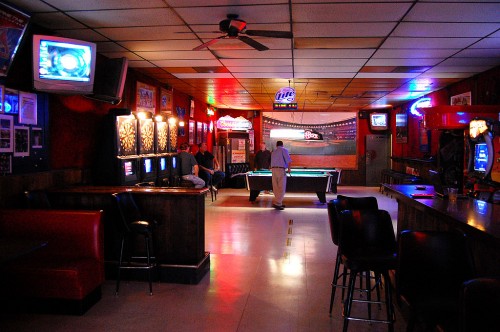 A couple of my Central classmates (who should probably remain anonymous unless they choose to identify themselves) were chatting on Facebook about escapades at the Pladium.
I low crawled 25 yards out of the Pladium one night.
I can beat that….I was carried out of the Pladium one night.
I did get put in the penalty box for 2 weeks by Bigdog for riding a Honda 305 scrambler motorcycle into the Pladium one Saturday morning.
Decades of smoke stain ceiling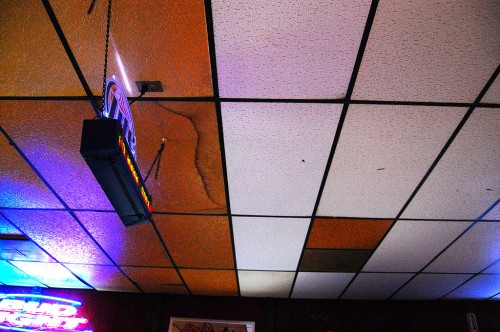 The bar is definitely a smoking area. One of the customers pointed out the difference between ceiling tiles that have been there for years vs. the ones that have been replaced fairly recently.
Memorabilia covers walls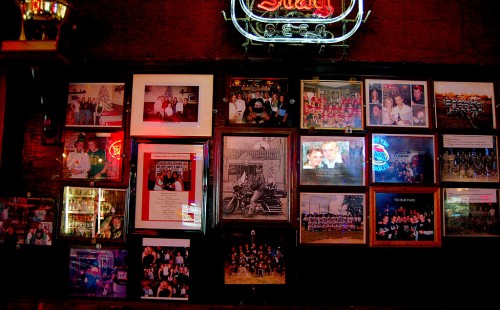 The walls are covered with trophies, license plates and photos of customers.
Jerry rules with firm, gentle hand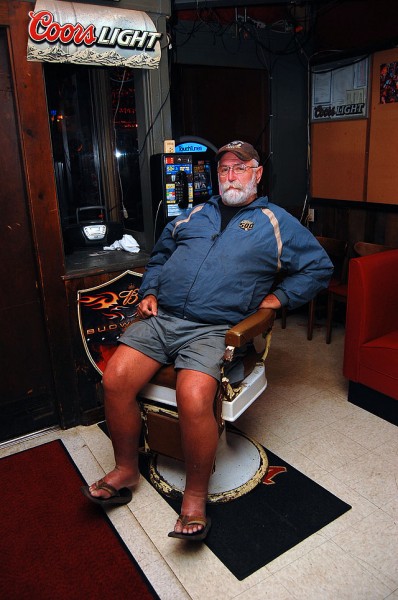 Bartender Emily Banach and customer Chris Eastridge agreed that Jerry, who knows almost everyone by name (and what they drink), keeps things under control with a firm, but gentle touch. Most customers, they said, are pretty well-behaved.
Gallery of D'Ladiums' Photos
Click on any image to make it larger, then click on the left or right side of the photo to move through the gallery.
Bartender Emily Banach and customer Chris Eastridge agreed that Jerry, a Vietnam vet, takes care of any problems that come up quickly and quietly. Generally, though, most of the customers are well-behaved.