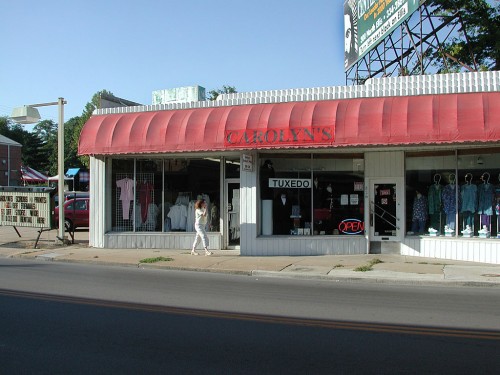 Many of my lunch hours at Trinity Lutheran School were spent in Wayne's Grill, Beard's Sport Shop and Vandeven's Mercantile in the 800 block of Broadway. My folks were good enough to give me permission to leave the schoolgrounds to eat lunch at Wayne's. A burger and a coke were 35 cents, the same as lunch at school. Add 15 cents and you could get fries. A great coconut cream pie covered with "calf's slobber," as Dad called meringue, was two bits.
If Dad took us out in the evening, we would order a bacon-wrapped filet Mignon, the steak against which I have measured every steak thereafter. It was a whole buck and a quarter. I celebrated most of my Saturday Missourian paydays by having one for lunch.
The photo above was taken Sept. 12, 2001, long after Wayne's had turned into a variety of other businesses. At some point, but I don't remember when, there was a pool hall in the building.
Original Wayne's was east of the Esquire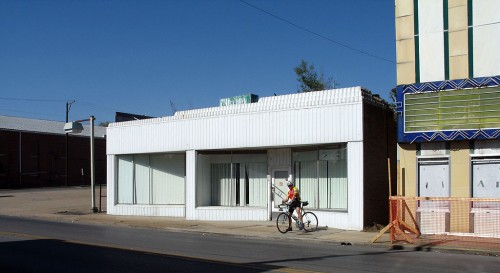 When Brother Mark and I rode by the building Oct. 14, 2007, it had changed appearance again. The marque on the Esquire had fallen down, so the sidewalk was blocked off. You can see more Esquire photos here.
When I first started eating there, Wayne's was located on the east side of the Esquire theater.
A brief in The Missourian on May 17, 1961, said that "the sale Mrs. Miller's Cafe, 828 Broadway, to Wayne Freeman has been announced by Mrs. Eva Mae Miller. Mrs. Miller said the sale becomes effective today and she will close the restaurant at the end of tonight's business.
"Mr. Freeman is owner and operator of Wayne's Grill, 816 Broadway. Presently, he said he plans to remodel the Miller's Cafe before reopening it sometime this summer. He will also continue operation of Wayne's Grill until 1963 when his lease expires. The property was acquired early this year by the Southwestern Bell Telephone Co.
"Mrs. Miller and her late husband, W. B. Miller, bought the cafe six years ago after moving here from Marion,Ill. She plans to devote her time to the operation of her business at the Plaza Cleaners and Coin Wash in the Town Plaza for the present."
Wayne's is nothing but memories and parking stops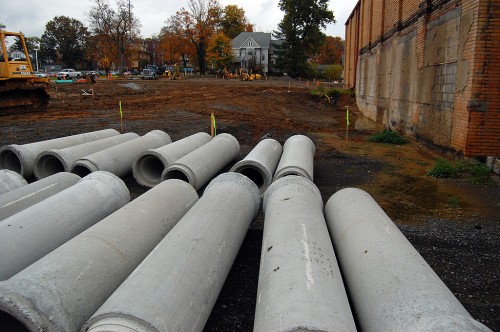 When I went back to look for Wayne's in the fall of 2009, it was gone, gobbled up for more parking for Southeast Missouri State University.
Wayne Freeman's obituary appeared in the paper Feb. 21, 1984. "Wayne E. Freeman, longtime owner of one of the city's best-known restaraunts, Wayne's Grill, died Monday, Feb. 20, 1984 following an illness of several months. He was 69 years old.
"Mr. Freeman was born April 7, 1914, in Salem, son of Evan and Ruth Gerhardt Freeman. He married the former Dorothy Pregner. Mr. Freeman had resided here since 1948, moving here from St. Louis. He operated Wayne's Grill here from 1949 until his retirement in 1974. He was a member of St. Mary's Cathedral Parish, the Benevolent and Protective Order of the Elks, and the American Legion. Mr. Freeman was a veteran of World War II.
"Surviving are his wife; a son, William W. Freeman, Ballwin; brother, Thomas R. Freeman, Cape Girardeau; and grandchildren, Jennifer K., Caitlin Suzanne and Erin Elizabeth Freeman. Pallbearers will be Dr. Keith Deimund, Jack Slaughter, Gale Heise, Joseph Quatmann, Dennis Stockard, Richard Esicar and Ken Werner."
I remember Dorothy
Wayne wasn't particularly outgoing, at least to me. I remember him as a skinny guy who handled the grill. If he said a dozen words to me in all the years I went in there, I'd be surprised. For some reason, I picture him with a cigarette dangling out of his mouth, but I could be wrong about that.
His wife, Dorothy, on the other hand, was a peach. She may have been one of the first adults I called by her first name. I'm not sure I even knew her last name until I did this story. If she wasn't busy, she'd come over and talk with me like I was a regular customer, not some kid from elementary school.