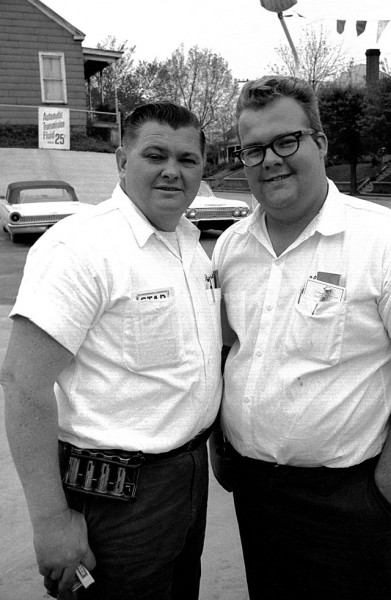 These guys looked vaguely familiar, but when I saw the coin changer and the Star book peeking out of the shirt pocket, I KNEW where this was taken: The Star Service Station at 600 Broadway.
I bought a lot of gas from them over the years. They were in the perfect location: across the street from Nowell's Camera Shop, on my way to The Missourian, and close to the Rialto, where Lila worked. Oh, yeah, also nearby to Tony's Pizza Palace. What more did a young man need in the 60s?
Grand Opening December 1965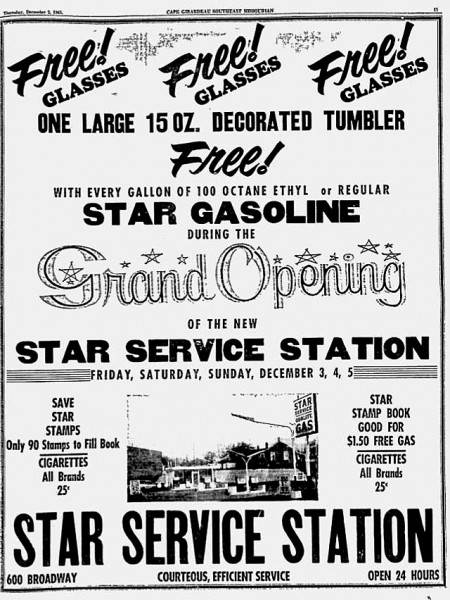 I filled a bunch of those Star Stamp books over the years. Ninety stamps would earn you $1.50 worth of free gas. I've never been a smoker, but my eyes open when I see smokes for a quarter a pack.
This was a full-service station, too. None of that pump-it-yourself stuff in those days. I don't remember if they'd vacuum your car like Brune & Eaker's Phillips 66 that I wrote about earlier.
Locksmiths, shoe stores, jewelry, gas stations
When I searched for stories about 600 Broadway, I found that it has been lots of things over the years. Here's a sample:
Oct. 18, 1932 – Joseph Mosley, formerly of Dongola, Ill., today opened a jewelry sales and repair shop at 600 Broadway, in a building with Ed Randol's shoe repair shop.
May 25, 1937 – Wm. Hartung said today he will move his sporting goods store possibly Monday from 611 Broadway to 600 Broadway. The store has been located on the south side of the street for nine years. The new location is near Frederick St., where a shoe repair shop formerly was located. The building interior is now being repaired and repainted, this building also being owned by the Hartung family. Both the store and the repair shop will be transferred to the new quarters.
Aug. 26, 1948 – Hartung's Key & Repair Shop has a newly painted red and silver front. Wm. C. Hartung, owner, has been in the present location the past 48 years. His father, G. Hartung, owned the business before him.
Apr. 25, 1989 – A representative from Wisdom Oil reported on Monday the theft of gasoline from 600 Broadway.
Nov. 11, 1990 – At first glance, the service station at 600 Broadway here may appear to be the victim of a business gone bad. There is no attendant, and the building behind the pumps appears to be boarded up. Jamie Estes, president of Par Enterprises, which owns Par/Gas explains, "This station is a Par/Gas Fueling Club station. You can be a member if you have one of five credit cards – Par/Gas, Sinclair, Master Card, VISA or Discover. You drive up to the pump, insert your credit card, wait about 20 seconds, follow the instructions, and pump your gas. It's all that simple."
May 28, 2003 – Broadway Station is set to make another go at it at 600 Broadway, this time thanks to new owner Stephen Majeed, who also owns Sprigg Street Station. His station will have gas pumps and sell everything expected at a convenience store except liquor and beer. That's because it's too close to a couple of churches. He's remodeled the interior and has added a drive-through.
Nov. 21, 2006 – Broadway Station reopened at 600 Broadway for a short time. Owner Steve Majeed opened the station to unload the 6,000 gallons of gasoline still in the tanks, selling the fuel for $1.29 a gallon. Majeed wanted to get rid of the fuel because he planned to build a new strip center there called Riverside Mall.
Stevies Steakburger in 2009
Stevies Steakburger was in the building when I was in Cape in October 2009. The white building on the right is Annie Laurie's Antiques, formerly Brinkopf-Howell Funeral Home.