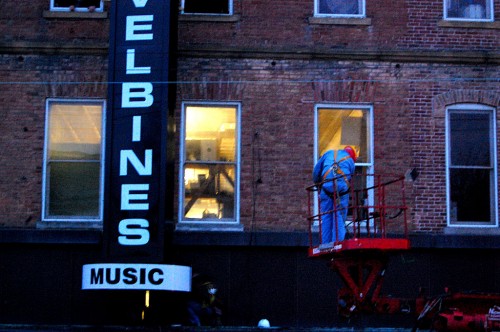 I posted some photos Wednesday morning of something missing on Broadway: the Shivelbines Music sign. By 9:55 a.m., Scott Shivelbine put us all at ease with this comment:
Hello from Shivelbine's Music! Good news for our sign, it might go back up today, 11/16 if not too windy. The sign has been completely rebuilt. All new display panels, electical and rotation motor. It will have a new look as well. My brothers, Mike and Greg, as well as my cousin, Bill, could not believe the attention having the sign down has brought from the community. The original sign went up in 1969,when we bought/moved in this building. Magnavox paid for 50% of the sign cost.
Thanks to all for supporting our music store since 1949…
[There are some interesting comments on the earlier story. If you go back to it, press Ctrl-F5; that'll make sure you have all of the fresh content. You can click on any of these photos to make them larger.]
Laurie Evertt to the rescue
I was just getting ready to order a couple calzones from Mario's Pasta House to take over to John and Dee Perry's house when Niece Laurie Everett of Annie Laurie's fame called to say that there was a big crane out in front and the Shivelbines sign was being erected.
I got there as quickly as I could, figured Broadway would be blocked off, ducked down Themis and slid into the parking lot across from the Discovery Playhouse. I had on a wool vest, but realized after two steps that a full-blown jacket was called for. I'm a weather wimp.
Hoofing it to the front of the store, I was muttering about the timing: couldn't they have done this before dark o'thirty? As it turned out, I had a window of about 15 minutes where there was enough light on the building to be not so bad, the white letters on the black sign popped out, and the light from the windows was neat.
Are you going to turn it on?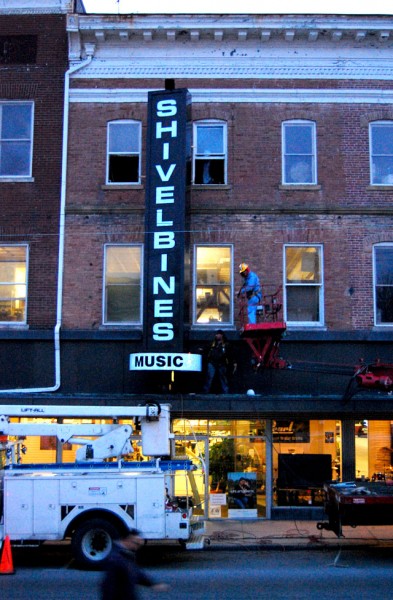 I asked one of the workers if they were going to finish the job and get it turned on? I was assured that it should be lit up and turning in a couple of hours or less. That worked with my schedule. I phoned in my calzone order, then went over to John and Dee's to show Dee how to operate her new film scanner. She wants to digitize a whole stack of Kodak slide trays full of pictures John shot all the way back to when he was in Vietnam.
No trouble seeing the new sign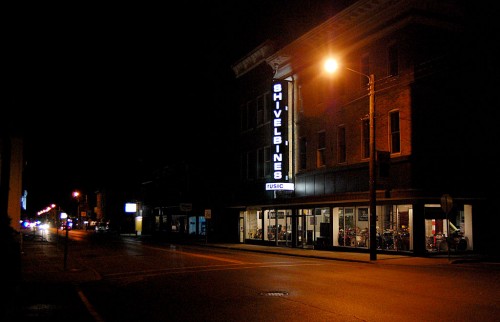 Dee was a quick study, the calzone vanished quickly and it was time to see if the sign guys had kept to their plan. There was no trouble spotting the sign from several blocks away. The vertical sign rotates and the horizontal "Music" part below it turns slightly faster.
Turning sign illuminates building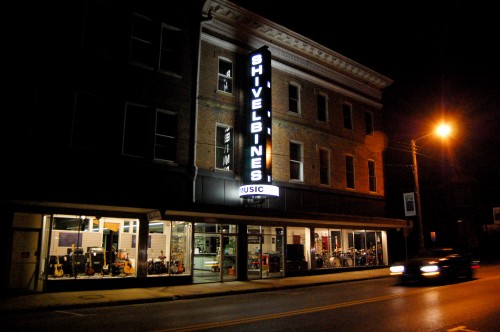 As the sign turns, it illuminates parts of the building. The windows pick up neat reflections of the letters. It's a good thing the second and third floors aren't bedroom apartments. That light would take some getting used to.
Vote of confidence in Broadway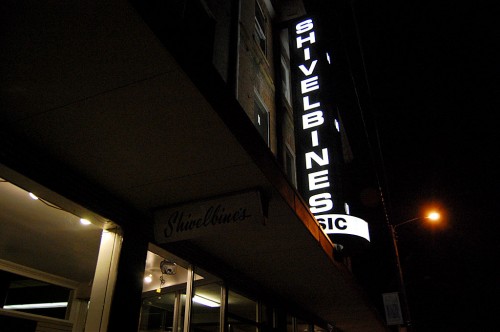 It's encouraging to see a long-time Broadway business invest in sprucing up its property. Maybe that's a positive sign that new life may be coming to the street.
I know that I promised a story about a building down the block from here that's facing the wrecking ball, but it's coming. This is as close to breaking news as I get these days. (We were driving down Broadway the night before and Mother said, "Look there are flashing lights up there."
"There's a day when I would have cared," I told her, turning off on a side street to avoid them. She doesn't know how much I don't miss those days.