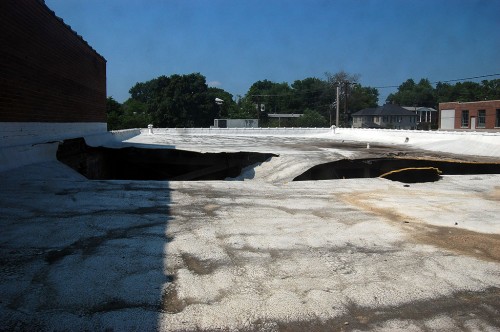 I wrote that the roof of the Rialto Theater collapsed after a rainstorm back in June. A reader asked what was going to happen? Were they going to repair and reopen or just call in the bulldozers.
Alas, the bulldozers won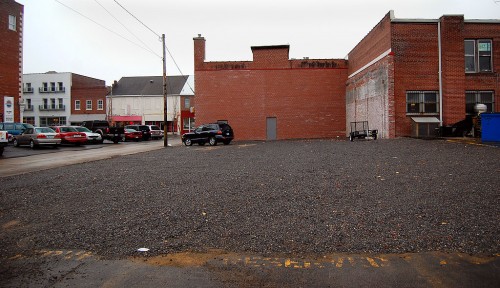 See the faint letters painted on the blacktop parking lot at the bottom of the photo. Compare this photo to one I shot from behind the theater five months earlier. There's a lot of building gone.
Rialto Theater in June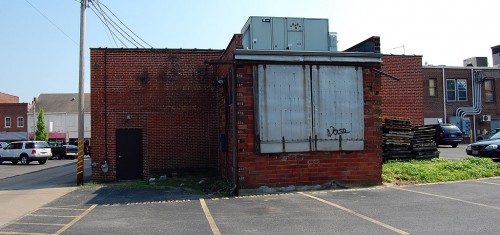 I'm not surprised that the building was razed. When I shot interior photos of the building in February, everything behind the lobby had already been gutted to a shell.
Rialto front looks the same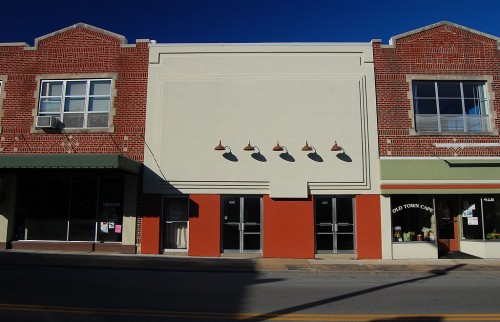 The front of the building looks so much the same that I didn't even bother to update the photo. Since what used to be the lobby is intact, I suspect that what used to be a movie theater will become regular office space.
Rialto and other theater stories
I've done a number of stories about Cape's theaters. Here are some links in case you missed them.
Headed back to Florida
I've been in Cape for exactly a month. I have a couple of loose ends to tie up, then I'll be packing everything up for the journey back to West Palm Beach. Once I get back there, I have to install everything onto a newer, spiffier computer. One of the two mirrored hard drives on my old machine died while I was on the trip, so Kid Matt convinced me to replace the whole machine instead of throwing money at an old box. I'm excited about a faster computer; I'm not excited about having to reinstall all the applications.
What all this means is that you may not be seeing as much stuff as usual over the next week or so. With Turkey Day coming up, I imagine you'll be busy with family and holidays anyway. If you're bored, go back and read some of the old stories. Folks add new comments to old posts almost every day.
I've given up chasing advertising, but I'm still kicking around some book options. I'll let you know how that's going when I know where it's headed.