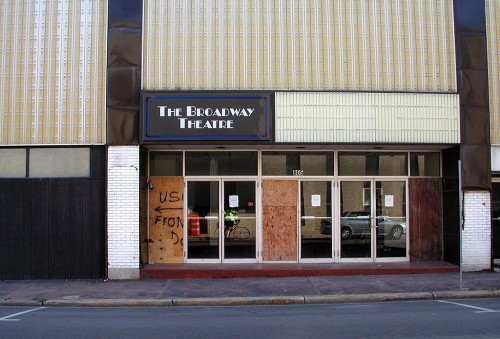 I've always had a mental checklist of places I wanted to photograph in Cape. High on the list was the Broadway Theater. I shot the exterior in 2001 when it had a cheesy facade covering the original brick. I shot it in 2009 from the outside, but could do no more than peer through the glass at junk and a faded carpet inside.
I told someone, "That place is either one match away from an insurance claim or a strong wind from a roof collapse."
Phillip Davis is starting a business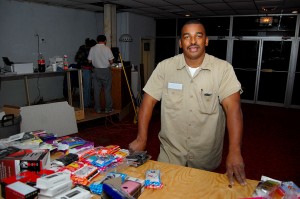 About two weeks ago, I saw the doors open and some kind of display on the sidewalk. I walked up and introduced myself to Phillip Davis, who is leasing the building for the next 18 months to sell beauty supplies, clothing and cellphone accessories from what used to be the lobby. He said I could look around, but I couldn't take any photos without getting the OK from the owner. It took a week, but Phillip and I finally put all the pieces of the project together.
Jim Stone, Shari Stiver and I were supposed to have a mini-reunion the previous weekend, but Shari begged off because of bronchitis. I knew I was going to need a helper on this job and I knew that Shari had been a general contractor doing building rehab in St. Louis, so I asked her if she felt well enough to come down to help. She jumped at the chance to see the landmark building.
Phillip told us to meet Qiunan Tang, a SEMO student from China. He opened the place up, flipped a bunch of circuit breakers and let us have free run. We spent four hours combing every inch of the place and could have spent twice that time except that I needed to shoot something else that afternoon and Shari had to get back to the big city. I'd like to come back and do the job with some additional lights.
Pictures ARE worth thousands of words

There are some stories where you just have to get out of the way and let it tell itself. I'm not going to bog you down with a bunch of history or I-remember-whens. I'll let you folks do that in the comments. I look forward to hearing your memories. In this case, pictures ARE worth thousands of my words.
This is a composite of six photos stitched together into a panorama by Photoshop. That's why there's ragged white space around the edges. I was working with a tripod with a leg that was trying to collapse, so all of the frames weren't exactly square with each other. I wanted to have the best detail possible, so I locked the "film" speed at 200 and opted for long shutter speeds. Click on any photo to make it larger. I made the panoramas about twice the size of my normal horizontal shots so you can see the detail in the photos.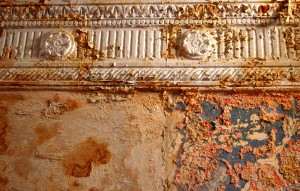 Let's just say the Broadway WAS spectacular and it's still in remarkable shape. The seats are in good condition (plastic arm rests with cup holders have been added); most of the wall sconces are intact and working; the seats in the balcony have been removed and the projectors are gone; the orchestra pit has been floored over with steps that lead to the stage. Many of the rich tapestries that lined the walls are still hanging.
There's some peeling paint and some plaster has fallen off, but there's no major leaks apparent, no rodents scurrying around (although birds have gotten into the building and left their deposits in a few spots) and no obvious signs of mold.
Other Cape area movie stories
Photo gallery of the public areas
These photos were taken in 2001, 2009 and 2011. Tomorrow I'll run a gallery of places the public has probably never seen: the dressing rooms, mechanical areas and basement. There's almost as much space below the theater as there is in the seating area. Click on any photo to make it larger, then click on the left or right side of the photo to move through the gallery. What do YOU remember about the theater?