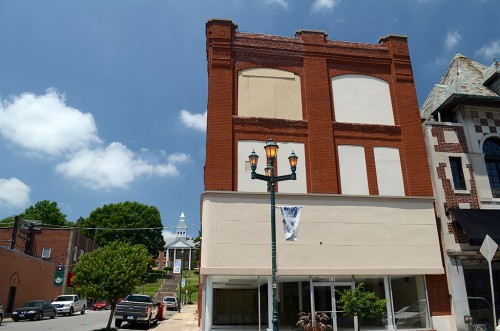 The last time I wrote about 101 North Main it was because it was on the list of the most endangered buildings in Cape Girardeau. I told Mother that I expected it would be a parking lot the next time I hit town. The upper story was leaning out over sidewalk and a big cable looked like it was holding the building together.
I am happy to report that the historic building has been pulled back from the abyss. It's got a long way to go, but I'm not afraid to walk next to it now. The Common Pleas Courthouse is up the hill on the left and the building that was once Hecht's Department Store is on the right. You can click on the images to make them larger.
Cable gone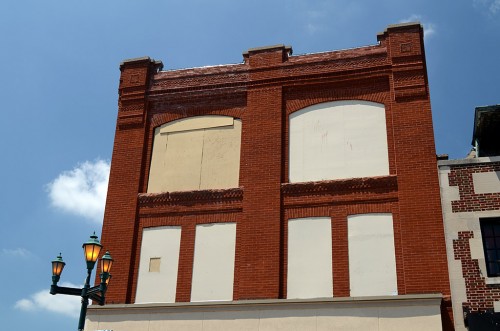 The building has been repaired to the point the restraining cable is no longer needed and the plywood tunnel that protected passersby from possible falling bricks has been removed.
The old building had been the Sturdivant Bank (the oldest bank in Southeast Missouri), the site of Cape's first long distance phone call, Minnen's Dress Shop and Cape Wiggery, among other things. Here is more of 101 North Main's history. Its neighbor, the St. Charles Hotel, home to General Grant in the Civil War, was torn down in 1967.