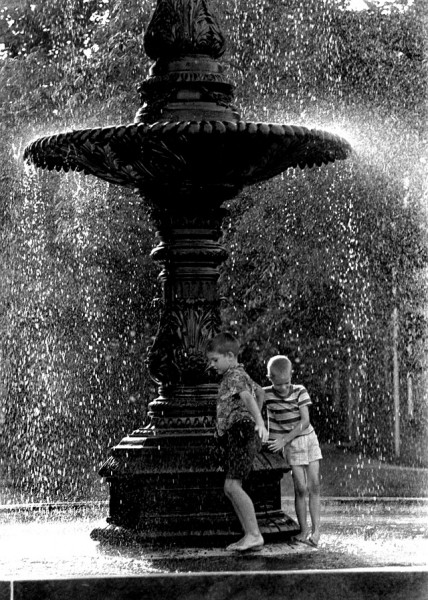 The glassine negative sleeve that held this picture was slugged "Cook kids & Courthouse Statue 6/29/67."
It was a fairly popular picture – in fact it won something in at least one contest – but I don't remember anything else about it. If anybody knows who the "Cook kids" are, let me know and I'll add it to the page.
I'm sure I'll find the newspaper clipping at some point that will let me fill in more detail. It's hard to imagine that those kids probably have grandkids that age today.
Wild art
Pictures like this are called "wild art" in the business. They are pictures that have no particular news value that can run with cutlines only and can be held for a few days. (You had to be careful that your subject didn't die and that you didn't run a sunny-day picture on a rainy day, but other than that they could go as needed.)
Some shooters were masters at feature and wild art photography. I was more into news and story-telling pictures, but you gotta do what you gotta do. Since I got paid $5 for every picture The Missourian ran, I had a financial interest in keeping my eyes open for wild art. (Actually, I was so prolific that the paper eventually changed the deal. I got paid $5 for every shot I was ASSIGNED and only $3 for every self-generated photo except spot news.)
The Civil War Soldier is still on duty
I was a little early for my appointment with Fred Lynch at The Missourian, so I wandered over to see how the Civil War soldier was doing. It made me feel good to see that he was still standing watch.