Kage School before it closed in 1966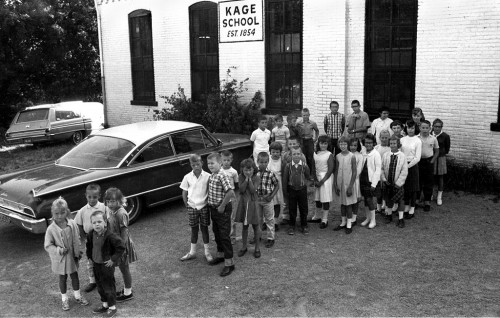 At the end of November, 2009, I ran this and two other pictures of Kage School shot sometime around 1966, just before the school was closed and 112 years after it opened. Follow this link to read the original story with the history of the school and some other resources.
Initials carved into the brick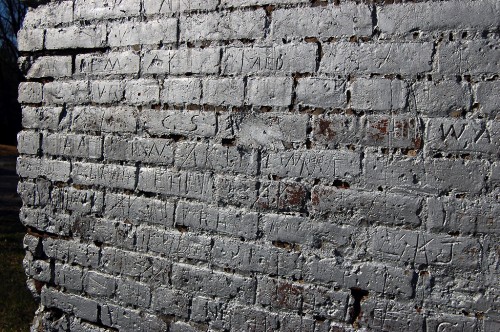 At the time, I didn't notice the initials carved into the bricks on the south wall of the school. The odd thing is that no description of the school I've read mentions the carvings.
Was this REALLY scratched in 1899?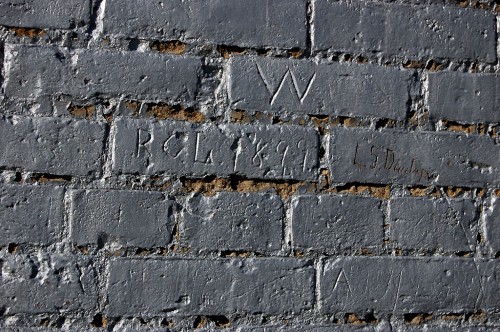 This building was constructed in 1880, so it's conceivable that someone with the initials ROL might have scratched his name on the south wall of the building. That's the side that the 0uthouse was on and the door to the kitchen wasn't added until years later, so there was some privacy. If the child was waiting for his or her turn in the outdoor toilet, maybe he or she passed the time tracing letters in the soft brick. The "L" has a unique shape that makes me think of a font of that period.
1913 is a little more plausible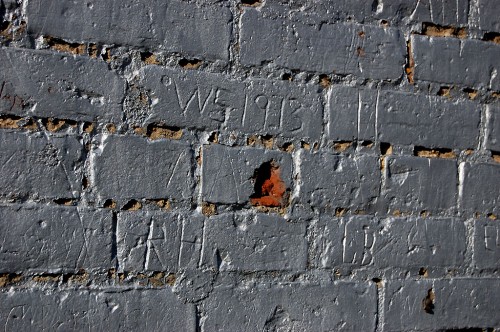 WS claims to be from 1913. Discipline was strict in schools of that era. You have to wonder what punishment, if any,  students would receive if they were caught defacing the building. Or, was it a school tradition that was overlooked as long as it was done only on that back wall.
Where was the outhouse?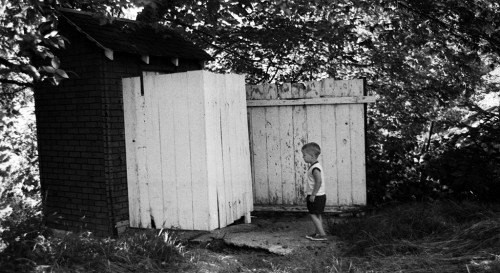 My 1966 photo showed a small child headed to the outhouse. It's long gone, but there are two concrete foundations still standing on the south side of the school. The application for the National Register of Historic Places says that one of them was a utility shed and the other was the outhouse.
I'll have to take their word for it. The one foundation looks too large for an outhouse and the other looks too small for a shed. For obvious reasons, I didn't dig too deeply into the subject.
Outhouse or utility shed?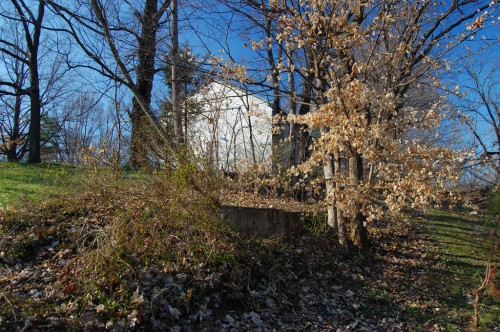 I thought the outhouse was closer to the school, but this COULD be the pit. I tried to convince my brother, Mark, to explore the subject, but he's not as gullible as he was when he was a kid.
Kage School is crumbling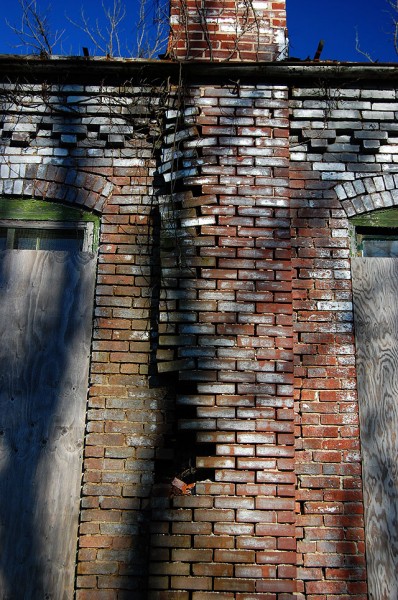 The bricks in the chimney are beginning to crumble and there are cracks above a window on the southeast side. If anyone is going to step up to preserve this historic building, they'd better do it soon. I encourage you to follow the link to the National Register application to read the fascinating history of the school.
Kage School Gallery of Photos
Here's a gallery of photos from Kage School. Click on any image to make it larger, then click on the left or right side of the photo to move through the gallery.