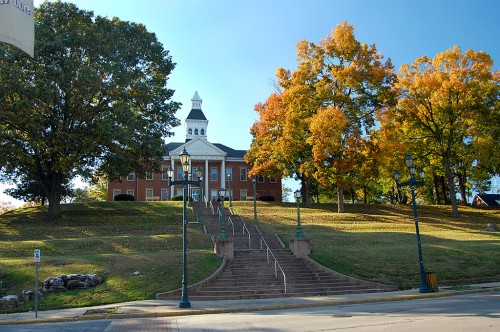 When you look at the Common Pleas Courthouse from Spanish Street, you hardly notice the windows in the dome. (You can click the photos to make them larger.)
Looking east from the courthouse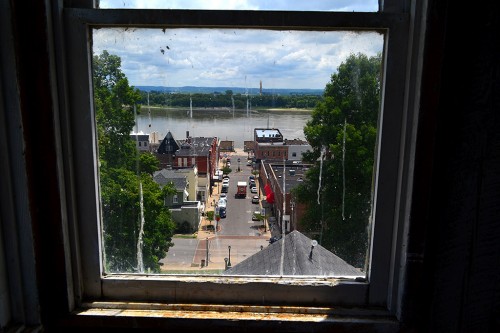 If you're lucky enough to hook up with guys like IT director Eric McGowen and public works director Don McQuay, folks who have the right keys and know where the hidden passageways are, you can see some impressive sights. I'm glad Friend Shari and I picked a day when it wasn't 107 outside for our tour. Even on a relatively cool (sub-100) day, it was hot and dusty. The tiny and winding staircases were made for smaller people than me.
Here's a view down Themis Street. The greenish building on the left side of Spanish and Themis was Doyle's Hat Shop. One of the Teen Age Clubs was in the building across the street from it. The tall, red brick building that was the Sturdivant Bank may not be with us for long. It's on the Endangered Building List. A steel cable is keeping bricks from the top floor from raining down on Main Street.
View to the west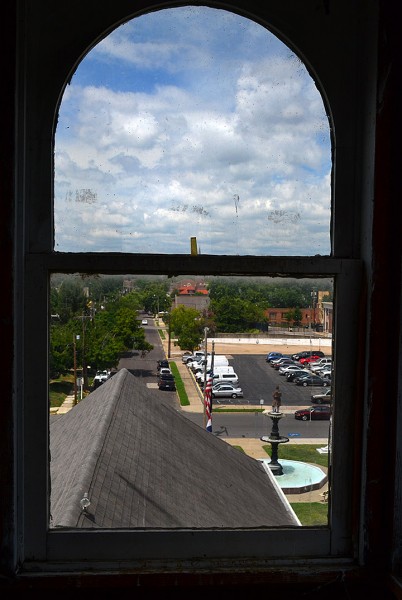 This is the view in the opposite direction. The Civil War fountain and statue is to the right of the roof. Don shared an interesting story about it when we were at the Jackson Courthouse. We'll save it for another day.
DR. C.E. Schuchert's bandstand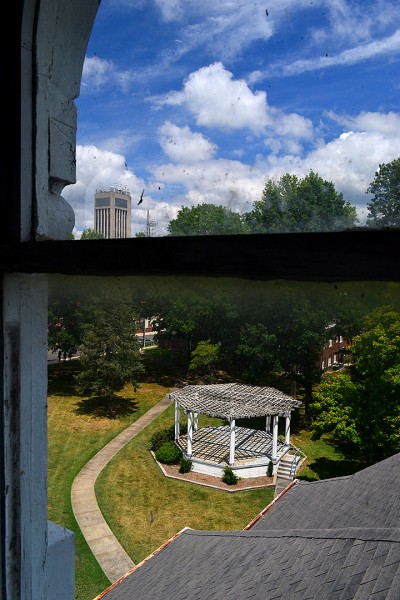 The bandstand dedicated to Dr. C.E. Schuchert and the KFVS tower can be seen to the northwest. The view from the 11th floor of the KFVS building is pretty spectacular, too. There's a photo looking back toward the courthouse that provides an interesting counterpoint to this one.