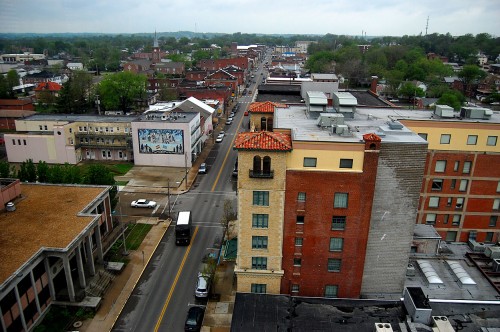 I've seen Cape Girardeau from the ground and from 1,500 feet in a small plane, but I had a chance to see it from the 11th floor of the KFVS Tower recently. That's a nice height to pick out landmark buildings.
This view is looking west down Broadway. You can click on any image to make it larger. The building at bottom left is the old Federal Courthouse. The tall building with yellow brick in the foreground is the Marquette Hotel. The pink building with a mural is where the old Idan-Ha Hotel stood before it burned. The nearest intersection is Broadway and Fountain.
Broadway to the east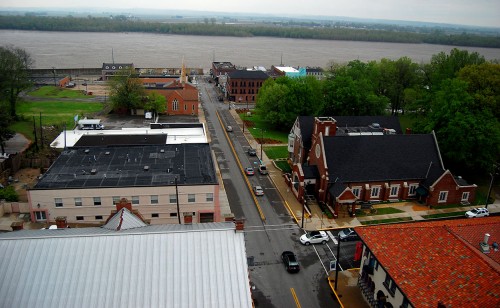 This photo looks in the opposite direction – east on Broadway toward the Mississippi River. The Missourian is on the bottom right. The metal roof in the foreground is the N'Orleans. On the right is the First Presbyterian Church. The rusty steeple near the top of the photo belongs to the former General Baptist Church.
Common Pleas Courthouse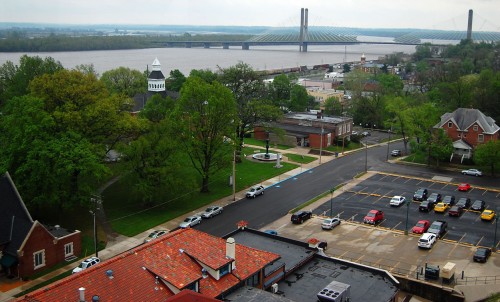 A view to the southeast picks up the corner of the First Presbyterian Church, the red tile roof of The Southeast Missourian, the Common Pleas Courthouse and old library, the steeple of St. Vincent de Paul Catholic Church and the Bill Emerson Bridge.
Cement plant in distance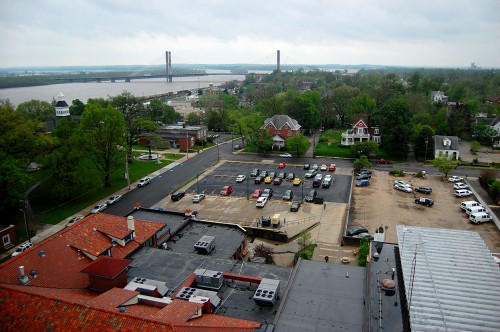 This photo is similar, but it shows a bit more of the neighborhood and gives a glimpse of the cement plant way off in the distance.