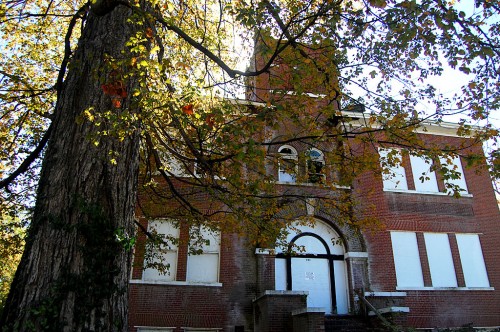 I ran photos and background on Jefferson School, Cape's oldest standing school, in the spring of 2010. After I read a Scott Moyers Missourian story on Sept. 8, 2011, saying that the school was slated to be razed the next week, I figured it was all over for the building. On Sept. 21, though, Scott has a story saying the demolition had been postponed until an environmental assessment could be done.
One last look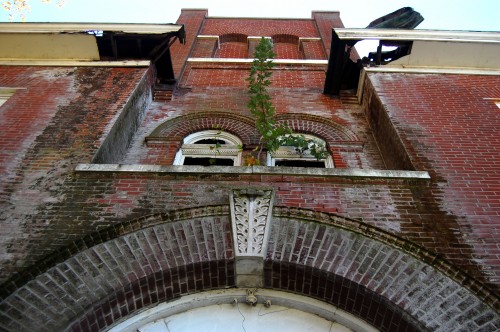 I decided to take another look at the historic building, which was the last segregated black schoolhouse in town.
It wasn't encouraging. When I walked back to the car, I told Mother, "It's going to be a race between tearing it down and having it fall down. I can see through some of the upstairs windows that the roof has collapsed. The east wall has cracks and looks like it's bulging out."
Maybe it's not that bad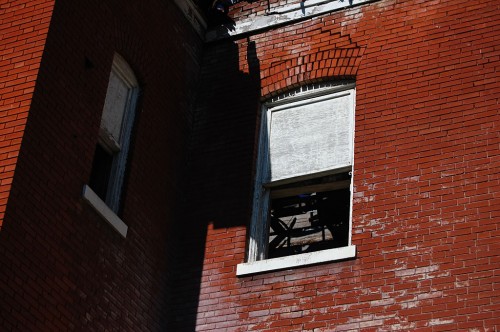 I happened to be talking with a man whose family has built and restored masonry buildings in Cape for decades. He said that he took a look at the building about six months ago and didn't share my impression that it couldn't be salvaged. The cracks around and above the windows aren't anything that can't be fixed, he claimed.
"I can look at a wall and tell if it's straight or not. If the bottom's broken and sheared, there's nothing you can do but work from the bottom to the top, but if it's just cracks around the windows at the tops, you can tuckpoint them." He said that the foundation stones and walls are in good shape.
Landmark or rubble?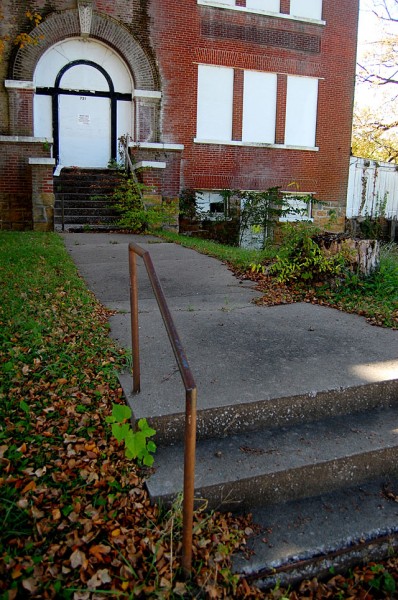 Will someone with the will and cash to restore the building step in at the last minute? If the fellow I talked with is correct, it MIGHT be a building worth saving. I'd like to see a living building there the next time I come to town and not another lost landmark.
Jefferson School photo gallery
Here is a gallery of what I have to admit are some pretty disheartening photographs. Click on any image to make it larger, then click on the left or right side to move through the gallery.