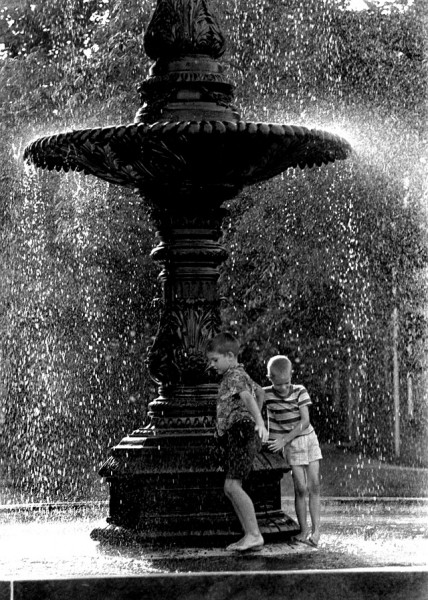 When I think of the Common Pleas Courthouse markers and memorials, this 1967 photo of the Civil War memorial is the one that comes to mind. I'm pretty sure it ran, because it won a minor prize somewhere. All I know is that the negative sleeve is marked "Cook kids & Courthouse Statue 6/29/67." When I wrote about it in 2009, I was hoping that someone would provide details, but I didn't have the readership I do now, so I'm hoping I'll have better luck this time.
It wasn't until I walked across the courthouse grounds on the way to lunch downtown with Missourian reporter Melissa Miller that I realized that the park is peppered with memorials, stones and markers. (Click on any photo to make it larger.)
Monuments to Civil War, Vietman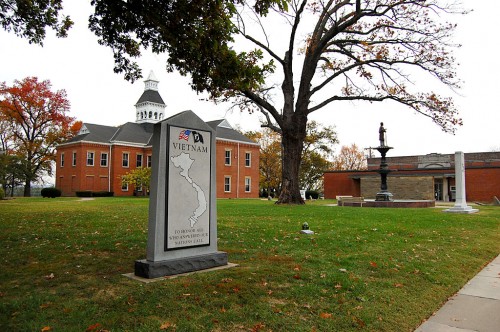 Bloomfield's Stars & Stripes Museum has a great quote about the Civil War: "Missourians did not have to await the arrival of an invading army to begin making war – they just chose sides and began fighting each other. Although the First Battle of Bull Run is usually accorded the distinction of being the first land battle of the Civil War, Missourians formed their battle lines at Carthage on July 5, 1861, a full 17 days before the so-called 'first' battle was fought."
Maybe that's why Cape Girardeau has both a Union and a Confederate memorial within yards of each other. A third memorial honors those "WHO ANSWERED OUR NATIONS CALL" in Vietnam.
Time capsule wasn't forgotten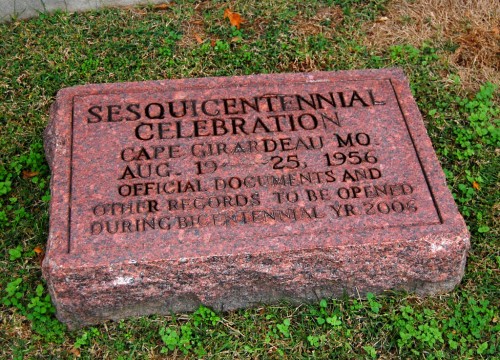 I posed the question "Did they open the time capsule" that was buried during Cape's Sesquicentennial Celebration in 1956 with an inscription "to be opened during Bicentennial YR 2006?"
Shy Reader came up with the answer:
"This is a cringing embarrassment both for me and for my beloved Cape Girardeau. No, the capsule wasn't opened in 2006, because it had already been opened in 1993. The city wanted a celebration. It was based on Lorimier's establishment of a trading post here in 1793.
"An observance was held, but it was nothing like the big Sesquicentennial in 1956. The bad thing was, by celebrating early, they spoiled the chance for a really big doin's in 2006. There were a few things that year, too, but not like 1956."
Here's a long story about how most of the stuff in the capsule was water damaged.
There's a zoom button at the top right of the Google News page to make it large enough to read.
Confederate monument vandalized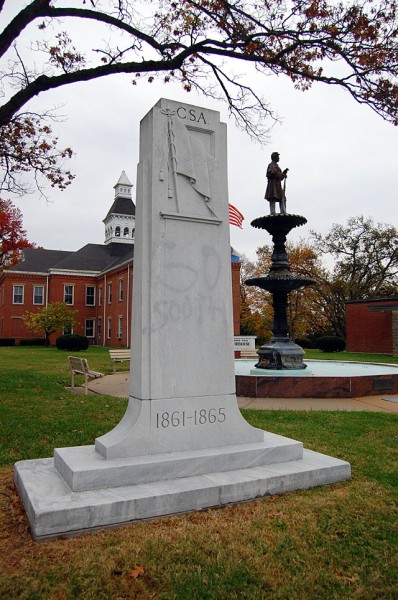 The CSA monument, erected by the United Daughters of the Confederacy in 1931, has been in the news recently because of vandalism. A high-powered solvent removed most of the paint, but some seeped into the pores of the marble.
A Missourian story by Patrick T. Sullivan said "'Go south' was written on the front of the shrine that sits along Lorimier Street near the fountain. That apparently was a request that the marker be moved, not a pro-South message. 'We are in the union,' read the words on the back. 'Obscene. Remove to [illegible] cemetary in the south.'"
Common Pleas history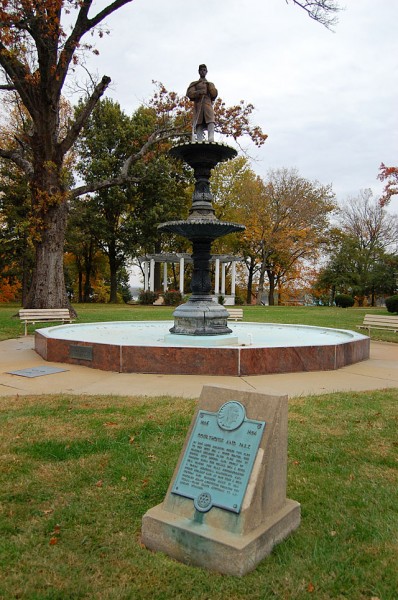 1806 – 1854
COURTHOUSE AND PARK
IN 1806 LOUIS LORIMIER CEDED THIS PLOT
TO THE CITY FOR A CIVIC CENTER. THE
PRESENT BUILDING DATE FROM 1854. IT
HOUSES CITY OFFICES AND COURT OF
COMMON PLEAS. THE CELLAR WAS A CIVIL
WAR PRISON. THE PARK ACCOMMODATES
A UNION MEMORIAL, BANDSTAND, AND
PUBLIC LIBRARY AND AT ONE TIME A FIRE
STATION AND PRODUCE MART. IT HAS
FOSTERED MANY ACTIVITIES THROUGH THE
YEARS – FROM SLAVE AUCTIONS TO
RELIGIOUS WORSHIP.
William F. D. Batjer sundial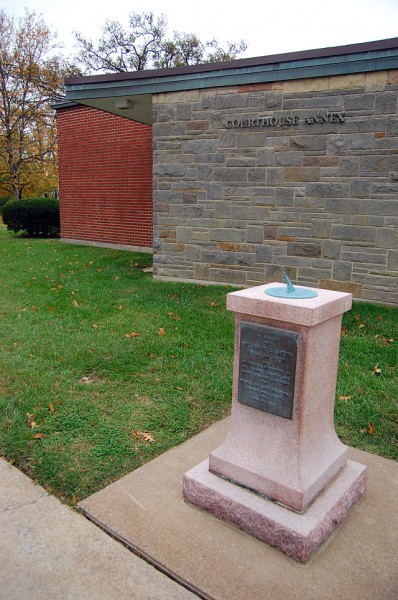 IN MEMORY
OF
WILLIAM F. D. BATJER
1864 – 1937
AND
IN GRATEFUL RECOGNITION OF
HIS FAITHFUL SERVICE AND
HAPPY INSPIRING LEADERSHIP,
THE
PEOPLE OF CAPE GIRARDEAU
DEDICATE THIS SUNDIAL
THIS
MAY 22, 1938
Mr. Batjer was former secretary of the Chamber of Commerce, Rotary Club president, secretary of the Cape County Fair Association and an overall do-gooder and social activist. He first came to Cape as a trouper playing with stock companies which gave performances in the old Opera House. He died at 73 when he was struck by a car near Texarkana while he was adjusting his car's headlights on the side of the road.
I shot a vertical photo of Outstanding Seniors Russell Doughty and Bill East leaning on that sundial in 1966. What I most remember about the photo is that the vertical was turned into a square because of a reason I wrote about in Why Pictures Don't Run.
Naeter Cypress from Mexico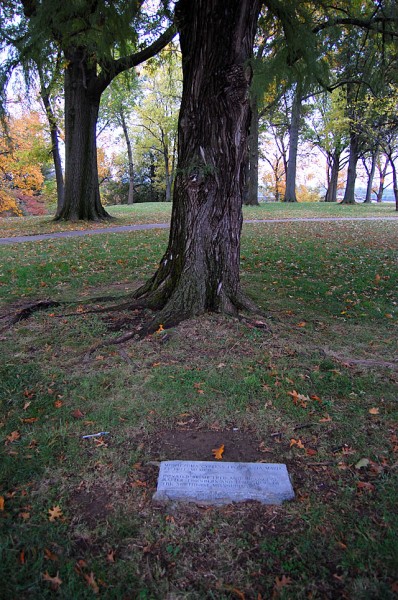 MONTEZUMA CYPRESS FROM SANTA MARIA
EL TULE, MEXICO
DONATED BY MR. FRED AND MR. GEORGE
NAETER, FOUNDERS AND PUBLISHERS OF
THE SOUTHEAST MISSOURIAN
"Our Steel Magnolia"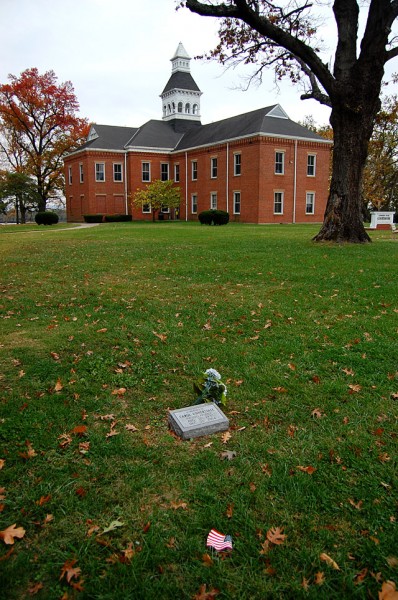 IN MEMORY OF
CAROL UNNERSTALL
"OUR STEEL MAGNOLIA"
AUG. 12, 1937
DEC. 21, 2004
Police Officer Memorials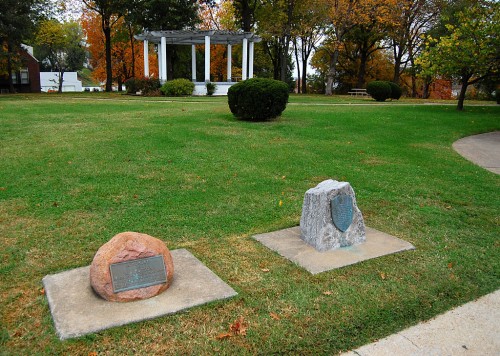 The stone on the left reads:
IN MEMORY
OF
N. J. HUTSON
CHIEF OF POLICE, A MAN WHO
STOOD FOR LAW AND ORDER
FOR WHICH HE GAVE HIS LIFE
LION'S CLUB ARBOR DAY 1923
The one on the right:
IN MEMORY OF
CAPE GIRARDEAU POLICE OFFICERS
PATROLMAN DONALD H. CRITTENDON
WHO DIED MARCH 21, 1961, AND
AUXILIARYOFFICER HERBERT L. GOSS
WHO DIED MARCH 10, 1961,
BOTH OF WOUNDS RECEIVED
IN THE LINE OF DUTY ON
MARCH 10, 1961, IN DEFENSE
OF LAW AND ORDER
EXCHANGE CLUB OF
CAPE GIRARDEAU 1962
Two memorials for Jeffrey Maguire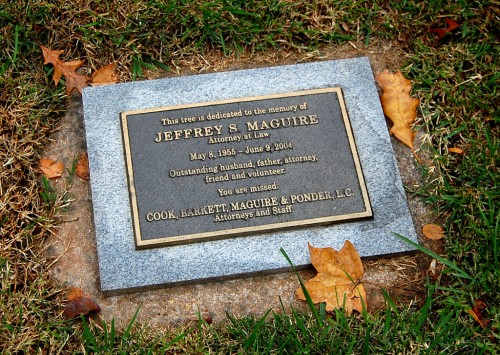 This tree is dedicated to the memory of
JEFFREY S. MAGUIRE
May 8, 1955 – June 9, 2004
Outstanding husband, father, attorney, friend and volunteer.
You are Missed.
COOK, BARKETT, MAGUIRE & PONDER, LC.
Attorneys and Staff
[Note: the tree must have died.]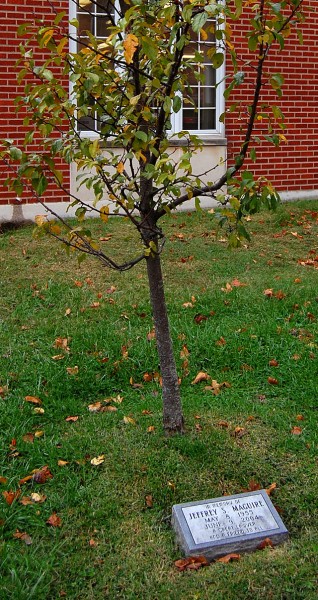 IN MEMORY OF
JEFFREY S. MAGUIRE
MAY 8, 1955
JUNE 9, 2004
A GREAT LAWYER
AND A FRIEND TO ALL
Concrete Street Award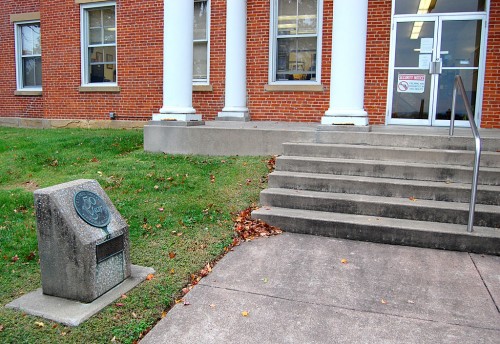 CONCRETE STREET
50 YEAR
SERVICE AWARD – 1962
FIRST CONCRETE STREETS
IN CAPE GIRARDEAU, MO.
BUILT 1912
AWARDED BY
PORTLAND CEMENT ASSOCIATION
Bandstand and Courthouse
Dad spoke often of attending concerts at the old bandstand.
Dr. C.E. Schuchert, Bandmaster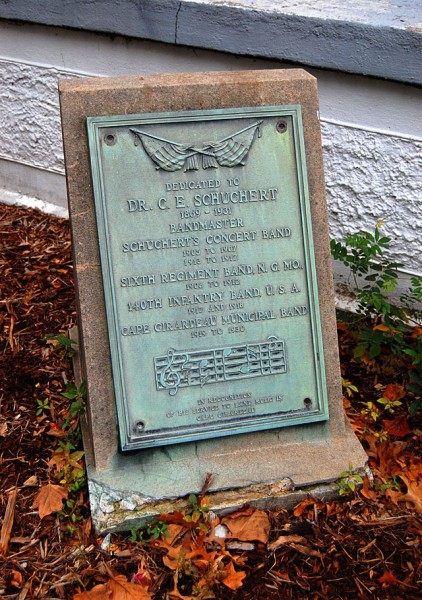 Dedicated TO DR. C.E. SCHUCHERT
1869-1931
BANDMASTER
SCHUCHERT'S CONCERT BAND
1905 TO 1907
1913 TO 1917
SIXTH REGIMENT BAND, N.G. MO.
1908 TO 1912
140TH INFANTRY BAND U.S.A.
1917 AND 1918
CAPE GIRARDEAU MUNICIPAL BAND
1919 TO 1930