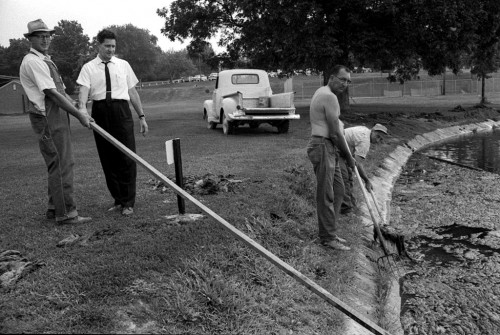 Scott Moyers did a story in Tuesday's Missourian about Capaha Park Lagoon's algae problem. This isn't exactly a new problem. Here are some pictures from the mid and late 1960s when there was a cleanup campaign on. I'm not sure when they were taken, nor who the subjects are. A couple of the men look familiar, but I'm going to let someone else put names to the faces.
Lagoon dates to early 1900s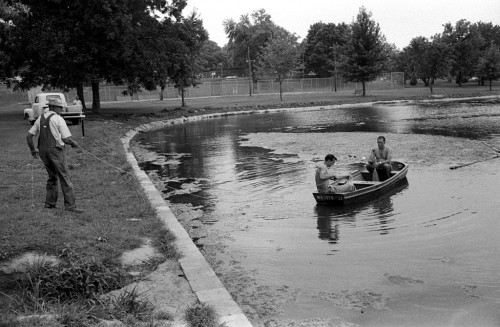 Scott's story says the 3.5 acre lagoon was put in shortly after the property was transformed into a fairgrounds. The city acquired it in 1914. Generations of Cape Girardeans have enjoyed fishing, ice skating, duck feeding and even jumping into the lagoon.
Lagoon has become shallow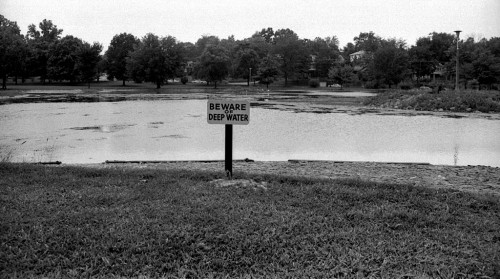 Over the years, silt has filled up the lagoon to the point that it's only about five feet deep, about half of the 10 to 12 feet years ago. Algae grows in warmer, shallower water, particularly when the summer has been as hot as this year's. The lagoon hasn't been dredged in about 20 years, the story pointed out. What makes me uncomfortable is a comment from Mayor Harry Rediger, who said that the permanent solution is to come from the parks department's creation of a strategic plan for the entirety of Capaha Park.
"Another idea is to change the concept of the lake a bit." he said. "I can't report on it just yet, because it's still in the planning stages. But we do intend to fix that in some manner – it's just that how it's to be fixed has yet to be determined."
When city officials start talking about making changes to something that's been a part of the community as long as Capaha Park, warning flags start waving. I look at all the park amenities that we grew up with: the lagoon, Cherry Hill, the band shell, the train from the cement plant, the pool (oops, guess we can scratch that one) and I don't see many things I'd change. When you hear the drumbeats for "improving" Capaha Park, better start going to meetings and letting your voice be heard. We know how Bloomfield Road has been "improved."
November 2011 aerial of Capaha Park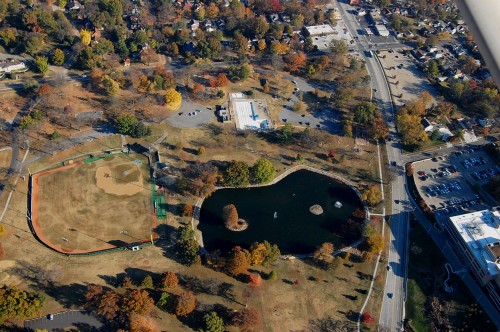 Broadway and Southeast Hospital are on the right. The pool is empty, but not razed yet.
Other stories about Capaha Park Lagoon
Gallery of Capaha Park Lagoon photos
A collection of photos taken over a period of time. Click on any photo to make it larger, then click on the left or right side to move through the gallery.