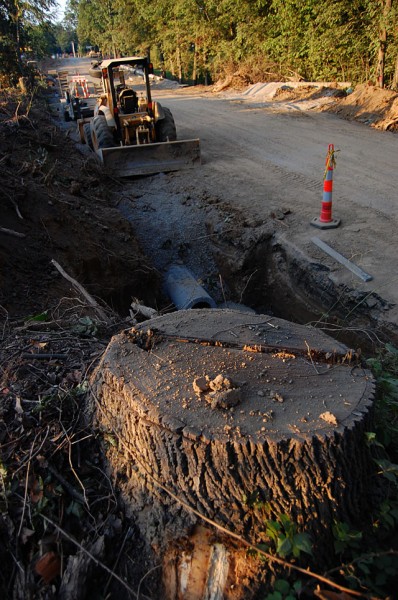 This afternoon, Mother, Advance reporter Madeline DeJournett and her blackberry pie-baking fiance, J.D. Braswell, and I met with Advance historian Paul Corbin for three hours of history, gossip and tales about that small town.
During the course of the conversation, the topic of trips to Cape came up. Mother mentioned that her grandmother would always buy a pot when she shopped in Cape so that they could stop for a drink of water at the spring on Bloomfield Road..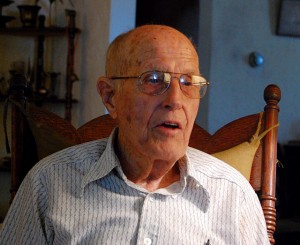 Paul said his mother told him about going there on their shopping trips to Cape."It took one whole day to get from Greenbrier (west of Advance) to the spring. They stayed all night at that spring. They took potatoes to sell and sorghum molasses, probably chickens and everything. They'd take some hay to put in the wagon – they'd sleep in the wagon." The next day they'd go on into Cape to do their business and return to the spring to sleep that night. "It took three days to make the trip." Paul is 97, and Mother will be 90 this fall.
I've been avoiding going down Bloomfield Road. Not because of the inconvenience, but because I didn't want to see what had happened to this historic and scenic highway. It was late in the afternoon, so I decided to take the plunge. After writing about the construction plans, I felt like I should see how bad it was.
Tree loss to be minimized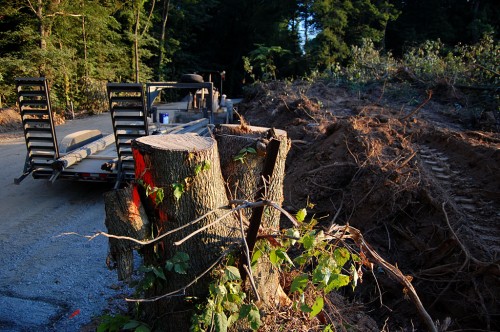 Remember back in May when the city held a meeting to talk about the $1.25 million road-widening project? City officials said that as many as 150 trees would have to be taken down in order to widen the road from 22 feet to 28 feet. City Engineer Kelly Green was quoted by Scott Moyers as saying that the city has taken measures to mimimize the loss of trees, but that some would have to come down in order to widen the road.
Maybe they are just cutting saplings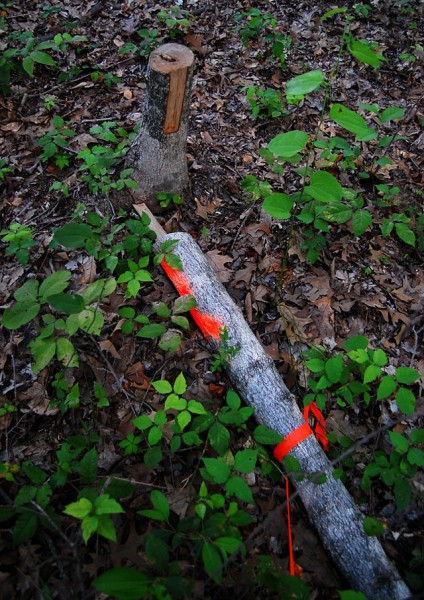 The loss of a few saplings can't be THAT bad. Surely they'll spare the grand old trees that have been providing travelers shade since the horse and wagon days, right?
Big trees are cut, too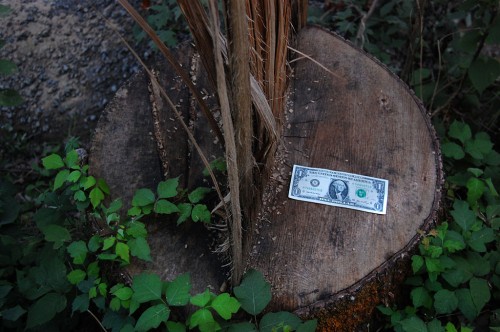 In order to get an idea how large some of the trees were, I put a dollar bill on some of the stumps. A dollar bill is exactly six inches wide. Based on that, this tree had to have been close to 30 inches across. That tree was probably a good size when the Corbins and the Welches were camping and drinking from the spring just up the road over a century ago.
They are ALL cut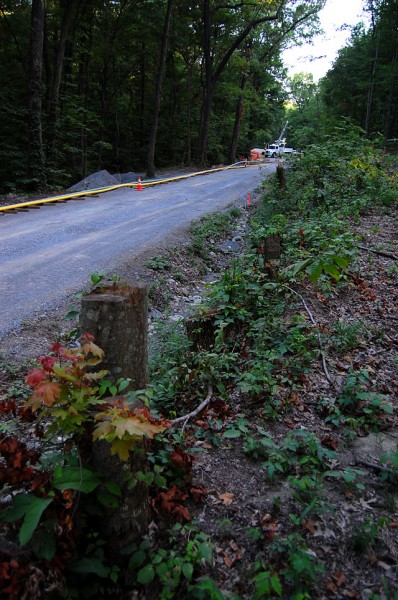 In fact, it looks to me like every tree inside the right of way on the west side of Bloomfield Road is slated for removal or has already been cut. The only shade on that side is what's provided by trees that are on private property.
Why is this important?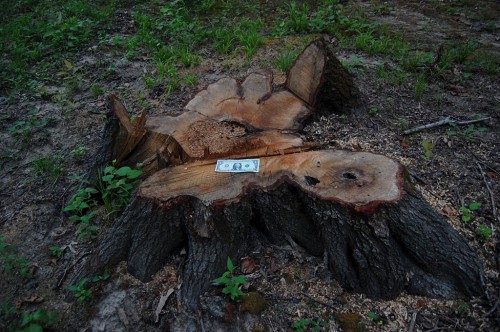 We've lost this stretch of road. These trees won't be replaced in our lifetimes, our children's lifetimes nor our grandchildren's lifetimes. They're gone and they ain't coming back.
Moyer's story went on to say, "And the loss of trees may not end there. While no specifics have been planned for the next phase, if it's similar to this summer's work, more trees will come down in two years. Project manager David Whitaker said the city is starting with the concept that the next phase will be similar to the work this summer, but added that input from the meeting Thursday could change the nature of the work in 2013."
Make your voices heard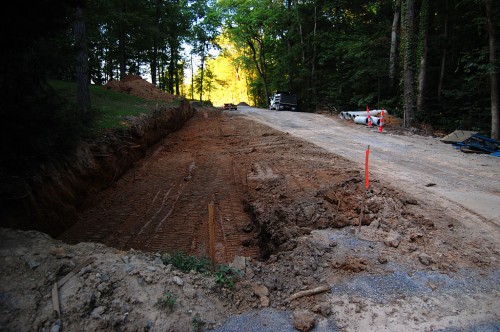 If you want to save what I think is the most unique section of the road, from what used to be Mount Tabor Park to Hwy 74, you had better start gearing up now. Watch the paper for notices of meetings and GO to those meetings to let the officials know that clear cutting the last section of roadway is not acceptable.
Do you want this or another Mount Auburn Road?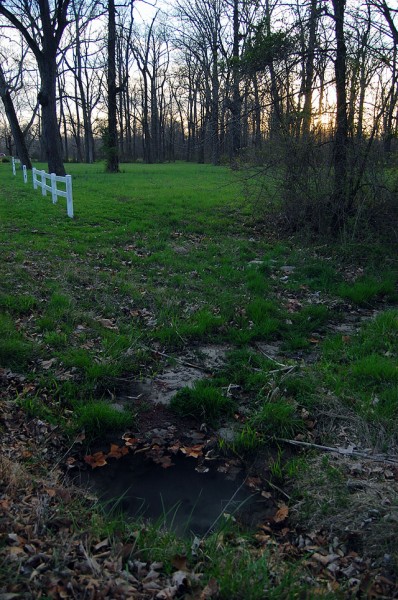 Stopping or modifying the last phase is going to be tough because the city is going to drag out the "safety" argument, saying that it's dangerous to have a widened road feeding into a narrow one.
To that, I say "balderdash." If the old Bloomfield Road was unsafe, it was because the speed laws weren't enforced. Generations of drivers managed to navigate that road. Wider roads simply breed higher speeds and more traffic, which calls for more wider roads.
Alternative routes exist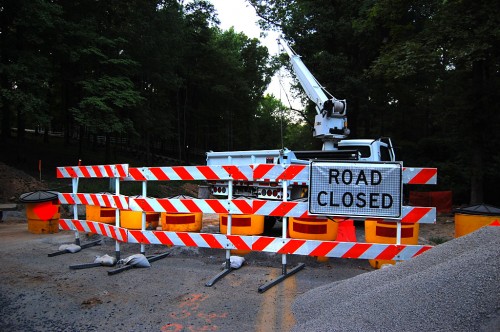 There are alternative routes for drivers who feel the need to speed instead of appreciating the quiet, cool beauty of an historic roadway.
I want my grandkids to be able to show their grandkids where their great-great-great-great-great grandparents once camped when it took three days to make a 60-mile round trip.
Photo Gallery
Here's a photo gallery that shows just how well city officials preserved the trees along Bloomfield Road. Keep them in mind when you start hearing talk about planning of the last phase. It may already be too late. Click on any image to make it larger, then click on the left or right side to move through the gallery.