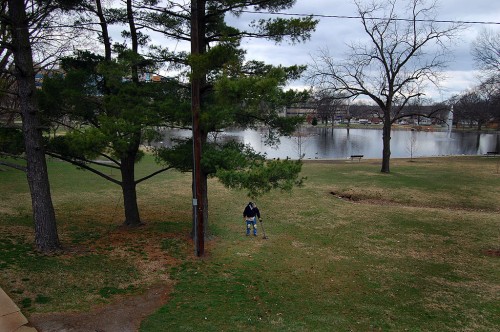 My Mother and I were cruising around town knocking off a list of photos that folks had requested. I wanted to get some shots of the pool at Capaha Park and the filled-in pool that preceded it.
While I was shooting the pool, I noticed a guy with a metal detector walking around. When he dropped to one knee and started gouging in the dirt, I went down to talk with him.
"I lost a quarter here in 1957"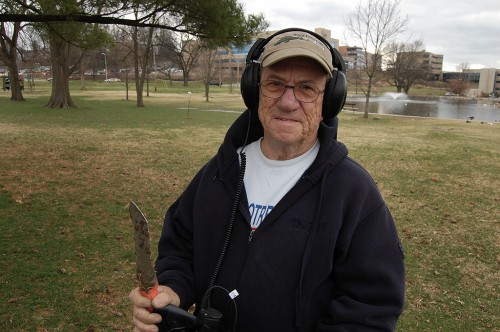 When I caught up with him, I said, "I lost a quarter around here in 1957. I think it fell heads-up, so if you find one, it's probably mine."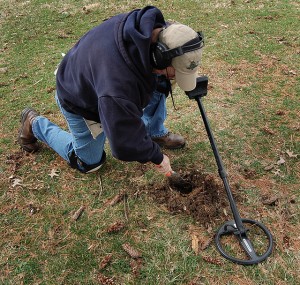 "Well, if you lost it in 1957, it's a pretty sure bet that it's made out of silver," he said, trying to scoop dirt out from under a root.
The fellow was Ron Ethridge, who drove a KAS potato chip truck for some 30-odd years. After he retired from that job, he worked a few other places in Cape, including St. Vincent de Paul for 12 years.
When I mentioned that I was a refugee from The Southeast Missourian, he said, "Then you must know Ray Owen. He and I were buddies over in Cairo." I told him that I not only knew Ray, but had gone to school with his wife, Sally Wright Owen, Class of 1965.
"That Sally's a fine gal," he observed.
Ron started prospecting in the 70s
He celebrated his 69th birthday yesterday. "Climbing up and down in those trucks kept me in pretty good shape.
He admitted, a little sheepishly, that he had recently racked up his knee by slipping on, of all things, a banana peel.
He's found a few gold pieces and a lot of silver coin over the years – mostly around Cairo. The main value is that it gives him something to do, some exercise and a chance to meet crazy characters who want him to find quarters that went missing in 1957.
There's more than one Ron around. We saw another fellow with a metal detector working in the Red Star area an hour or so earlier.