When I was in Cape last month, I took a bunch of photos of the Capaha Park Pool, including an aerial, because I knew something was going to happen to it. When I opened up Facebook this morning. Mary Bolen had posted this photo of heavy equipment knocking down the pool house. She was kind enough to let me reproduce it.
We're going to run photos of the pool for the next two days. Today we'll showcase photos taken during the 1960s, along with memories of three lifeguards who worked there. I'm going to pretty much stand back and let them do all the talking. The next day, I'll publish photos of what the pool looked like more recently.
Lila Perry Steinhoff's story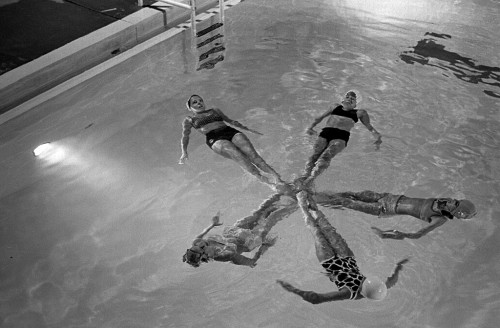 Lila Perry Steinhoff's love affair with the water:
I have to admit that I felt a quiet tear or two when I saw the picture of the heavy equipment tearing down Capaha Pool. Capaha Pool was where I first realized that I loved the water… a love that has never left me. I walked into Capaha Pool for swimming lessons when I was 10 years old and didn't leave until I was 20. I learned to swim there, and later, taught swimming, coached a water ballet team and met a life-long friend there.
Last swim was last summer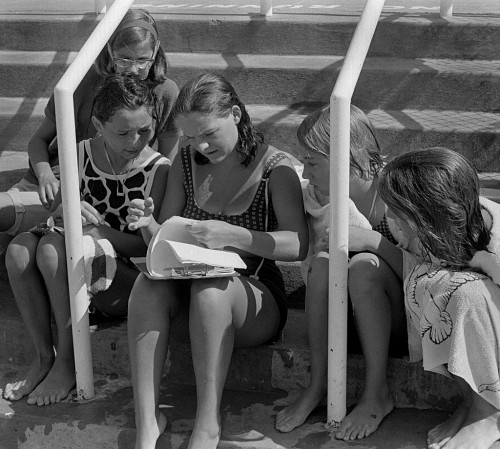 I last swam in Capaha pool on June 28 and 29, 2010. I did a mile both days. I still loved the place. It never occurred to me that it would be my last time.
The time I spent at Capaha Pool is time I have never forgotten. I can't remember working anywhere else in the past 45 years that I have loved and remembered more than my time there.  Concrete may not last forever, but good memories do.
Lila's one serious rescue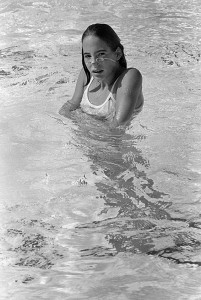 Other than having to shove tired swimmers toward the side on occasion, I can remember having to actually rescue only one little girl in the 10 years I was there. She was in one of my swimming classes.
One skill required of each student was to swim across the pool. She was half way across when her long, loose, wet hair covered her face and she couldn't breathe. I went in and took her to the side. She was shaken and so was her mother. I asked her mother to please braid her hair or get her a cap. The next day, that child had the tightest braids I had ever seen. Plastic surgeons couldn't have pulled her face any tighter.
Those of us who worked at Capaha were close, and we knew what was going on with everyone else.
"You're getting married in two hours"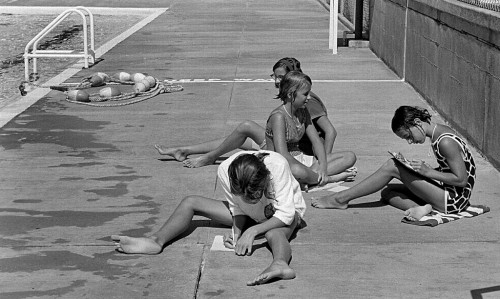 The day I got married, I taught swimming lessons until 1 PM, then went home to await the 7 PM start time. When I got home, my mother was having multiple meltdowns. I knew if I stayed there, I'd be a basket case, too, so I went back to the place where I felt most at home… the guard chair at Capaha.
Periodically, during the afternoon, fellow guards would walk by and suggest that maybe it was time to go home. I just didn't want to, and I stayed. Finally, around 4:30, someone… I don't remember who… got up in my face and, emphatically, said, "Go home. You're getting married in 2 hours." I left and was dressed and at the church door by 7… with a red nose. Forgot to use the zinc that day.
Terry Hopkins' story
Strange, the Capaha pool would be opening this next weekend, Memorial Day weekend, and right now all of us would be working like dogs trying to open the pool. Track season would be over and Bill Jackson, Dave and Dan Ranson and I would be up to our necks in cleaning the pool with muriatic acid and shoveling all the leaves that had collected in the deep end diving well out. After that was done, we painted the bottom and touched up the lines on the bottom of the pool.
Ranson Twins laid out the lines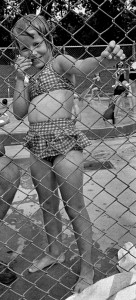 The first year we added the lines on the bottom of the pool, Dan and Dave Ranson designed it, and with sticks and string, laid it out and painted between the lines to make the eight lanes we used for swim meets…this was a great advance at the time. This took us forever, and I remember we were not paid. We were sweating and hoping the paint had enough time to dry before we had to start to fill the pool with water. We waited until the last minute for the paint to dry and then filled it…the paint held!
There is probably STILL some of that paint we laid on the pool after all these years.
It is funny, I knew every kid in town during those years from 1958 until I left town in 1970.
EVERYBODY went swimming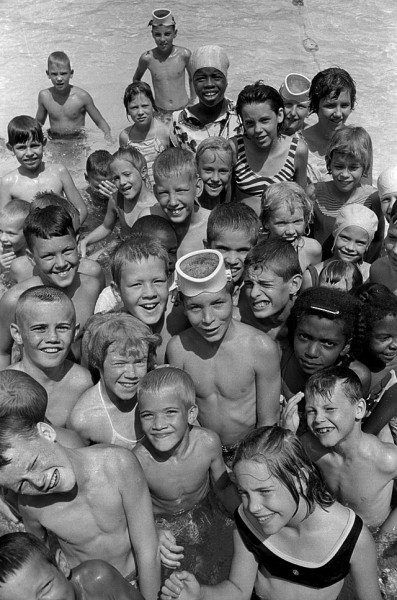 In those days EVERYBODY went swimming: the kids in afternoon and lessons or swim team in the mornings, the adults had Wednesday morning for "Ladies Day". The Jaycees' of several towns rented the pool at night and college groups at times too…
This was about the center of the kid universe in Cape at the time. Kids would play minor league or Babe Ruth baseball in the park and then come swimming to cool off. When you had to mow the  lawn, you went swimming to cool off. During the really hot days of summer you just went for a swim to cool off. If you were a kid you were at the Capaha Park Pool sometime during the summer.
I loved the place. I can remember all the lifeguards when I was growing up and they were GODS to me.   Even Norval Jones, the school record holder in the half mile, was a guard. I remember the guys said he had legs like trees.
Original pool rat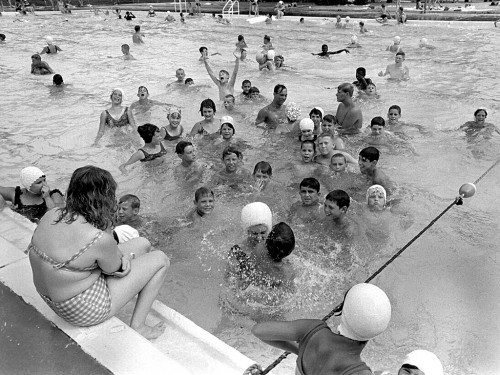 I was one of the original pool rats and swam every day. The pool opened when I was 10 or so, and I was old enough by then to ride my bike from 1414 Mississippi Street to the pool and swim until dinner time. I rode my bike home, ate and then waited until it was time to go the next day when it opened at 1:30 PM. That was my life and at the time it was great!
THEY can swim across the pool!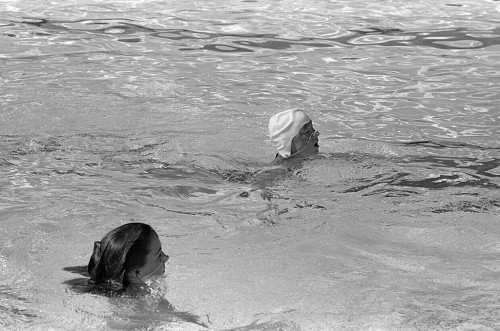 At the pool, my friends were Bill Jackson and Bob Young, and we all had season passes. We swam every day; at the time we were the only ones who were swimmers among the kids of that age or older. I can remember the lifeguards telling people, "look, these guys are only 10 years old and they can swim across the pool!"
Bill, Bob and I would swim in swimming lessons. When the swim team started, we were among the first to sign up and be there! Mr. (Dick) Flentge and Mr. Schneider were the first of the swim coaches. All of us took and passed the senior lifesaving course and became full-fledged, card-carrying life guards. Later, all of us became WSI or Water Safety Instructors and taught others the skills we learned and taught others to be life guards!
God of The Pool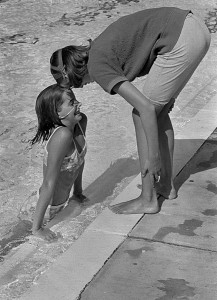 Now back to becoming and attaining the HOLY GRAIL of really being a paid life guard and sitting on the chair at the Capaha Pool. You could take and pass your life guard test at 15-1/2 years, so in the summer of 1964, before I could drive, I climbed the chair for the first time as a GOD of the pool.
So this is how it happened. In August, the life guards were all shot and wanting time off, and the pool managers couldn't get anyone to work. Ray Schurbusch was on the chair and wanted to see his  girlfriend before going back to school, but he had to work at the pool. Presto, I was a PAID life guard ( Mr. Cracraft approved me to work) and there I was a GOD of the pool at 15-1/2. I went home and my mom sewed the Lifeguard patch on my swimming suit that night so I could be a real LIFEGUARD.
Worked 60 hours a week for six summers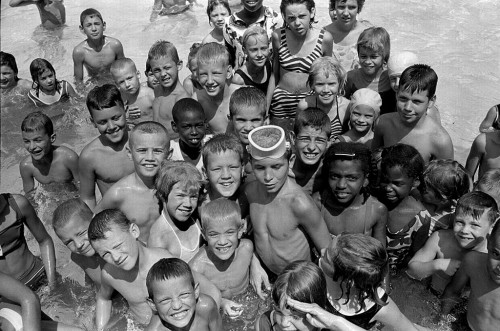 I worked at the pool 60 or so hours a week for next six summers as a pool guard, head guard and pool manager and swim team coach. Bill and I were the swim coaches at the pool and had a great working relationship. Bill worked with the big kids and produced several great swimmers and helped many kids to have better lives. I worked with the little kids and developed kids so they could become better and swim with the big kids and Bill.
Mrs. Jack Rickard (or MAW Rickard as we called her) ran the swimming lessons. I think back to that time as one the best times of my life, I did not know it then, but it was. We all had a great impact on kids' lives and hopefully gave them some good values, a safe place to be and hang out and maybe had a little healthy fun too!
Scatter my ashes above the pool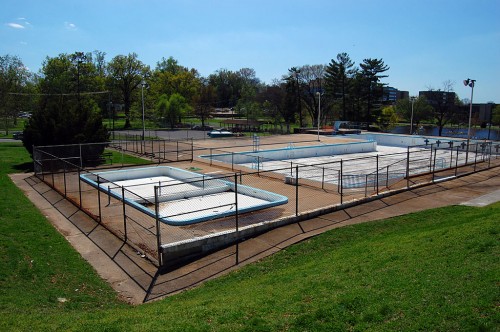 At one time, I wanted my ashes scattered on the hill above the pool just so I could be close and watch people having fun at a place I loved.
Not a single time that I have returned to Cape have I missed seeing the Capaha Park Pool, and I will visit her again next week.  I will miss the Capaha Park Pool and all the life that ran thru it and all the memories it created over its life time.
Farewell my 12-foot deep, 8-lane, L-shaped fun factory and memory maker, farewell.
[Editor's note: When I sent Terry an email thanking him for the good job he had done, he replied, "I had tears in my eyes at the end."]
Jacqie (Bill) Jackson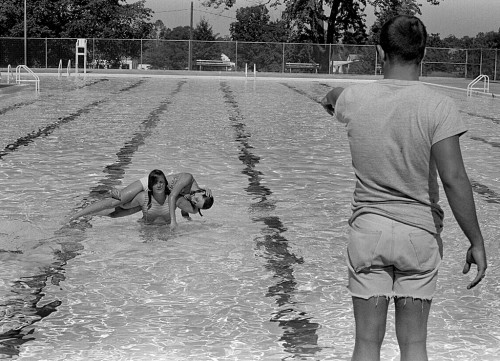 Jacqie (Bill) Jackson, Class of 1966:  We started going to the pool as soon as our parents would let us go down here. I remember the pool being built in the late 50s. When we were little, we would go down and splash in the little pool. When we got to be about 10 or so, our parents turned us loose and would let us walk down there. The lifeguards essentially became our babysitters for the day.
I got involved with all the swimming lessons and activities with Helen Shamboo. We went through the whole program with Richard Flentge.
I was faster than the guards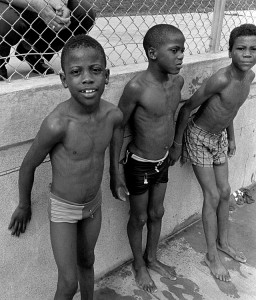 I was on the swim team from 10 years old on. By the time I was 15, I could swim faster than all the lifeguards at the pool. When I got old enough, I did lifesaving and got lifeguard training. When I was 16, I got hired. That was the summer of '65.  I was the only 16-year-old; everybody else was in college.
There was a great big guy named Martin and Irvin Beard and Allen Nenninger and Gary Kinder and David Langston: a whole bunch of basically fraternity guys and me.
Brothers were guards, too
I coached swimming, taught lessons and did life guarding. My brothers – both Bob and Tom -were lifeguards and coaches there after I was. There were the Ranson twins – Dave and Dan – and Terry Hopkins was coaching.   Bob Young, Emmett Jones' son, was involved heavily through the years.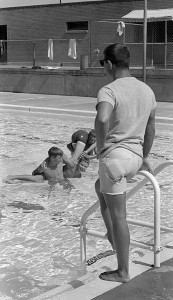 It set my life for 30  years. I continued to coach in different places, teach lessons, do lifeguard training. I kept my finger in aquatics right up until 2000. Lila and all of us were involved with the whole program for several years, then we were down at the Natatorium with Dan Beatty.
My last swim was sometime in the early to mid-80s after we came back from Alaska. We'd take the kids down to splash around. I probably got in to do a few laps or try to swim the length of the pool underwater like we used to do. It was a big deal to swim 50 yards underwater. Then we got good enough to push off the wall and make it back to the end of the deep water.
We were always in the water pushing some poor little kid to the side or dragging somebody four feet. Almost everybody who needed help was generally within about five feet from the edge, so  you'd get in behind them, go underwater, gave 'em a push on the butt, boost them to the side and let 'em grab hold.
Serious injuries came from diving boards
The serious injuries were on the diving boards.  There was always someone cutting the top of their  head open on those old aluminum boards. One kid was clowning around on the high dive one day. He walked out to the end, then decided he was going to walk back. He slipped, fell off the board half-way back, caught the rail, the concrete, the upper concrete level, and the lower concrete level and rolled in the water. I've never seen anyone bounce off so much concrete in my life.
Head off to the hospital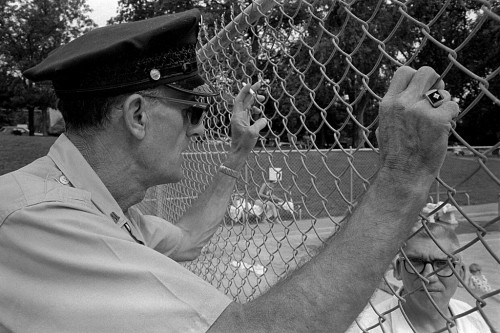 I had an old '57 Plymouth. It was the designated car about half the time. We'd get a kid, slap a dirty towel on the top of his head and drive him up the hill to the emergency room at Southeast Hospital, drop him off and then call his parents, who would thank us for taking the kid to the hospital. To think about doing anything like that these days would be horrifying.
The pool began to show its age, even back in the 70s. We used straight-up chlorine in a tiny little concrete room down there. We also used caustic soda, 50 per cent sodium hydroxide in 55 gallon barrels. We adjusted chlorine and pH levels basically straight out of  tanks. We'd always get a dose of chlorine if we didn't get the washers hooked up right. It was a seat-of-the-pants, old-time, dangerous operation.
It guided my life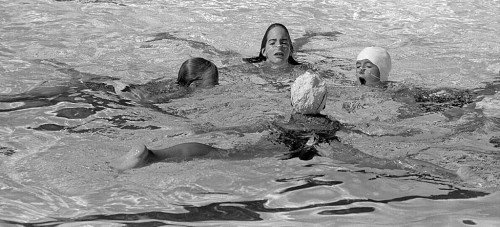 As far as the demise, it's been so long, you know. I drive by there and the front of it looks sad and sort of like no color to it, stains down the brickwork… it wasn't like it was in the old days. All I can have is memories. It was my life. It guided my life for a good long time.
[Editor's note: After we hung up, he sent a text message: "Toward the end of the interview, it hit me and I started remembering a lot of stuff."]
Other pool photos
Don't forget to check back tomorrow for more recent photos.
Gallery of Capaha Pool Photos
Because there are so many kids pictured, I'm putting up the whole section. You just might see yourself or a sibling there. Click on any photo to make it larger, then click on the left or right side to move through the gallery.