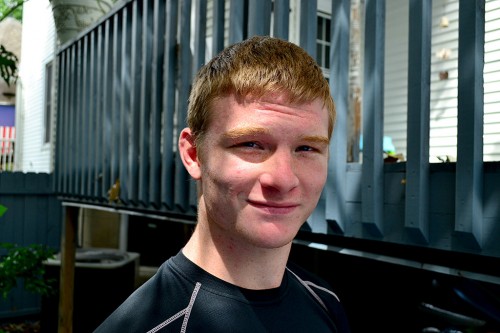 I went over to John and Dee Perry's house Saturday afternoon for a going-away party for their son, Wyatt. He's leaving town Sunday morning to be shaped into a Marine. It's been a dream of his for several years. John is Wife Lila's brother.
Today was a sort of bookend day. December 29, 1993, I was itching to head back to West Palm Beach from Cape. It's a long drive, particularly over a holiday, and I needed to get back to work. Dee, unfortunately for my schedule, was in labor with who was going to become Wyatt. Lila kept saying, "Let's wait a little longer, let's wait a little longer." We stuck around long enough to welcome him into the world.
I was here to see him off to start a new life.
A family tradition of service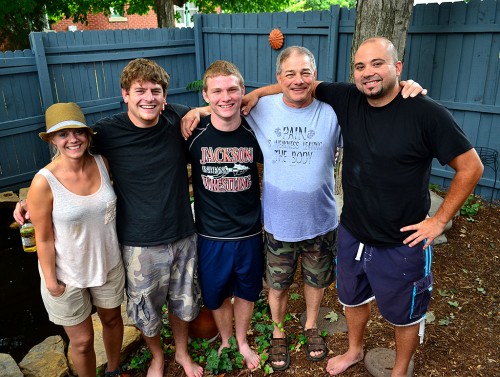 Left to right: Laurie Perry Everett, Drew Perry, Wyatt Perry, John F. Perry, Rocky Everett.
John Perry was Navy and served in Vietnam. Drew just finished up his enlistment in the Marines.
Laurie Perry Everett, joined the Army, where the diminutive blonde became a Military Police officer. She was stationed in Kitzingen, Germany, but she either visited or was deployed in France, Spain, Italy, the Czech Republic, Romania, Israel, Bosnia, Croatia, Greece and Switzerland, among others.
One of her jobs was processing new troops, explaining the local customs and making them aware of what they needed to know. One soldier, Rocky Everett, commented to his buddy, "I'm going to date that girl one day."
Rocky and Laurie were married in Cape on a cold October night in 2003. They have one son, Fletcher, AKA Flea. She's the owner of the highly-regarded Annie Laurie's Antiques on Broadway. (Follow the link to see her as an MP.)
Marines rebuilt Drew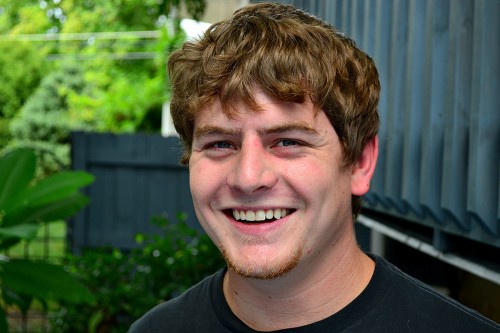 I saw someone at the party who looked familiar, so I went over and said, "I'm Ken." The good-lucking guy who took my hand said, "I know. I'm Drew."
You could have knocked me over with the proverbial feather. Gone was the skinny, goofy kid I saw head off to the Marines a few years back. In his place was a solid, self-assured, mature man who seems to have his head screwed on straight.
I wonder if there will be a similar transformation with Wyatt, pictured at this link fishing in Florida with his dad on Father's Day 2009. John and Dee are the ones who are going to have the toughest transition. It's going to be awfully quiet with Wyatt gone.
Photo gallery of the going-away party
Click on any photo to make it larger, then click on the left or right side of the image to move through the gallery. Thanks to the extended Perry family for its service. You've done more than your share.