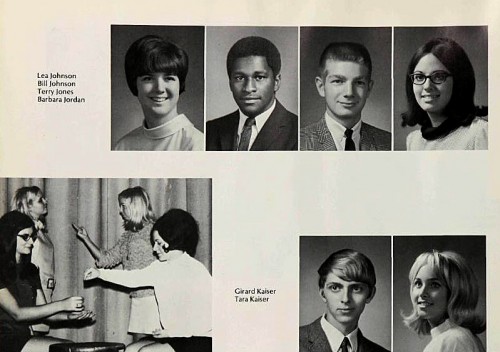 Rush Limbaugh USED to be Cape Girardeau's most prominent export. One of his classmates from the Central High School Class of 1969 is dominating the news right now: Terry Jones, the Gainesville, FL, preacher who is threatening to hold an "International Burn a Koran Day" on September 11.
In 2010, Jones published Islam is of the Devil, which denounces Islam as a violent faith.
His church also maintains a Gainesville boarding school, called the Dove World Outreach Academy. The Gainesville Sun newspaper reported that students of the academy are prohibited from outside and family contact including attendance at family weddings and funerals, and work without compensation selling, packing, and shipping furniture for TS and Company, a business owned by his current and second wife, Sylvia.
(His first wife was Lisa Barker, of Marble hill. She died of a heart attack in 1996.)
Equal opportunity hater
In March 2010, Dove World posted a sign saying "No Homo Mayor," referring to Gainesville's first openly gay mayor; after Americans United requested that the Internal Revenue Service investigate the sign as an undue participation of a non-political tax-exempt organization in the political process, the church then changed the sign to simply read "No Homo."
On April 18, 2010, members of Dove World participated in a joint protest against homosexuality with the Westboro Baptist Church, a group known for disrupting the funerals of U.S. soldiers. On April 21, Dove World member Fran Ingram published a blog post proclaiming the church's endorsements of the Westboro Baptist Church's protests against homosexuality and homosexuals.
Left, right and actress denounce Jones
Jones has done a masterful job of uniting all ends of the political spectrum. Here is a short list of people who have denounced his book-burning plan: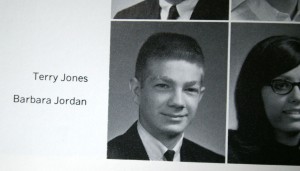 The President of the United States, Barack Obama
Secretary of State Hillary Rodham Clinton
Gen. David H. Petraeus (who says Jones' actions will place Americans at risk, both here and on the battlefield)
Former Alaska governor Sarah Palin
Conservative commentator Glenn Beck
Senator and former presidential candidate John McCain
British Foreign Secretary William Hague
Iraqi Prime Minister Nuri al-Maliki
Franklin Graham, the son of evangelist Billy Graham (who has, himself, called Islam "evil."
Actress and United Nations High Commissioner for Refugees ambassador Angelina Jolie
Actually, a list of supporters would be shorter. (I don't know that Rush has weighed in.)
Terry Jones pitched for Cape Central Tigers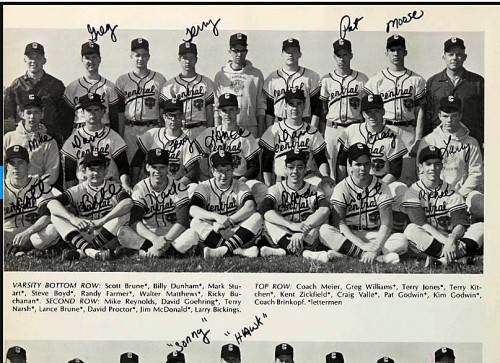 The photo above is from the 1969 Central High School Girardot yearbook.
An April 25, 1968, Southeast Missourian sports report said that "Terry Jones took the Central win with six strikeouts to his credit. Marvin Hammack's single in the third was the only Green Dragon base hit, but Jones ran into control problems as he walked one man, hit another, and threw four wild pitches – one resulting in the Ste. Genevieve run in the second." He batted twice, but went hitless.
[Editor's note: looks like he had control problems even in high school.]
Jones awarded honorary doctorate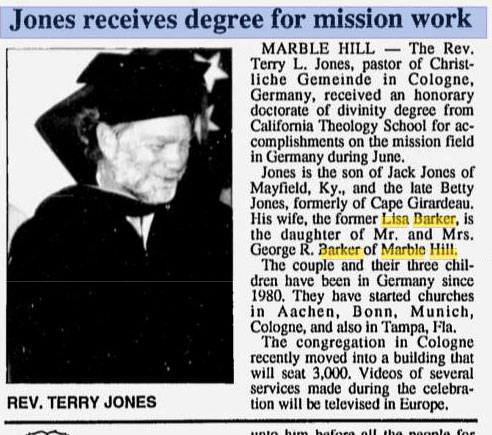 The Missourian carried this story about Jones receiving an honorary doctorate of divinity degree from California Theology School in 1993. A Philadelphia TV website describes the the California Theology School as being "an obscure school that boasts that it's so independent it's never been accredited."
Former classmates remember Jones
Van Riehl noted, "I think this guy may have been on my Babe Ruth team, The Mets. Interestingly enough so was Rush Limbaugh. "
Gregg Hopkins said, "I knew him the early 70s. He graduated from Central (I think) in 69. He was a funny, friendly guy back then, when he was dating my friend, Lisa. My how the years change some people. Every picture I've seen of him, he's wearing an intense scowl. A couple of our Marble Hill friends figured out his connection about the same time I did. Sickening. His former in-laws, Lisa's parents, are fine folks. I feel embarrassed for them."
Rush Limbaugh High School Yearbook Photo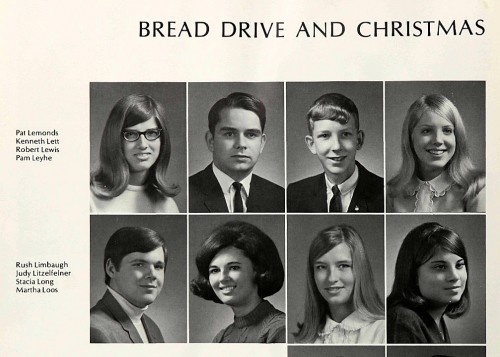 Here's Rush (better known as "Rusty" back then) Limbaugh's senior picture in the 1969 Girardot. He was on page 132. Terry Jones' photo was on page 130. I don't THINK they are on the same page today.
Editorial comment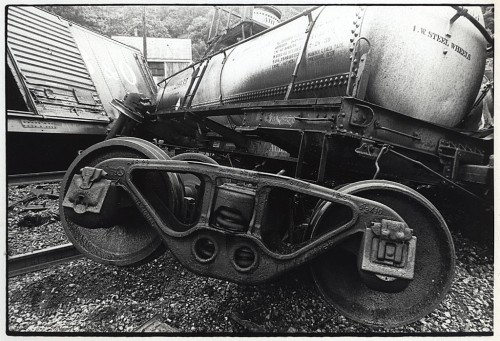 Had I not been able to come up with the yearbook pictures, this is the photo I was planning to run with this piece. Terry Jones is a train wreck waiting to happen. Let's hope his actions don't provide the spark to ignite worldwide violence.
Frederick Douglas paraphrased Hosea 8:7: "When men sow the wind it is rational to expect that they will reap the whirlwind."
[Note: thanks to Bill East for pointing me to the 1969 Girardot and to sis-in-law Marty Perry Riley for dragging out her 1968 yearbook and copying a picture from it.]