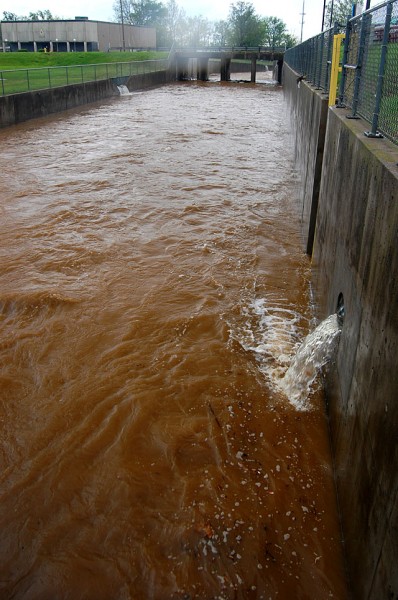 I've seen some scary winds, torrential rains and high waters living in Florida and covering hurricanes, but I don't think I've seen such continuous rains and bad weather as Southeast Missouri has had in the last week.
I wrote about our encounter with hail. Thunderstorms in Florida pop up every summer afternoon, dump a huge amount of water in a very localized area for a short period of time. It's not unusual for it to be pouring on one side of the street and dry on the other.
Frog-strangling rain and flood control
What's been going on in this area is days of steady to frog-strangling rain that just keeps training over us. All of that water has to go somewhere. By the mid-1980s, after a series of disastrous floods that put the Town Plaza and other shopping areas underwater, money was appropriated for a flood control project to handle runoff.
This concrete channel paralleling Kingshighway was part of it. The view above is looking south from old Kingsway toward Broadway. The Masonic Temple is at top left.
Easter in Dutchtown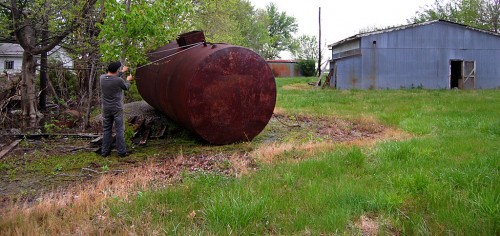 The Diversion Channel is running full and the Mississippi River is projected to hit 44.5 feet later in the week. As I've mentioned before, we have property in Dutchtown that floods at 39 feet on the Cape gauge. I've published photos of what we looked like in 1993, when the water reached 48.49 feet.
Brother Mark, his friend Robin, and I ventured to Dutchtown to make sure everything that needed to be high and dry was moved. This huge steel tank that Dad used to use to hold water for dusty roads and for our garden after he retired floated several hundred yards in 1993, dodging the large mechanic shed on the right and a smaller storage shed in the distance.
We wanted to make sure it didn't become a huge battering ram, so we attached a couple of cables to it so it wouldn't float away.
Wind took off some tin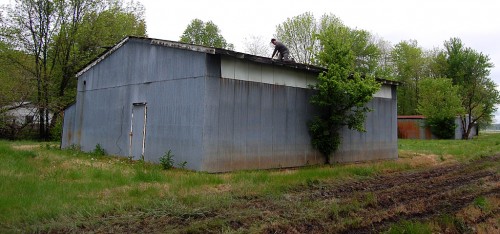 Mark climbed up on the roof to replace some tin that had been ripped off in the recent storms. I stayed on the ground to call for help if he fell off. Robin stayed in the car to call for help in case he fell on top of me.
We let a farmer who sharecrops with us store some of his equipment in our storage buildings. He passed by the Diversion Channel this morning and saw that it had come up amazingly fast and decided he had better move the equipment before it was too late. Based on how soggy the ground had become, it looks like he made a wise choice. We must have arrived just after he pulled out.
Cape LaCroix Creek merges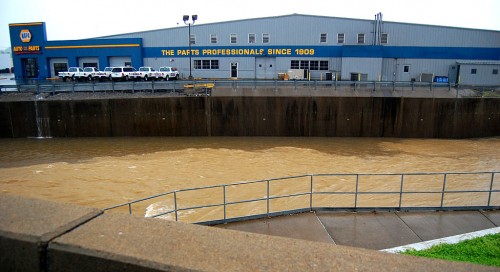 Cape LaCroix Creek, which drains much of northwestern Cape and eventually empties into the Mississippi River, joins the smaller drainage channel between Bloomfield Rd. and Good Hope. The lighter, more muddy-looking water is from Cape LaCroix.
Cape LaCroix goes under Kingshighway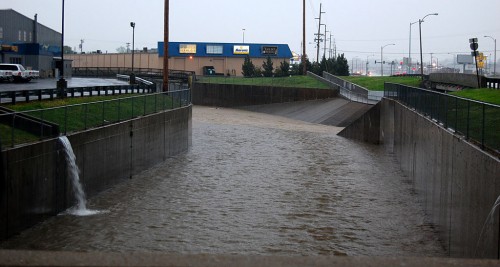 Here's a view looking south at the merger of the two channels. Cape LaCroix comes in from the right.
Looking south toward Themis
Looking north toward Bessie Street
Water from Old Central High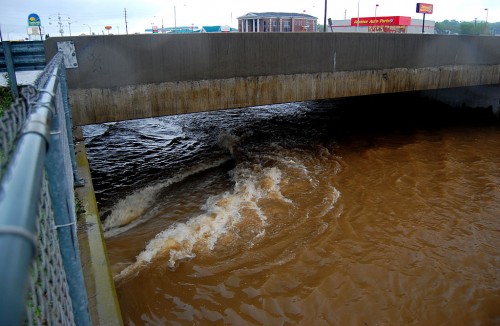 Water from the neighborhoods around old Central High School feeds in at Bessie Street
Pavement causes rapid runoff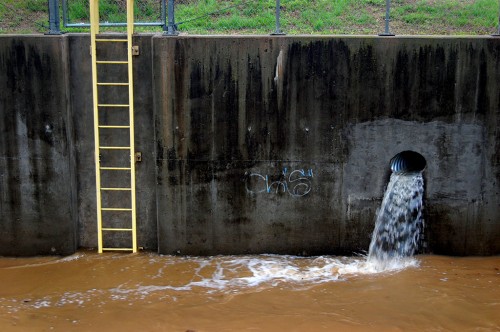 Acres and acres of parking lots and driveways cause rainwater to run off quickly. This pipe is just south of old Kingsway Drive.
Cement canal starts north of Broadway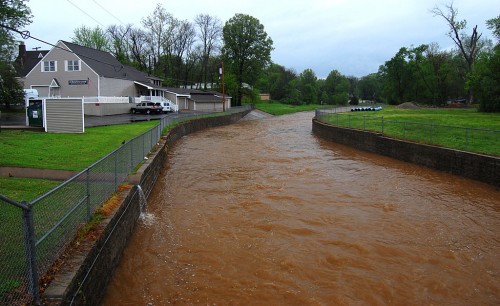 The cement portion of the project starts just north of Old Kingsway Dr., which is now a dead end road.
Broadway bridge

This is the bridge at Broadway and Kingshighway. Notice how many streams of water join the canal.
Dennis Scivally Park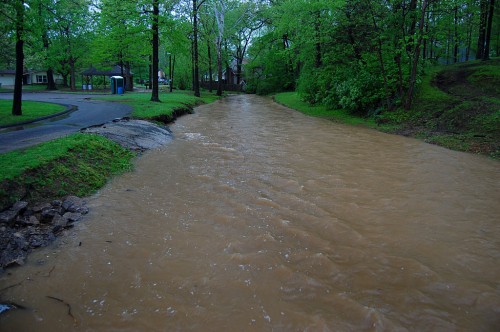 This water originates in the neighborhoods north of Dennis Scivally Park.
Dennis Scivally Park bridge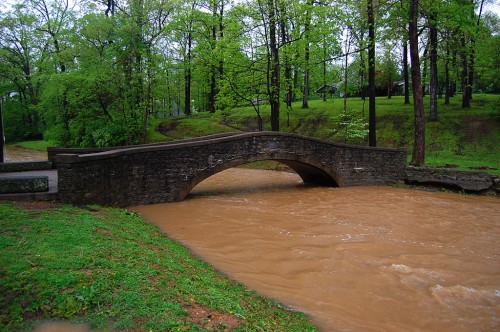 Look how much more water there was Sunday than when I shot the bridge last week.
Splashing over Cape Rock Dr. bridge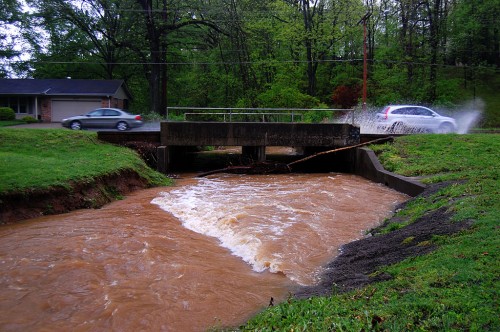 Ponded water on the Cape Rock Drive bridge sent huge curtains of water skyward when hit by passing cars.
Cape LaCroix Creek at N. Kingshighway
Cape LaCroix Creek boils under Kingshighway just down from Kingsway Dr. on the northwest part of town. The mini-rapid is caused by water crossing over a concrete bridge used to reach the north extension of the bike path.
Bike path underwater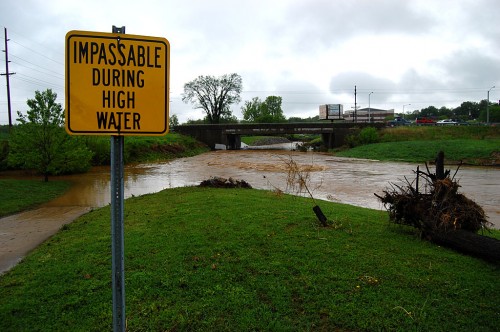 "Impassable during high water" is an understatement. The bike path runs next to the bridge on the left. It's probably under about three or four feet of fast-moving water.
Headed back home
I'm leaving Cape Monday to make it back to West Palm Beach by mid-week, so I'm going to miss the big flooding. On the other hand, I'm not sorry to put all these rain in the rearview mirror. This is getting old.
I have some good video, including vintage photos of the Town Plaza flooding in the 80s to edit when I get back home. I ran out of time to do it here.
If things are a little slow here for a couple of days, it's because I've run into one too many puddles or that I'm trying to make miles.