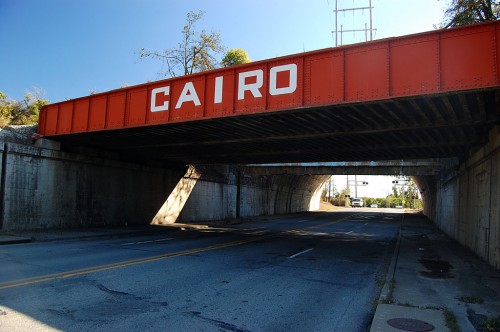 I watched the Bird's Point levee being blown last night via the magic of the Internet. We'll start seeing soon if the water levels drop in Cairo and other cities at the expense of some valuable farmland.
Just in case Cairo DOES flood, I've pulled together a collection of photos taken from 1968 through recently. I apologize for focusing so much on the seamy side of Cairo – there are some truly nice buildings in the town – but I'm a seamy side of town kind of photographer.
Commercial Avenue in 1968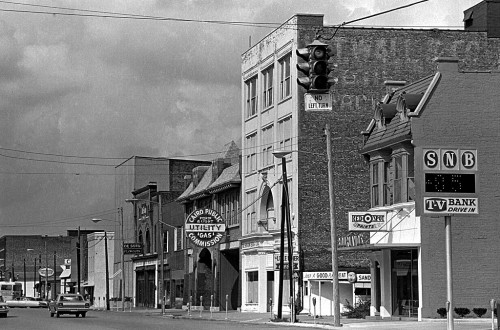 Cairo's downtown was still a busy place in the late 60s. There were car dealers, appliance stores, banks, eating establishments, a $2-a-night hotel – even a corset "shoppe."
Commercial Avenue in 2008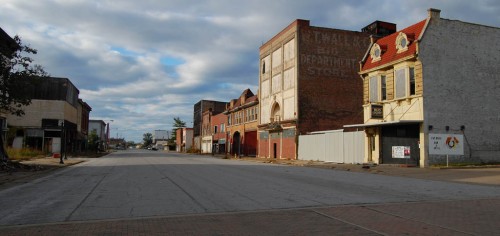 The buildings on this side of the street are still mostly intact, but they are empty. By 2010, most of the buildings on the west side of the street were knocked down.
Other Cairo stories
I'll probably do one more Cairo story, touching on the racial violence in 1967.
Cairo Photo gallery
This is a huge gallery – nearly 100 pictures. Some of the photos may look like dupes, but look closely. They were taken in different years. The black and white photos were shot in 1968. The color shots cover from about 2008 on.
Take your time. All of us who learned to drive in the 60s had it drilled into us that you DON'T speed through Cairo.
Click on any photo to make it larger, then click on the left or right side to move through the gallery.