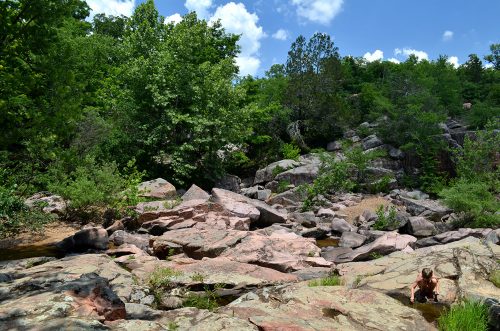 Wife Lila and Grandson Malcolm came up for a visit. When Malcolm was here last year, we went to Johnson's Shut-Ins and Elephant Rocks. He liked them well enough he told us he wanted to do the same when he came back in 2018.
"I LOVE this place," he commented. It's good to see him infected with the Midwest. There may be hope for him.
Anyway, just as we were getting ready to pull out of the driveway, I saw Neighbor Bill across the street and told him where we were going. He asked, "Have you ever been to Castor River Shut-Ins.
I allowed as how I hadn't, but since it was about half the distance to our original destination, we decided to check it out. (You can click on the photos to make them larger, by the way.)
Their new favorite place
My visitors said they liked it better than Johnson's Shut-Ins. It has all the rock climbing of Elephant Rocks, with the water fun. I agree that all the pink granite is pretty, but Johnson's has more cool water flumes to shoot down.
Traded bold for old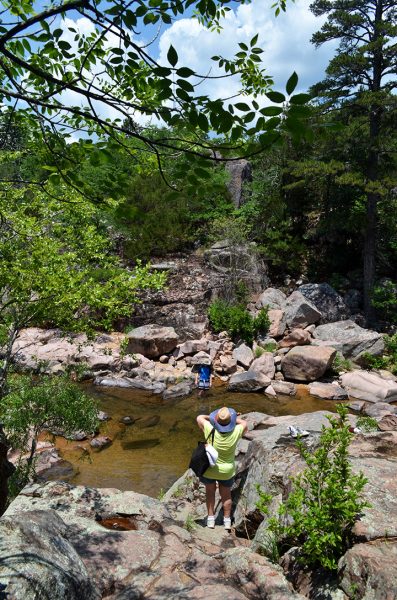 My bold days have been traded for old days, so I was conservative about where I stepped and climbed. Wife Lila was a bit more aggressive because she wanted to keep an eye on Malcolm so she could write the "Dear Matt and Sarah, Guess what we did to your kid" letter.
A gasp and a splash

It wasn't long before Malcolm was playing mountain goat and heading up a near vertical wall.
I heard Lila gasp, followed by a splash. Showing that she really is a photographer at heart, she complained that there was a branch in the way that kept her from getting a good shot when he slipped and bounced on his backside into the river.
He sat in the cool water for a few minutes regrouping before frolicking some more. About the only thing injured was his pride.
Beautiful scenery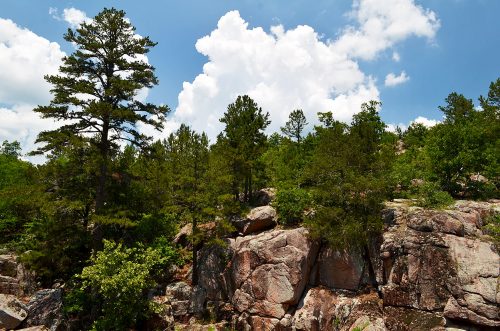 The place is pretty, offers plenty of room to spread out, and wasn't overrun by people, even though it was a hot day.
Google says that the Castor River Shut-Ins are 45.7 miles (1 hour, 9 minutes) from Cape via MO-72. Johnson's Shut-Ins are 88.6 miles (1 hour, 53 minutes), also on MO-72.
Earlier visits to Johnson's Shut-Ins and Elephant Rocks
Road Warriorette Shari and Curator Jessica also made it to the parks in 2017, but they didn't do anything outrageous enough to publish.