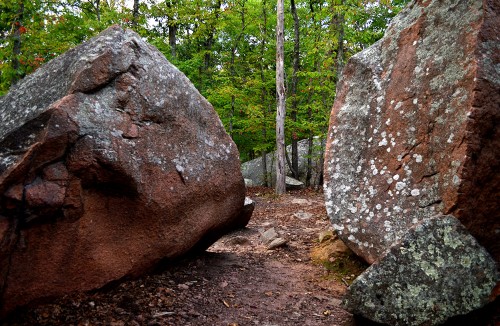 It was late in the afternoon when I finished shooting at Johnson's Shut-ins. The gas tank Low Fuel alert had been on for some time, the light was fading and the mosquitoes were coming out, but I couldn't pass up the turnoff to Elephant Rocks State Park.
I was getting no cellular data signal (or voice, either, for that matter), so I couldn't do any Internet research to see if I was in the right spot or what I was supposed to see, so I did a quick scramble over some likely-looking rocks and made a dash before my mosquito blood supply Low Fuel light came on.
This is the kind of place where you could spend all day watching the light change the scenery around you. It would also be a good place to let kids blow off steam.
Here's the Missouri State Parks website that tells you how to get there and some of the history of the area.
Elephant Rocks State Park Photo Gallery
I don't shoot a lot of rocks and roots pictures, but I may have to go back when the leaves turn. I'll also haul out the tripod so I can stop down the lens to get more depth of field so that more things are sharp in the photos. Click on any image to make it larger, then use your arrow keys to move through the gallery.