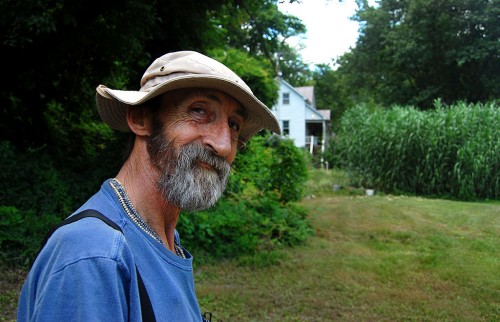 Kristie Freeman called Wednesday afternoon to say that her stepfather, David Holley, had lost his battle with lung cancer, and to ask if they could use one of my photos in his obit. When I went to see him July 18, 2011, he was actually in better shape than some folks in Altenburg had led me to believe.
Chemo treatment had left Holley gaunt and his beard had picked up some gray, but he was still the same old storyteller with a gentle manner and a twinkle in his eye. "I'm on my third round of chemo," he said. "I'm hoping I'm in the 60% that makes it, but I haven't had a whole lot of luck in my life," he added, matter of factly.
Wittenberg, a once-thriving Mississippi River German settlement community, was down to two buildings – the house Dave and his wife lived in and the former post office. The floods of 1973 and 1993 had pretty much washed the town away.
Wittenberg Bomb Shelter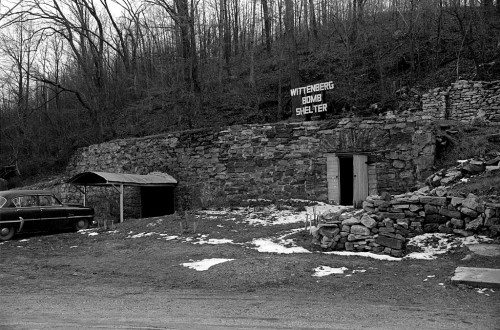 Back in the 60s, I did a bunch of pictures of the town, including his house, which had been a brewery, and the "Wittenberg Bomb Shelter," caverns that had been used to cool and store the beer.
Holley and his home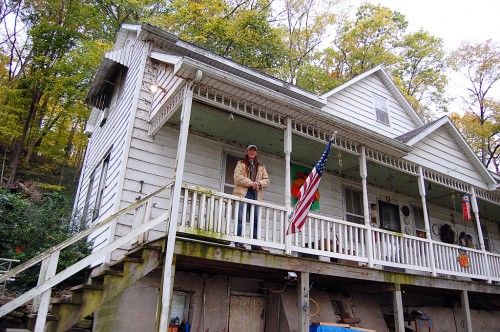 In October 2009, I knocked on the door of the old brewery and a long-haired David Holley came out and graciously gave me a tour of the old caverns.
Part cave, part manmade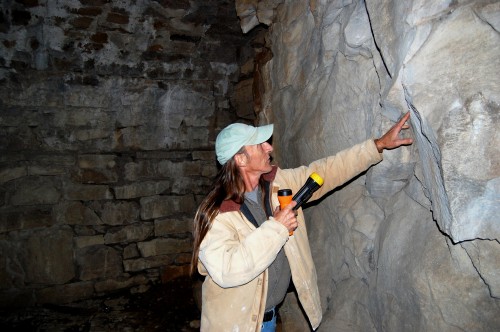 Holley said the brewers took advantage of a natural cave in the hillside, then added on to the front of it with bricks and stone.
Caverns are well-preserved
Despite being over a hundred years old and receiving little or no maintenance, the old beer cellars are remarkably well-preserved.
The last train robbery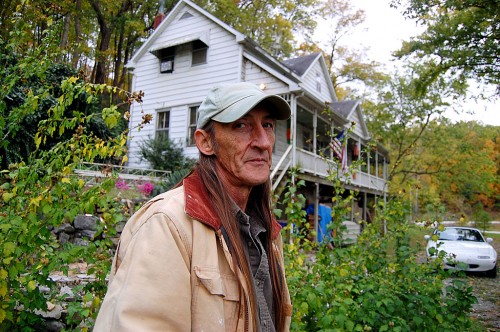 Holley was a natural storyteller. Without any preamble, he launched into a story about the last train robbery in Missouri that ended in gunfire almost in front of his house in the 20s. I'm glad I was able to capture it on video.
Holley's stories took very little editing. He had a knack for being able to tell it short and sweet.
Always searching for treasures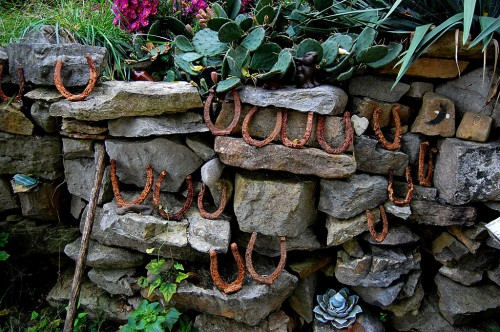 He was a storehouse of knowledge. He could talk about train robberies one minute, then point out the scrape marks made by steel-wheeled beer carts in the rocks in his front yard. He enjoyed roaming around the ruins of the German settler community looking for old horseshoes and other memorabilia.
Our last visit
I captured about five minutes of video of Holley talking about recent and past floods and the whirlpool at Tower Rock that could swallow up a 30-foot cottonwood snag. Midway through the account, he tells about how he'd have to put his four-year-old daughter in a boat at midnight to pick up his wife coming home from work when floodwaters had them cut off. She'd start off doing a great job of holding a flashlight so he could pick his way through the trees, but then she'd start shining it around in the air like a coonhunter, he said with a chuckle.
David Holley Obituary
Here is the obituary from McCombs Funeral Home and Cremation Center: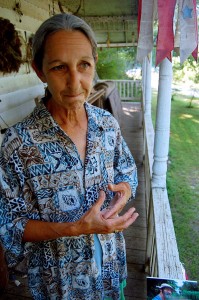 Charles David Holley, 59, of Wittenberg passed away Wednesday, April 11, 2012, at his home.
He was born May 25, 1952, in Memphis, Tenn., son of the late Charles Edward Holley and Ada Ruth (nee Tony) Holley of Memphis, Tn. He and Joanne Byerly were married July 11, 1987.
David worked as a deck hand and laborer until he was no longer able to work due to declining health. He loved the outdoors, especially exploring for Indian artifacts and Harley-Davidson Motorcycles. David enjoyed spending time with his family, friends and always had a story to share or a helping hand for anyone. He also served in the US Marine Corps from 1970-1972.
In addition to his loving wife and mother, survivors include step daughter, Kristie (Dusty) Freeman of Herculaneum, Mo.; daughters Melanie Yount of Imperial, Mo; and Rachel Holley of the home; a brother, Clifford Holley and a sister, Pam Holden both of Memphis, Tenn.; two sisters-in-law, Janet Tyner of Jonesboro, Ark.; Barbara (Fred) Graham of Catron, Mo; two brothers-in-law, Bill (Shirley) Byerly of Fairhope, Al; Rick (Camilla) Byerly of Chaffee, Mo., five grandchildren, nieces, nephews, and many cousins and friends.
He was preceded in death by his father.