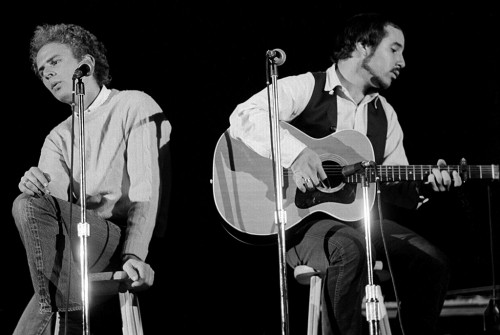 When I shot this photo of Paul Simon and Art Garfunkel in concert at Ohio University on Oct. 29, 1968 (if you can believe the negative sleeve), I didn't know then that the body language might be a hint of the breakup of the duo coming just two years later.
The two singers met in elementary school in 1953 (where they appeared in the school play Alice in Wonderland) and recorded their first record as Tom and Jerry in 1957. The went off to separate colleges, but got together after Paul Simon wrote some folk songs, including one dedicated to murdered civil rights worker Andrew Goodman. Goodman had been a friend of both men and a classmate of Simon's at Queen's College. They cut Wednesday Morning, 3 A.M., which initially flopped when it was released in 1964.
Is THIS Paul Simon?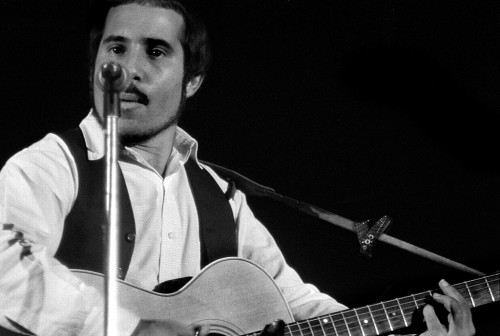 I recognized Garfunkel right away, and the sleeve was tagged Simon and Garfunkel, but this guy didn't look like the Paul Simon I was used to seeing. I wondered if he was a backup singer. It wasn't until I covered up the scraggly beard and mustache that I saw Paul emerge. His eyes and nose definitely give him away.
Simon and Garfunkel were at their peak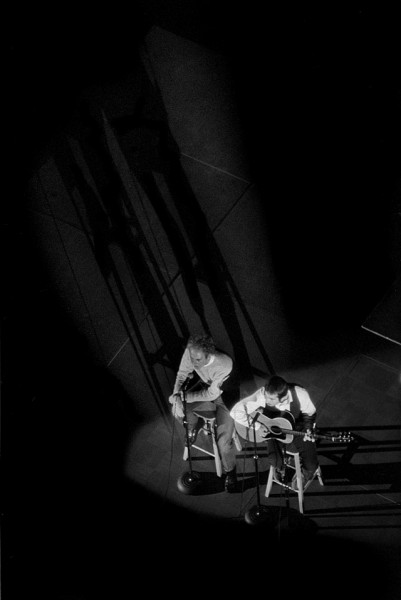 After a few stumbles, they caught fire. The single Sound of Silence became a #1 hit in 1966 and the album by that title made it to #21. Wednesday Morning came back and climbed to #30. The songs kept coming in 1966: Homeward Bound; I Am A Rock; The Dangling Conversation; Parsley, Sage Rosemary & Thyme; A Hazy Shade of Winter. They definitely provided the soundtrack of our lives that year and for the next few.
Mrs. Robinson was the biggie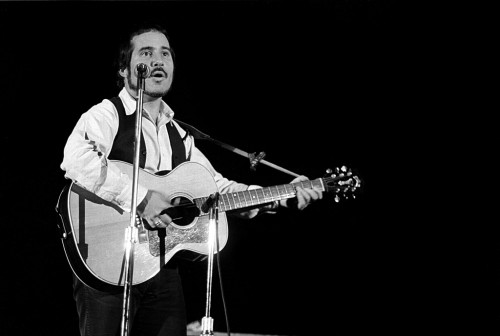 In January, 1968, Mike Nichols' film The Graduate was released. Peter Bart wrote in a May 15, 2005, issue of Variety that Nichols had been obsessed with S & G's music while he was shooting the film and had producer Larry Turman cut a deal with Simon to write three new songs for the movie.
By the time they were nearly finished editing the film, Simon had written only one new song. Nichols begged him for more but Simon, who was touring constantly, told him he didn't have the time. He did play him a few notes of a new song he had been working on; "It's not for the movie… it's a song about times past—about Mrs. Roosevelt and Joe DiMaggio and stuff." Nichols advised Simon, "It's now about Mrs. Robinson, not Mrs. Roosevelt."
Personal tensions and creative differences caused a strain that reached its breaking point during the production of their last album, Bridge Over Troubled Water in 1970. The album was originally supposed to contain twelve songs, but Simon refused to record a Garfunkel pick and vice versa. It was finally released with only eleven songs on it.
What do I remember about the concert?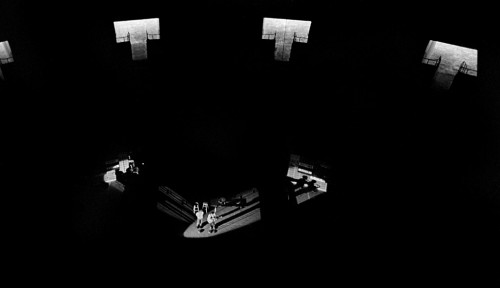 Not a lot. When you're shooting something like this, you have all your visual senses working. You're concerned about angles, light, shutter speeds – technical stuff – not the music. I'm sure they played all the favorites, but I don't know that I actually heard any of them.
I learned early on that I couldn't count on being the best shooter at an event: I had to be the one who showed up earliest, stayed the latest and was willing to scout out the odd positions. I'd cover myself by shooting the standard, "safe" shot, then go looking for the unusual.
I took these high-angle photos from the lighting catwalks high above the concert floor. You don't ask permission to do something like that because people will find a dozen ways to turn you down. If you just do it, though, everybody assumes that it must be OK.
Not every shot works. This one doesn't, but you don't know until you try. It's always a mistake not to push the button when your instinct tells you to. Something drew your eye there, and if you don't shoot it at that moment, the magic will leak out if you stop to think about it. You can always discard; you can't recreate.
Look at the audience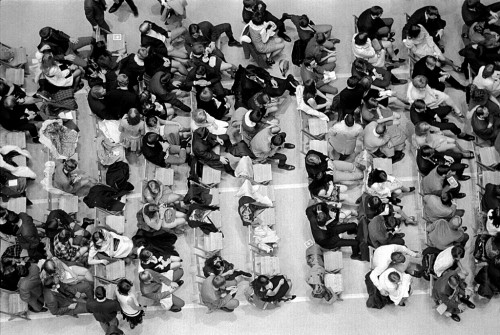 I was surprised to see how well-dressed the audience was. This is a folk-rock concert, so you'd expect to see a lot of casual hippie-type clothing, but most of the guys have on suit coats, if not ties. Hair lengths are Kennedyesque, not shoulder-length. Skirts are delightfully short.
Other concert photos
Simon and Garfunkel photo gallery
There are a lot of "magic moment" photos in this selection that I knew at the time would never make it into the paper, but were recorded anyway. Now that I'm not constrained by the cost of dead trees and ink, you'll get to see them. Like I said before, most of them don't work, but they do give you some insight into my thought process and how a picture evolves. Click on any image to make it larger, then click on the left or right side to move through the gallery. Humming of music is allowed.