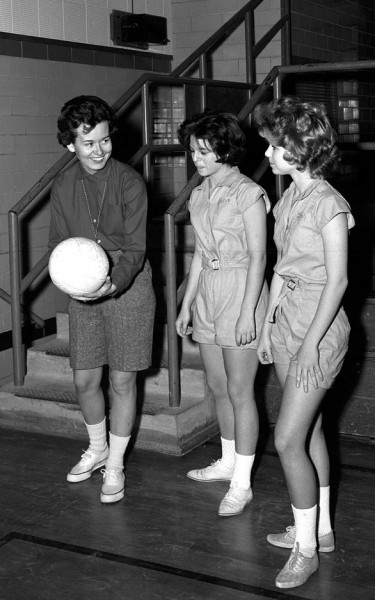 There's been a lot of discussion on the alumni newsletter email lists about the "ugly" (OK, I think someone called them "hideous") uniforms the girls had to wear for physical education class.
I found this picture of Coach Jane Womack demonstrating the finer points of serving a volleyball to a couple of students. They have their names on the uniforms, but I couldn't quite make them out. Maybe someone can identify them.
Those uniforms aren't exactly "hideous"
These must have been a later, more compassionate version, because even I remember something that was a cross between bloomers and a bag that the girls were forced to wear.
I'll keep looking for the other uniforms. Ladies, how much would you pay me to lose THOSE negatives?
UPDATE! UPDATE! UPDATE!
The girls have been identified. Here's the whole story.
By the way, it wasn't just the girls who had wish-to-be-forgotten experiences. We boys had our share of PE tribulations, too.