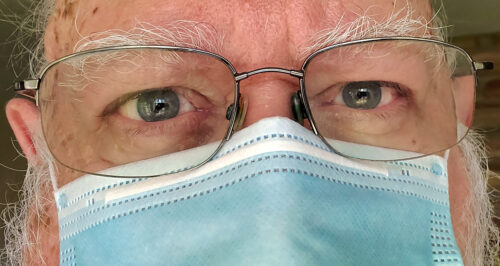 My former Palm Beach Post Chief Photographer is going to be disappointed. Every May 4, John J. Lopinot sends me a cryptic two-word message: "Never Forget." He and I both know what he's referring to – the killing of four students at Kent State 50 years ago. I haven't forgotten, but this might be the last post on the topic.
Bear with me. I'll get around to the point in a bit. With advanced age comes forgiveness for meandering.
2015 The Sky Has Fallen exhibit
In the spring of 2015, Curator Jessica and I put together a major photo exhibit on the protest era at Ohio University for the Southeast Ohio History Center. The title of the show came from what has become Ohio University Post legend.
After a night of rioting two weeks after Kent State, the decision was made to close the university. The student newspaper, The Post, was on a hard deadline to get the story in print. Just before it hit the presses, someone said, "We don't have a weather report for tomorrow."
Editor Andy Alexander, a darned good journalist then and now, said, "Just write, 'The sky has fallen.'"
A journey to Kent State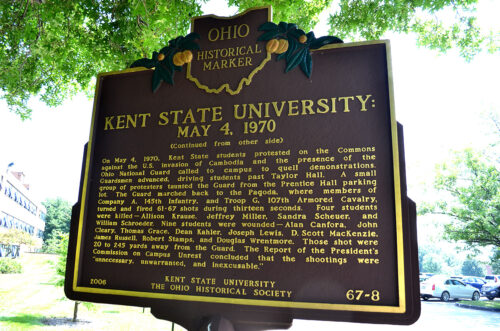 Jessica and I paid a visit to the Kent State May 4 Visitor's Center to see how they handled the event and to see if there was any way we could collaborate with other Ohio museums for the 50th anniversary.
'I didn't want to be eating grass when I died'
Our guide was a fellow in a wheelchair who could glide up the hills of the grounds as fast as I could walk up them.
We were halfway through our tour when I realized the man was Dean Kahler, one of the students who had survived being shot that day. I hadn't prepared to shoot a video, but I managed to capture his haunting tale. It was one of the most moving interviews I've ever done.
"I knew I had been shot because it felt like a bee sting. I knew immediately because my legs got real tight, then they relaxed just like in zoology class when you pith a frog," he said. He never walked again, but he has turned into a highly competitive wheelchair athlete.
After the shooting stopped, he called out to see if there were any Boy Scouts around who could turn him over. "The only thought that came into my head was if I was turned over, would I bleed more internally than externally? I thought (shrugs shoulders) there's a 50 / 50 chance that you're going to die one way or the other. I knew I might die. I had a really good chance of dying, so I wanted to see the sky, the sun, leaves, peoples faces. I didn't want to be eating grass when I died."
What are we going to do for the anniversary?
Jessica and I wondered how we were going to mark the 2020 anniversary of the event. What could we do that would add a new dimension to what we had already done?
I suggested reaching out to some Athens county residents and assembling a panel to talk about what they remembered. Not long after that, Jessica became a new mother, and we didn't talk as often as we once did. I suspect she had barely enough energy to take care of ONE baby.
When the world changed because of COVID-19, I said, "I guess I don't need to work to get a 50th anniversary show catalog to the printer, do I?"
1970 and 2020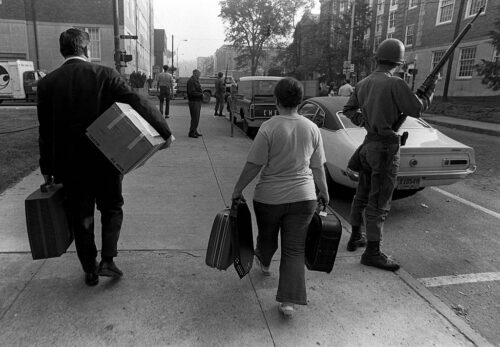 She said she didn't have any idea when they'd be able to open the museum, but it certainly wouldn't be by May 4.
Then she said something that gave me pause: "There are a lot of similarities between 1970 and 2020. In both years, the university closed, graduation was cancelled, and the town emptied of students.
How about I come back to Athens?
After thinking about it for a couple days, I tossed out an idea: how about I come back to Athens to shoot a Portrait of the Pandemic? I will have missed the mass evacuation, but I could still document the empty streets, people in masks (or not), signage, anything that will help paint the picture of 2020, much like I had done with the turmoil and teargas of the '60 and '70s?
I still have the gas mask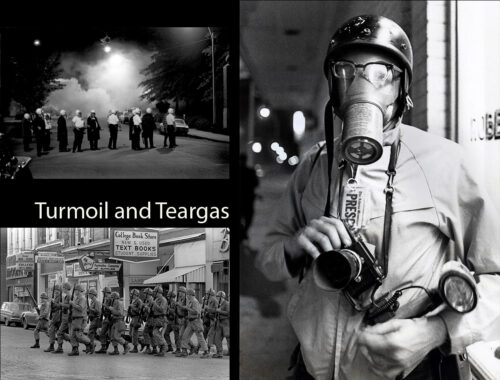 I mean, I still had the gas mask Ed Pieratt shot my photo wearing during the riots. I could dust it off again.
I'm in the middle of reading John M. Barry's excellent book, The Great Influenza: The Story of the Deadliest Pandemic in History. (He also wrote Rising Tide: The Great Mississippi Flood of 1927 and How It Changed America, a book I've read three times, and learned something new each time.)
That book has scared the bejeebers out of me because I'm in at least 2-1/2 of the high-risk categories. The more and more I read about governors opening up their states before we are anywhere near sure we are out of the woods, the more uncomfortable I became with the idea of driving 528 miles one-way to photograph people on the street.
When I was trying to justify the idea to some friends, I said that I had spent most of my life running into places other people were running out of. I may have made some bad judgments in retrospect, but I never made them without considering the risks.
It was time to do some serious risk analysis before jumping into this project.
In the end, I told Jessica that I'm not 21 years old anymore. I've dodged bullets in my life (literally), but I didn't think it was prudent for me to risk what's left of my days. I still have lots of film to scan.
I'm practicing social distancing
I'm trying to limit the number of places I shop, I wear a mask, and try not to have much contact with other people. The latter reason is why the only person I photographed wearing a mask was me at the top of the page.
Here are some images from stores in the Cape Girardeau area (plus some masks a friend left taped to my front door). You can click on any of them, then use your arrow keys to move through the gallery.
Vistors DO come by the house
I'm not completely isolated. I parted the curtains to see Phoebe the feral cat and a couple deer visitors the other night. They weren't wearing masks, but they were observing proper social distancing.
Previous May 4 posts
Here's a list of stories and photos I've posted about the Kent State and protest era over the years. I'm not sure if I'll be adding to it. Sorry, Lopi.