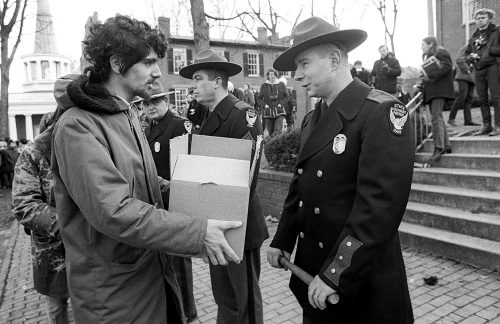 I just looked at the calendar and saw that it is May 4. That's the day that my old chief photographer John J. Lopinot always sends me a message that says, "Never Forget," referring to the killing of four students at Kent State on that date in 1970.
I almost forgot.
I've always been amused at this photograph of a student offering sandwiches and drinks to a highway patrolman who was called in when students conducted a sit-in at Ohio University's administration building over an increase in student fees. His good-natured expression seems to be saying, "You've got to be kidding me if you think I'd eat something you made." His fellow officers seemed to be less good-natured. This picture was taken in January 1970. (Click on the photo to make it larger.)
A look back
Here are some of the earlier stories I've done about the era.