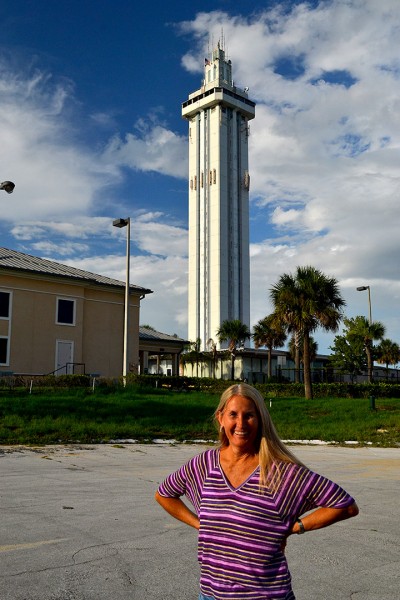 Bike partner Anne Rodgers heard how much fun Jan Norris had on her winter road trip with me that she wanted a piece of the action. The first thing that happened was that my cruise control stopped working. That means I'm either 10 mph under the speed limit or 20 mph over it, depending on flow of traffic.
We had hoped to make it to a place on the Gulf coast for seafood, but it became clear that they'd be closed. That gave us an excuse to take the scenic route Mother and I drove in 2011.
Anne, a Texas innocent, had never been to the Florida Citrus Tower in Clermont.
No, you can't sit on his lap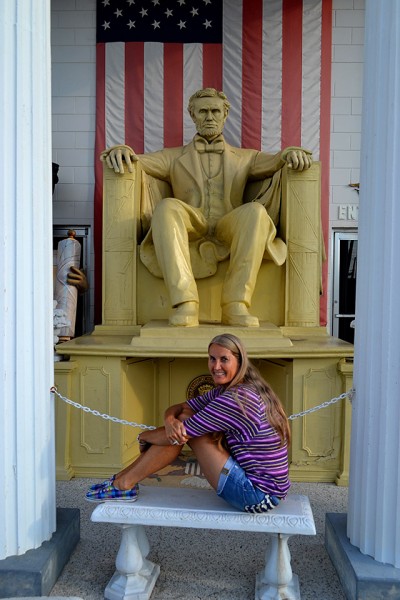 While I was taking the shot of Anne and the tower, a nice man came out of the Presidents Hall of Fame. He told us the place was closed, but gave us a two-for-one ticket for our next trip. (Like Anne would sign up for another one.)
Oh, yes, he also said, "No, you can't sit on his lap."
She settled for second best, muttering, "Your loss, Abe."
You should have been here yesterday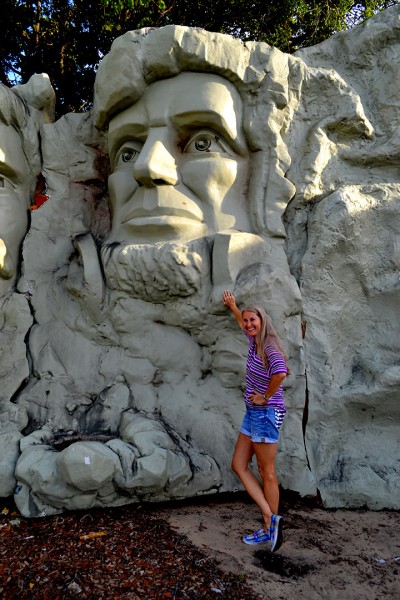 The nice man said if we had been there yesterday, we'd have been able to see him put Abe back together. A microburst in a storm tore Mt. Rushmore apart.
We're newlyweds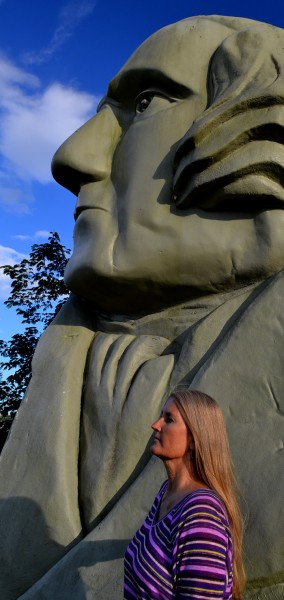 We fought rain for about an hour before pulling into the Comfort Suites in Lake City, FL. I like the place. It's clean, convenient (there's a Waffle House across the street) and the staff is friendly.
I tried every trick I've earned from years on the road to get the best price. Finally I said, "Look, we're newlyweds and we've had a spat. If we want this marriage to survive, we need separate rooms tonight. Will that qualify for a better rate?" We got another $10 knocked off, probably because that was one they'd never heard before.
"Do you want adjoining rooms?" the clerk asked?
"No," I replied." I think we've had all the adjoining we can handle for the day.
Stay tuned for more adventures on the way to Cape.