I was sleeping the sleep of the just this morning when I heard a movement over by my computer. It was Wife Lila, on her way to church, leaving something. "Go back to sleep, she said."
When I achieved consciousness some time later. (We won't admit to how much later.) I immediately recognized what it was.
Anniversary card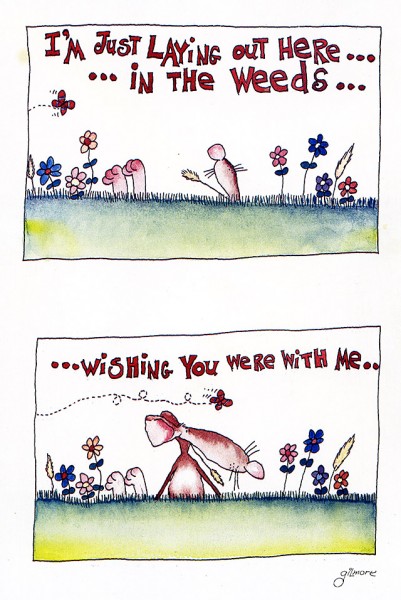 As near as we could piece together, she remembered buying this card when Son Adam was into radio controlled cars when he was 10 or 12 years old. He'll turn 33 July 7, so that makes this card at least 20 years old.
We forget to celebrate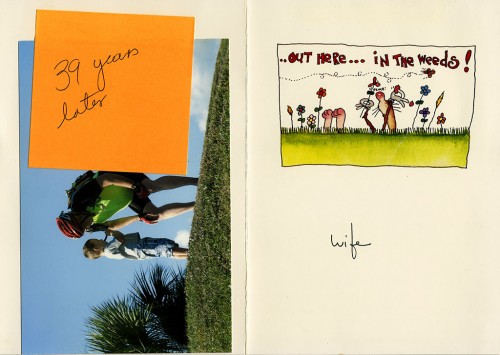 I described last year why I can never remember our anniversary date of June 23: Buddy Bob Rogers asked when we were going to get married. (Lila and me, not Bob and me.) I told Bob to name a date; he picked June 27. That didn't work out for some reason, so June 23 was the alternate. (Lila was standing there, so it's not like she didn't have any input.)
But, I'm not the only one who forgets the date, hence the card. So long as it's around, we don't have to make a mad dash to the store to pick one up at the last minute. On top of that, cards are expensive these days. I bet we've saved close to a couple hundred bucks on cards by recycling this one. (I mean, you wouldn't expect her to spring for a cheap one, would you?)
Five years ago she included a photo of me with Grandson Malcolm. I had been on a bike ride and had hooked up with them at Dreher Park in West Palm Beach. Malcolm insisted on climbing a hill in the park, then wanted a drink out of my Camelbak hydration pack.
He's almost as tall as his grandmother these days, and we have two more of the most perfect grandsons in the world.
It's been a good run. I can't wait to get the card again next year. (And, thanks for letting me sleep.) She – and it – become more special every year.
Game plan is to head back to Cape noonish on Monday. See you all there. I'll have a bunch of calendars for anyone interested in Cape. I'll let you know where you can pick them up if you are there. If you would like one mailed, hold off a few days. Lila says she'll play postal person when she gets back in town after the 4th of July.