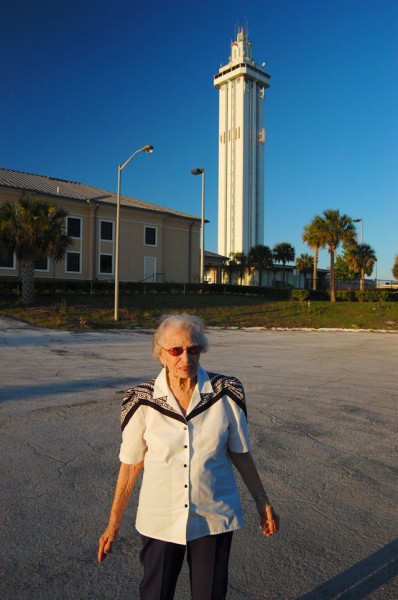 I don't know that there will be any other days reported on, but Mother and I left West Palm Beach somewhere between half a day behind schedule, two hours behind schedule or – since I never leave on schedule – ON schedule.
We stopped at Nubbin Slough on Lake Okeechobee long enough to spot some gators, then paused at my old lab tech Hilary's neat place on Taylor Creek.
Okeechobee Golden Corral
We were hungry by that time, so we pulled in to the Golden Corral. Before you sneer, this one is a cut above any I've eaten at anywhere else. Mother was so pleased by the all-you-can eat buffet – particularly the dessert bar – that the manager asked her to pose for a photo. I think they put it on the wall so if they see her coming across the parking lot they can quickly hang up a CLOSED sign.
1990 U.S. 27 Trip
In 1990, a reporter and I retraced the U.S. 27 leg of the 1960 Steinhoff Florida Vacation to see how many of the old tourist traps were still around. We started in Little Havana in Miami and went all the way to Havana, Fla., on the Georgia border.
One of the places we stopped on both trips was the Florida Citrus Tower in Clermont. In 1990, there was a sign at the top that said we were overlooking a gazillion billion citrus trees. Maybe that was true in 1960, but by 1990 there had been a series of disastrous freezes that left us looking over a gazillion billion dead stumps. Today, had the tower been open, we've have been looking at a gazillion billion houses.
House of the Presidents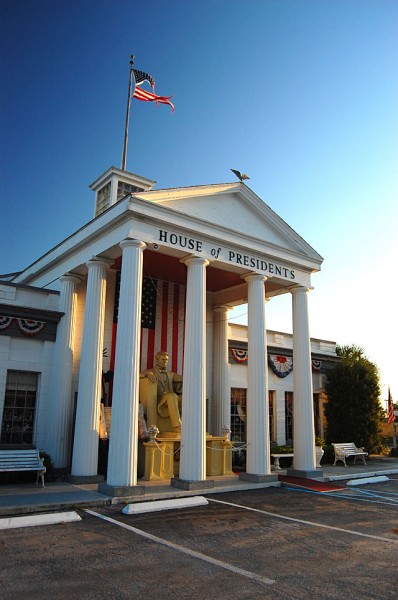 In the shadow if the Citrus Tower is the House of the Presidents. At least, that's what the sign says below a disgracefully tattered U.S. Flag. It has been rebranded to Presidents Hall of Fame these days.
Abe Lincoln wanted to pose with Mother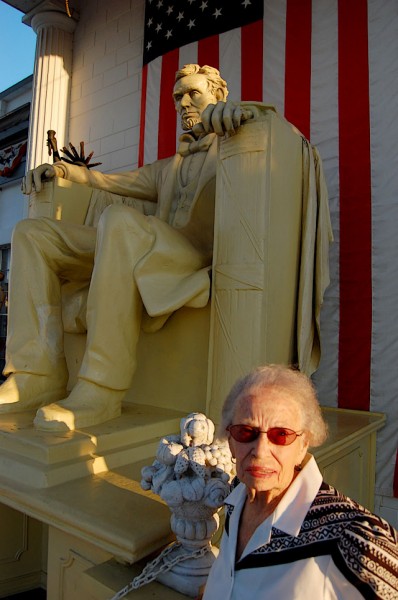 Here's a review on RoadsideAmerica that speaks fondly about the House of the Presidents.
Side trip to Mt. Rushmore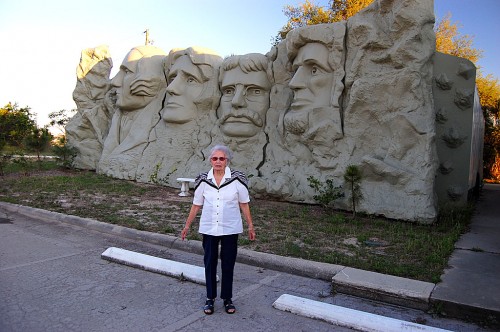 I must have never wandered around to the back of the building to see Mt. Rushmore. How could you pass up a tourist shot like this, even if the sun was about to set?
We're meandering the back roads to get home. We'll be passing through Tallie, Circle City, Monkey Town, Smoke City, Choo Choo and Guitar along the way. More adventures to come. Maybe.
By the way, an amazingly large number of my readers didn't look at the calendar when I posted my "Well Has Run Dry" April Fool post. I'm still around.