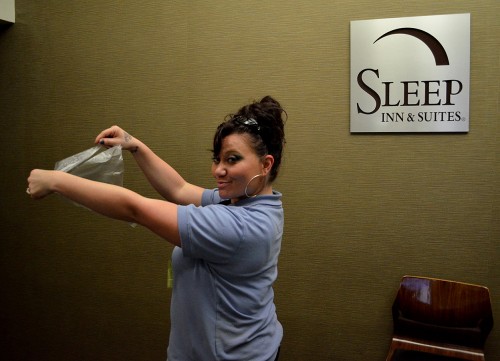 Cullman, Alabama, is a good first night or last night stop for me when I'm heading to or from Cape or Florida.
I also like it because it has a couple of motels that have treated me right.
Where's Crazy Carol?
Road Warriorette Shari and I had a busy day with several highs and lows which will be recounted later. She said she'd be willing to pay more than $35.97 for a room since it was our last night. We pulled into the Comfort Suites where I have had good service in the past, but I really didn't want to fork over $107 plus tax when there was the Sleep Inn down the hill where we had stayed on our last trip for a lot less.
We picked it the last time because Shari needed a smoking room (she's since stopped). When we stepped into the lobby, we asked the night clerk, "Where's Crazy Carol?"
OMG
"OMG," the young woman said. "Carol and I were just talking about this couple who came in here and named her that. She said you were a real hoot."
"That would probably be us," I confessed. Then Shari and I went into our normal night clerk banter that had her in stitches. I'm not going to give away any of our lines because we may want to use them someplace else in the future.
Haley, that was her name, said, "I'm going to have to call Carol. We were just chatting when you walked up. She's not going to believe you guys are here."
Ice bucket condoms
After we checked in, I needed to get some kind of information from her, and I took along my ice bucket. "Would you demonstrate for me the proper way to apply the ice bucket condom? I've stayed in scores of lodgings, and after looking inside some of the ice buckets, I can appreciate why you would WANT that plastic liner, but I've never figured out how to unfold the darned thing, and when you DO get it in the bucket, as soon as the ice hits it, it collapses."
With another customer watching intently, Haley gave her best Vana White ice bucket condom presentation. She got it unfolded, but it still pulled out when the ice flumpped in.
She's not quite Crazy Carol, but she's a close runnerup. If Crazy Carol isn't there the next time we stop, we'll ask for Helpful Hotel Haley. She was a nice end to a long day of driving.