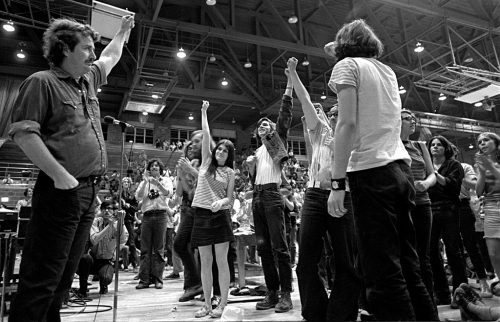 Chief photographer John J. Lopinot and I took buyouts from The Palm Beach Post 10 years ago this summer. Cox sold our paper to another Chain on the first of May. I wondered if this would be the first year I wouldn't get the usual cryptic message from John: "May 4 – Never Forget."
All is still right with the world. The message, reminding me that on May 4, four students at Kent State were killed by National Guardsmen showed up like always. It's getting harder and harder for me to find photos of that era that I haven't published, but here is what happened when Ohio University students occupied the vacant Chubb Library on the Athens campus.
It was a chaotic 24 hours. It started with a rally in Grover Center attended by more than 2,000. John Froines of the Chicago Eight was of the speakers. (Click on the photos to make them larger.)
The 'liberation' of Chubb Library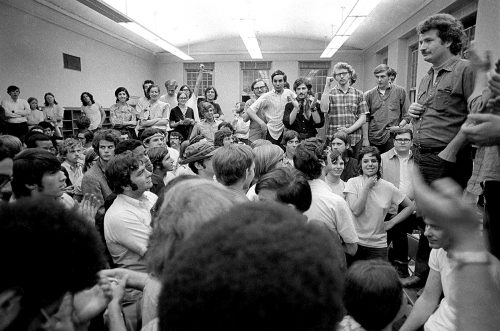 After the rally broke up, some of the students headed to the Main Green to the Chubb Library. A new library had been built, and the building had been standing vacant for about a year. Gail Schnitzer's story in The Athens Messenger said someone broke the glass on a locked door and shouted, "Now, it's open. It's free. It's yours – let's go." Most of the hundred or so people milling around were less convinced that this was a good idea.
Throughout the night, though, many people – some estimated as many as 150 – entered the building. They included students, faculty and staff, even though faculty marshals at the door were warning that this is "illegal – forcible entry"
Froines showed up to speak to the students. He urged them not to shut down the university, but to open it up by repurposing unused spaces like this one.
Freedom University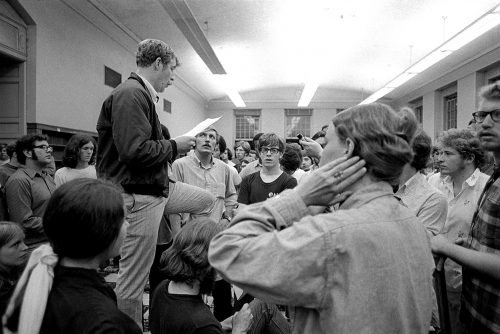 Some of the students argued that the library should be made into a "free university," a place to study "relevant issues" and to form a Radical Studies Institute. "Freedom University" was the most popular name, primarily because of its initials.
Discord and debate were the order of the night. Many votes were taken and discarded as the students tried to decide if they would stay or leave, or if they should take the university's offer of three meeting rooms, an office and a lounge in the Baker Center student union building.
Mellow folk music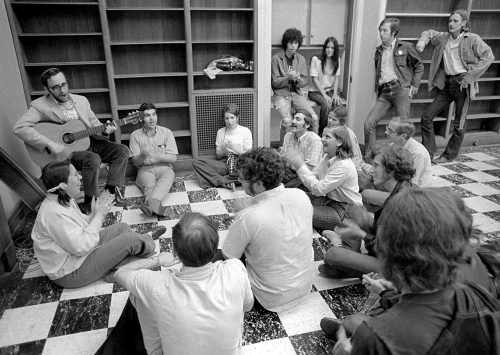 Not everybody was into speechifying. This group picked a quiet corner to sing folk songs.
It's going to be a long night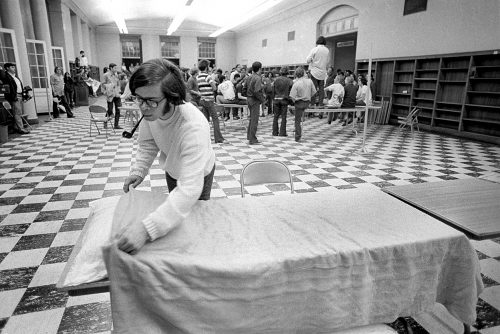 This pipe smoker must have figured it was going to be a long night, and he was going to be as comfortable as possible.
Waiting for the cops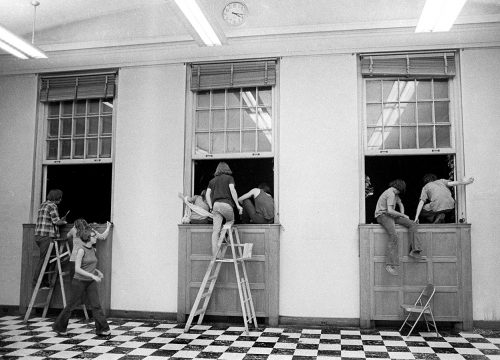 Athens police officers in riot gear stayed outside, watched by anxious students.
Some of us media types figured that our presence might create a buffer that would discourage students from becoming destructive, and keep the police from over-reacting.
Let the university, not Columbus handle it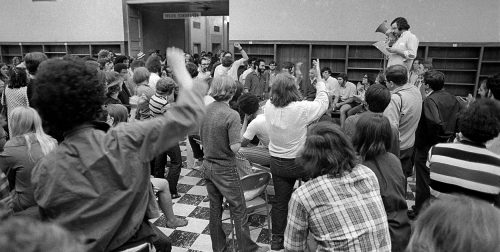 Dr. Edward Sanford, a physics professor, one of about five faculty members who remained throughout the night, cautioned the students to let Ohio University officials remain in control, "not the people in Columbus," a reference to Gov. Rhodes' calling in the National Guard at Kent State.
'I'm sick of this, and I'm leaving'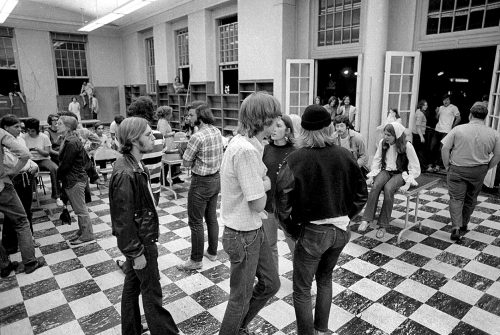 Reporter Schnitzer wrote that a blond-haired student stood up on a table and shouted, "You're all fools, man! You're all ego-tripping. Everyone wants to do their own thing. You're having a civil war right here – I'm sick of this, and I'm leaving."
There were cheers from some, and "Shut up! Shut up!" from others. He walked out, and little by little, the crowd dwindled.
It was over by 6 a.m.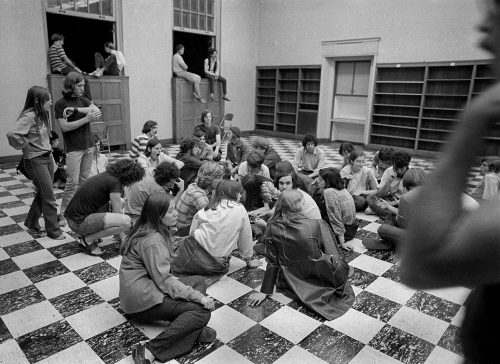 At 6 a.m., the remaining students were ordered to leave by Robert Guinn, OU director of security. President Claude Sowle said that all present complied with the order. At about 6:10, police officers entered the building. No arrests were made, and no force was necessary.
It wasn't exactly over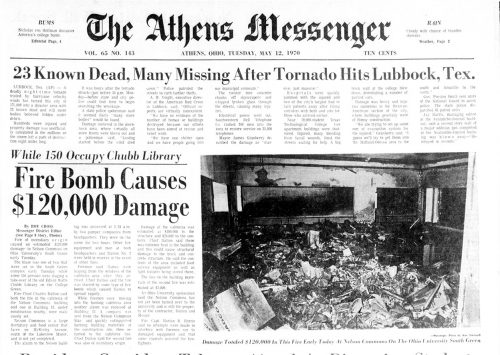 Right after I left the library, I found out that someone had firebombed two buildings on campus that were under construction. Instead of going home and to bed, I had to shoot the damage and make a morning deadline.
So far as I know, the culprits were never identified. Most of the usual suspects were in the library when the fires were set.
The firebombing wasn't the biggest blaze in Athens that night. It seems that Wife Lila, not too far from being a newlywed, had planned her first big dinner party where all the newspaper types were invited. Everybody who would would have shown up was busy with the night's news, so she was left with lots of leftovers.
I tried to explain that there were no phones in the library, and that I was afraid to leave because I wasn't sure I could get back in. That's why I didn't warn her that nobody was going to show up.
Maybe I shouldn't have mentioned this. Maybe she's forgotten it after 48 years.
A look back
Here are some of the earlier stories I've done about the era.