I suspect one or two of my readers will grouse again this year, "Why are you bringing up Kent State? It's ancient history."
Dean Kahler has a good answer for that: "History will hurt you if you don't learn about it. It's important that you learn about it, and it's important that you don't forget about it so you don't repeat it."
Dean was one of nine students injured by National Guard gunfire on May 4, 1970, at Kent State University in Ohio. He was a first-quarter freshman, a farm boy from near Canton who was a conscientious objector because of his religion. He had read about demonstrations in the newspapers and national news magazines. "As a farm boy, you don't get a chance to go to protests," he said, " because the cows have to be milked."
Classes were supposed to be held as normal on May 4, so Dean decided to drive onto his campus to see what was going on. He was in the parking lot behind him in this photo, 300 feet away from the closest National Guardsman, when he saw them turn "with their deliberate motion."
When he saw them turn, "I knew they were shooting." He dropped to the ground because there was nowhere to run to and no cover for him.
Like when you pith a frog
[Watch the video to hear Dean tell about the shooting in his own words.]
"I knew I had been shot because it felt like a bee sting. I knew immediately because my legs got real tight, then they relaxed just like in zoology class when you pith a frog," he said. He never walked again, but he has turned into a highly competitive wheelchair athlete.
After the shooting stopped, he called out to see if there were any Boy Scouts around who could turn him over. "The only thought that came into my head was if I was turned over, would I bleed more internally than externally? I thought (shrugs shoulders) there's a 50 / 50 chance that you're going to die one way or the other. I knew I might die. I had a really good chance of dying, so I wanted to see the sky, the sun, leaves, peoples faces. I didn't want to be eating grass when I died."
Dean and my old publisher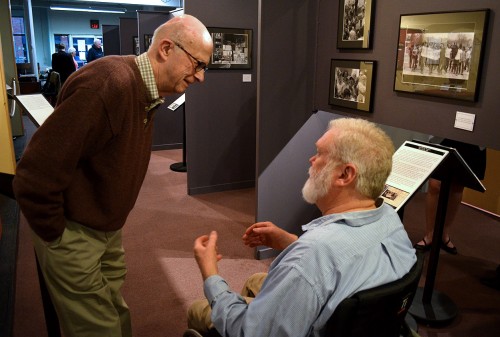 I was honored that Dean drove down from the Canton area for the opening of the Athens County Historical Society's exhibit The Sky Has Fallen that contained scores of my photos. Dean, who was a well-regarded Athens county commissioner for eight years, is talking with Kenner Bush, my old publisher at The Athens Messenger.
Curator Jessica and I met Dean when we went up to the Kent State May 4 Visitors Center to talk about how the historical society's museum could work with the visitor center on future exhibits about the protest era. I thought he was just a helpful volunteer until it became obvious that he had more than book knowledge about what happened that day.
The man who prevented a massacre
The Center had one of the most powerful videos I've ever seen anywhere. When they played the sound of the gunfire, I lost it. That was followed by a clip of professor who probably prevented a massacre. He stood between the guard and the students and begged the students to sit down. When the situation somewhat stabilized, the students took off in different directions "so that someone would be alive to tell the story."
So, how long am I going to ride this story. Probably every May 4, just like my old chief photographer, John J. Lopinot will send me a message that just says, "Never Forget."