I'm sure I'll get an email from former coworker and friend. John J. Lopinot today. It's going to be short and simple. "Never Forget." He sends me one every year.

May 4 is the day when the Ohio National Guard killed four students at Kent State University. I promised more in 2012 after doing a big piece in 2010. To be honest, May 4 snuck up on me and you're just going to get a smattering of photos this year.
Looks like a nice spring night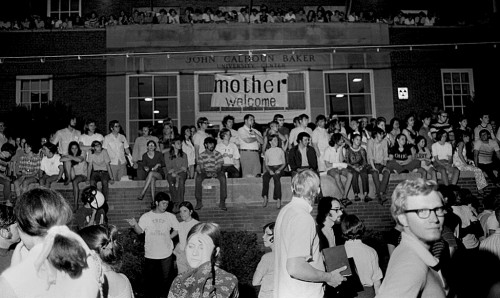 I'm not sure what caused the big turnout in front of Ohio University's Baker Center Student Union on May 1, 1970. It might have been Mother's Weekend. Or it could have just been a nice warm spring night after a nasty winter. There are lots of shorts and short sleeves in the picture. The crowd seems to be just hanging out. (You can click any photo to make it larger.)
Here comes trouble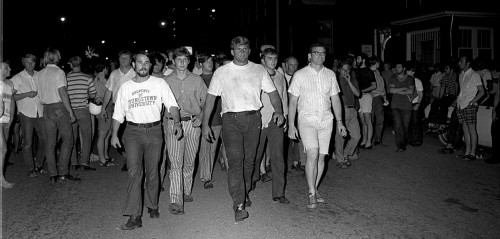 Despite what you might think, not every student in the '60s was a long-haired peacenik freak. OU was a fairly conservative campus with an active Greek community that was even more conservative than the average student.
I'm not exactly sure who these guys are or what caused them to go marching down the street looking like something out of Gunfight at the OK Corral. It's pretty obvious that they're looking to kick some serious hippie ass.
There had been a batch of nuisance dumpster fires for several days and there was one here that night, so that might have been what prompted the confrontation.
Fight broke out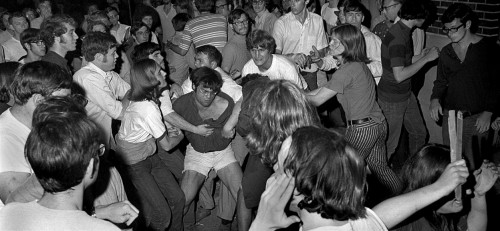 Without much warning, one of the most violent student-on-student confrontations I covered at OU broke out. It didn't last long and the combatants were separated fairly quickly, but it was heated while it lasted
Students have short attention spans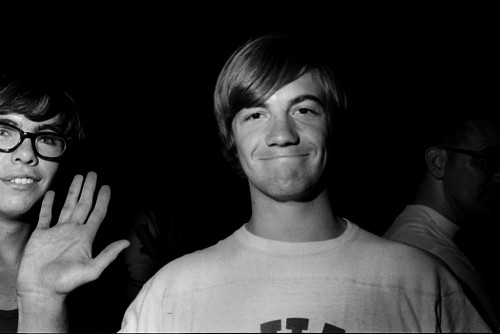 Just as quickly as it started, it was over. Long-haired and short-haired students joined in to pitch the trash back into the dumpster and everybody went back to enjoying the evening.
Kent State erased the boundaries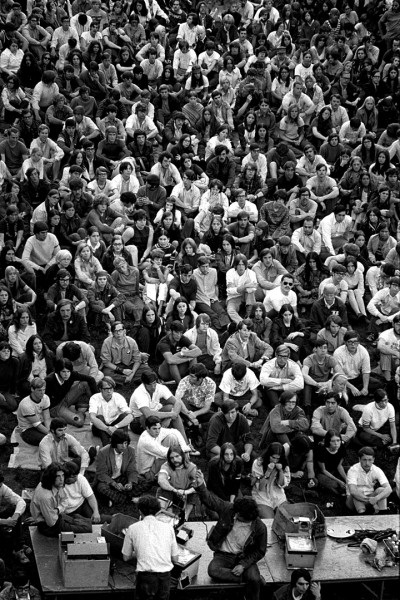 What does a minor student brawl have to do with May 4?
The killings at Kent State unified the campus. Petty differences between cliques and classes were set aside when students realized that this wasn't a game anymore.Straights and radicals; faculty members and students, young and old all pulled together in this memorial gathering on the Main Green the morning after the killings.
Neil Young captured the mood perfectly in his song, Ohio:
"Tin soldiers and Nixon coming,
We're finally on our own.
This summer I hear the drumming
Four dead in Ohio."
Earlier stories about protests