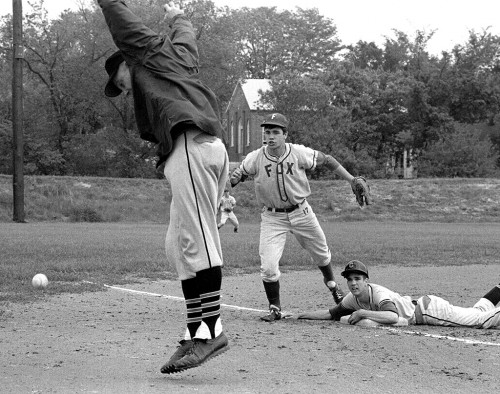 "Central Coach Leon Brinkopf leaps aside as a wild throw gets by Fox third sacker Ron Williams in the opening inning of Saturday's Sectional game at Jackson. Mark Kirkpatrick is the Central player clutching the bag after a head-first dive," was the caption in the May 16, 1966, Missourian sports section. (You can click on the photos to make them larger/)
Central wins 8-0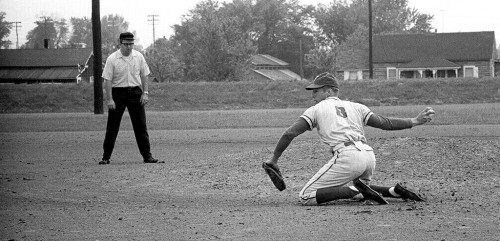 The oft-postponed Sectional game between Cape Central and Fox (Arnold) got off the launching pad Saturday afternoon and the Tigers scored and 8-0 victory behind the one-hit twirling of Brad Horky. The game had been rescheduled twice because of the rain and the third attempt was only possible through the efforts of Lou Weiss, Jackson coach. Weiss and his crew labored throughout the morning to bring the diamond in shape for the game, wrote Charley Murdoch, sports editor.
Capaha Park, the scheduled site of the game, represented a lake in left field. Jackson has one of the best draining diamonds in the area.
Horky in complete control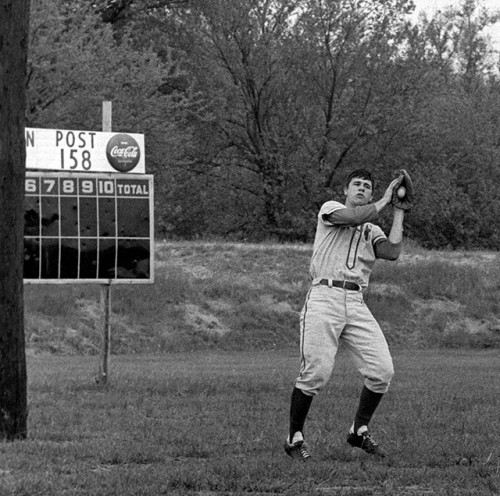 Horky was in complete control of Fox and the first hit was not obtained until the sixth when Gary VanHorn sent one up the middle. He advanced to second an an infield out and was stranded. The rangy righthander struck out eight and did not allow a walk. He hit one batter in the seventh when Fox made its only serious threat to score.
An infield error and the hit batsman after one out was followed by another infield out as both runners advanced. The game ended as Ron Drinnin sent a fly to right field.
Weird first inning

A weird first inning started the contest as the Tigers scored two runs on three hits and three errors. Terry Robinson started it with a single to left. Mark Kirkpatrick put down a bunt and the Fox shortstop added an error. Mike Schuette put down another bunt to the third base side and all hands were safe. When Larry Kitchen sent one to short, another error followed. John Brandt bounced back to the mound, the fox hurler continued the bobble-the-ball game, and two runs were across.
Five-run fifth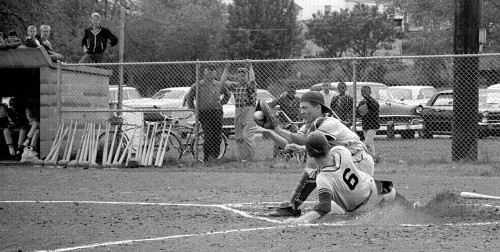 Four hits, two walks and a sacrifice gave Central a five-run fifth and they were off and running to the title. Kitchen's double served as the only extra base blow. Kitchen, Horky and Dan Beard each had a pair of runs batted in for the affair. Schuette, Kitchen and Horky each collected two hits.
This was a decent game for me, with plenty of pictures that met the rule of "show the face, the ball and the action."
 Your baseball and softball fix
We've done a bunch of stories about softball and baseball. Here's a sample.