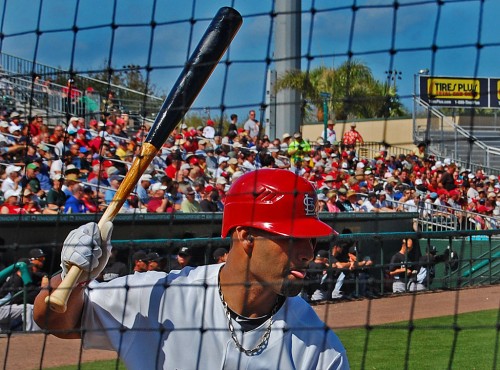 Brother-in-Law Don Riley wanted to catch the Cardinal – Marlins Spring Training opening game at Roger Dean Stadium in Jupiter, FL., today. I think the last baseball game I attended was the year the Marlins won their first World Series. After all the players were sold off, I lost interest in the team.
Mostly a geezer crowd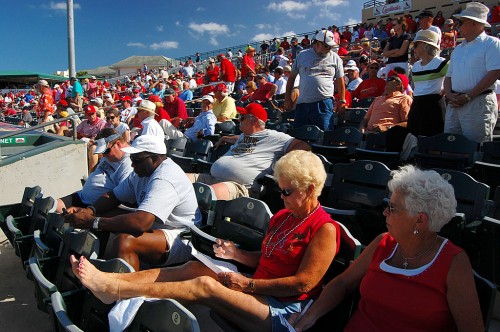 We had great seats – three rows back behind home plate. There was a smattering of kids and younger folks, but it was mostly a geezer crowd.
Closer to Schoendiest than Pujols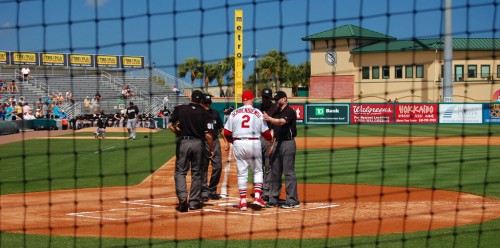 Most of the crowd, in fact, was closer in age to Hall of Famer Red Schoendiest than Albert Pujols, who was warming up in the first picture.. Everybody cheered when the announcer said the temperature in St. Louis was 36 degrees and the temperature in Jupiter (the town not the planet) was in the low 80s.
Serious Cardinal fans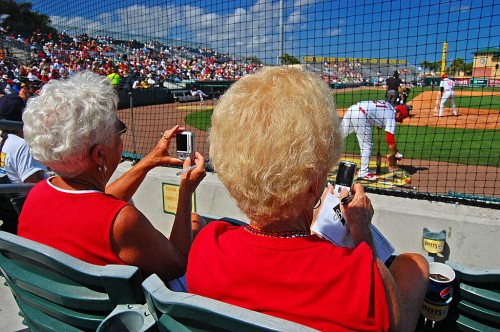 These two St. Louis fans were serious. They probably did a better job scoring the game than the official scorekeeper. They kept up a running commentary the whole time there were there.
Seventh Inning Stretch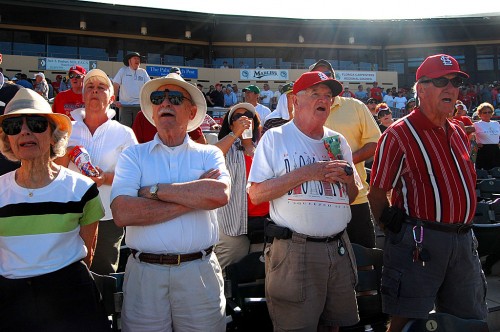 The fans offered up a rousing rendition of Take Me Out to the Ballgame during the seventh inning stretch. The woman who sang the Star Spangled Banner had a pleasant voice, but Don and I thought she had a word wrong and left out a line of the song. It was close enough, though, that she got applauded when she was done. She did a better job that I could have done.
Cardinal red dominated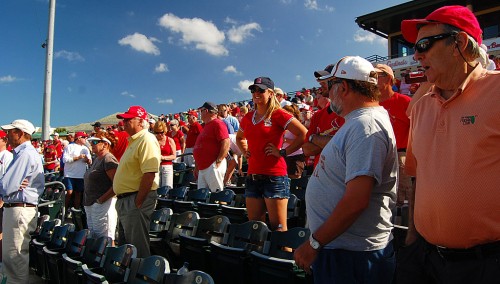 Red was the color of the day, but there were a few vocal Marlins fans in the crowd.
A great day in the sun
The Cards were behind from the very first inning in their 6-3 loss to the Marlins, but it was still a great day at the ball park. The temperatures were a bit warm, but there was a gentle breeze that kept things from getting uncomfortable.
La Russa and the kids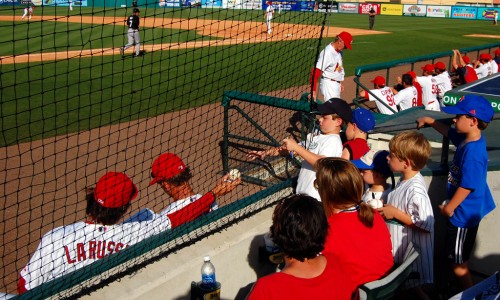 One of the things I liked best was watching Coach Tony La Russa sign baseballs for a bunch of kids between innings.